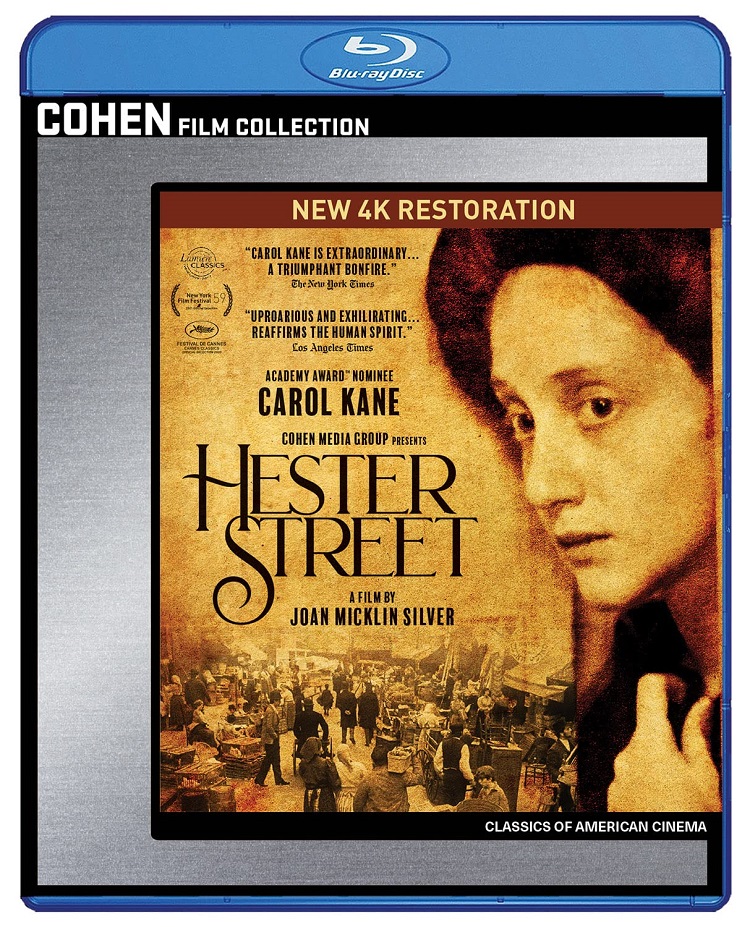 As I mentioned in my recent review, I think that Hester Street, the late Joan Micklin Silver's fantastic 1975 film, is one of the very best depictions of the immigrant experience in America. It's a sublime and at times funny portrait of the ups and downs of people trying to survive in a new land that feels strange to them. Some immigrants quickly settle into America, while others have difficulty adjusting to it.
Set in the 1890s, the film stars the always wonderful Carol Kane (in a remarkable, Oscar-nominated performance) as Giti, a woman arriving with her son to New York City, to reunite with her husband Jake (Steven Keats). It's not the reunion she hoped it would be because he has fully assimilated to America; has a job and is having an affair with a dancer. It's even worse due to the constant bullying and humiliation he puts her through. In order to finally win him over, she seeks guidance from a wise neighbor (Doris Roberts) who encourages her to spruce herself up and get a makeover. When she does, she is met with sudden violence and hostility from Jake. When enough is enough, she finally finds her place in the world and gets liberated. She divorces him, gets all of his money, and finds love with a kind traditionalist (Mel Howard), while Jake marries the dancer.
The film has equal parts drama and comedy that doesn't feel forced at the least. It's also a beautiful feminism statement, where women decide to live their lives in own way, and not the way that men think they should. Kane is magnificent, and the supporting cast of Keats, Roberts, and Howard is amazing as well. If you want to get into the work of Silver, then this is a really good place to start. It's her best film and a testament to the legacy she left behind.
The new Blu-ray from Cohen Media has a crisp new 4K restoration, and some great special features including two new interviews with Silver; archival audio commentary by her and her husband Raphael; vintage interviews with Kane, Roberts, and both Silvers; restoration trailer, and more.
Other releases:
Adoption (Criterion): A lonely middle-aged woman wants to have a child, but her married boyfriend refuses. But when an angst-ridden teenager comes into her life, it causes her to think about adopting.
Silent Night: A dark comedy about a couple and their son inviting family and friends to their Christmas dinner…during the apocalypse.
Death Game (Grindhouse Releasing): An almost forgotten 1977 cult thriller starring the late Seymour Cassel as a businessman who picks up two young girls (Sondra Locke and Colleen Camp), which turns out to be a very big mistake, as they run him through the ringer of a night of torture, sex, and violence.
Phenomena (Synapse): The limited edition 4K of Dario Argento's surreal 1985 horror thriller starring a young Jennifer Connelly as a teenager who uses her ability to communicate with insects to solve a series of brutal murders taking place around her boarding school.