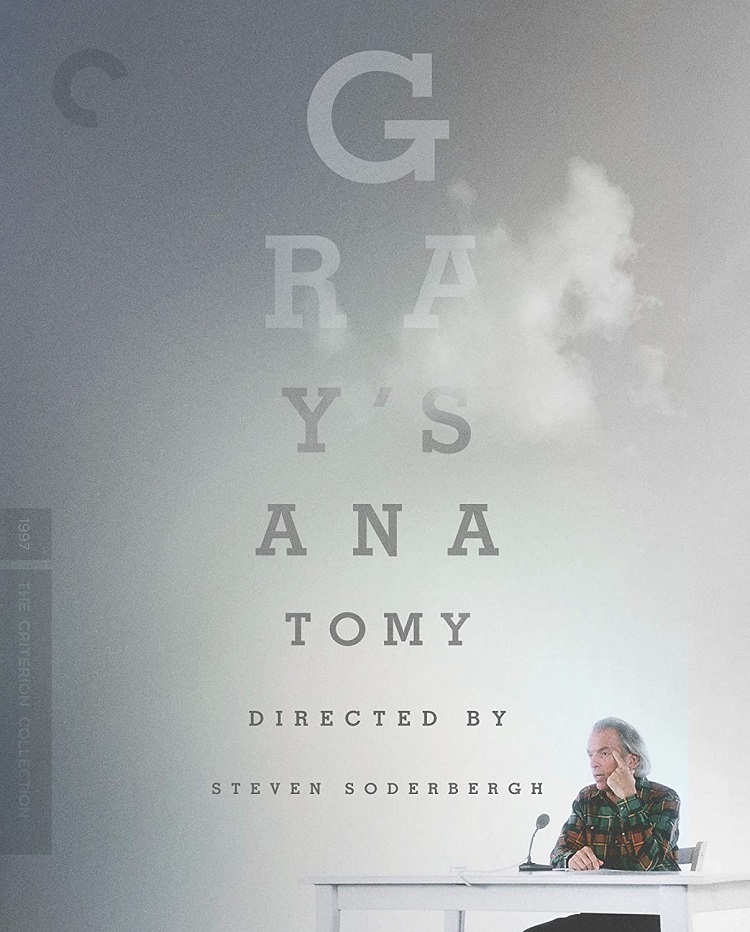 The extraordinarily talented monologist Spalding Gray gets a pair of releases from the Criterion Collection this month. Both films are directed by the ever-eclectic Steven Soderbergh, and offer a pair of divergent perspectives on the man, whose razor-sharp wit, ironic view of the world, and remarkable storytelling skills are on full display in both. Gray, who is believed to have committed suicide in 2004, had a knack for trenchant social observation filtered through a deeply personal, almost stream-of-consciousness structure, and the effect is captivating.
First up is 1996's Gray's Anatomy, a filmed version of Gray's 1993 monologue about his struggles with a rare eye condition known as a macular pucker. Told by his doctor that his only real option was a potentially risky surgery, Gray delved into a series of alternative treatments in any attempt to stave off the scalpel.
The film is essentially Gray sitting at a table and speaking, but Soderbergh uses a number of deft visual tricks — changing backgrounds, dramatic lighting, shadowy silhouettes — to amplify the stories. Gray is a strong enough storyteller that these flourishes might not be necessary, but they're hardly just "sound and fury" filler either. When Gray recounts trips to a Minnesota sweat lodge and a Philippine psychic surgeon to expunge his condition, Soderbergh transports us there with just the use of a few lights and unconventional camera placement.
Gray's Anatomy is both thrilling and cringe-inducing — it's nearly impossible to make it through the film's prologue of eight interviewees describing their eye injuries without wincing — and offers a fascinating window into the fears of Spalding Gray, which often seem highly peculiar initially but often reveal themselves to be wholly universal.
The Criterion disc presents the film in 1080p high definition in its original 1.85:1 aspect ratio. Simply put, the transfer is superb, offering vibrant colors at every turn and a sharp, film-like image that doesn't waver in detail or clarity. The high-contrast black-and-white scenes reveal a thick, consistent layer of grain, and the color sequences feature exceptional color stability. Audio is a 5.1 DTS-HD Master Audio mix, upscaled from the original stereo track. Cliff Martinez's score gets the most use out of the surrounds, while Gray's monologue comes through the front channel cleanly and clearly.
Extras on the Gray's Anatomy disc include new interviews with Soderbergh and co-writer Renée Shafransky, who was also Gray's first wife, and 16 minutes of silent footage from Gray's actual eye surgery once he went through with it. A real treat is the inclusion of A Personal History of the American Theater, which features Gray telling anecdotes from a number of plays he performed in. The piece was originally produced in 1980, and the version presented here was videotaped in 1982. The package also includes a booklet with an inspired essay by critic Amy Taubin.
Next up is And Everything is Going Fine, Soderbergh's 2010 elegy to Gray. Made up entirely of found footage featuring Gray himself, the film acts as a de facto final monologue — an autobiographical journey that sketches a detailed portrait of Gray's vital stats while offering a perceptive look into the inner workings of the brilliant, sometimes tortured artist. Winnowed down from more than 90 hours of tape of filmed monologues, TV interviews, and live Q&As, And Everything is Going Fine would be a testament to the skills of an exceptional editor even if it weren't anything else.
The film stitches together a fairly linear account of Gray's life — growing up in Barrington, Rhode Island in a Christian Science family, learning to cope with his mother's suicide when he was 26, grappling with the possibility that the same fate awaited him, and seeing a prolific career come to a screeching halt after a car accident in 2001 permanently injured and permanently changed him.
But, much like Gray's monologues, a linear telling doesn't equate to just a simple recitation of facts and figures. The mix of different types of footage culled from different time periods give us a distinctly three-dimensional sense of the man. He speaks both sincerely and sardonically in varying levels of vulnerability depending on the format, and as the film progresses, Gray's essence as a person emerges in a far more authentic way than one would probably get had Soderbergh opted for a more traditional retrospective documentary. When you're telling the story of a man who talked about himself for a living (and did it brilliantly), who better to tell it than the man himself?
The Criterion disc presents And Everything is Going Fine in 1080p high definition in its original 1.33:1 aspect ratio. This is one of the rare circumstances where a Blu-ray transfer might be essentially pointless, as the film is composed entirely of preexisting sources, almost all of which come from videotape. That means the memories of VHS are preserved alive and well here, as rampant combing, ghosting, artifacts, and an overarching fuzziness are present throughout. The film is plenty watchable, but a high-definition format is probably overkill considering the source. Audio is presented in an uncompressed monaural soundtrack that varies a little depending on the source, but is generally solid. Obviously, fidelity is severely lacking, but clarity is really never a problem — Gray's words remain intelligible and unclouded by hissing and crackle.
Extras on the disc include a new interview piece with Soderbergh, producer and Gray's second wife Kathleen Russo, and editor Susan Littenberg. Soderbergh, who was a close personal friend, admits he took on the project as a sort of penance for dropping out of Gray's life after the fateful 2001 accident, while Russo discusses her conception of the project and Littenberg details the severe culling process necessary to shape the film. Another full monologue is included — Gray's first, Sex and Death to the Age 14 — with the version presented here videotaped in 1982. The film's theatrical trailer rounds out the disc. The package also includes a booklet with an essay by author Nell Casey.
Spalding Gray fans will likely be over the moon for Criterion's pair of releases, but these two discs also offer an excellent starting-off point.