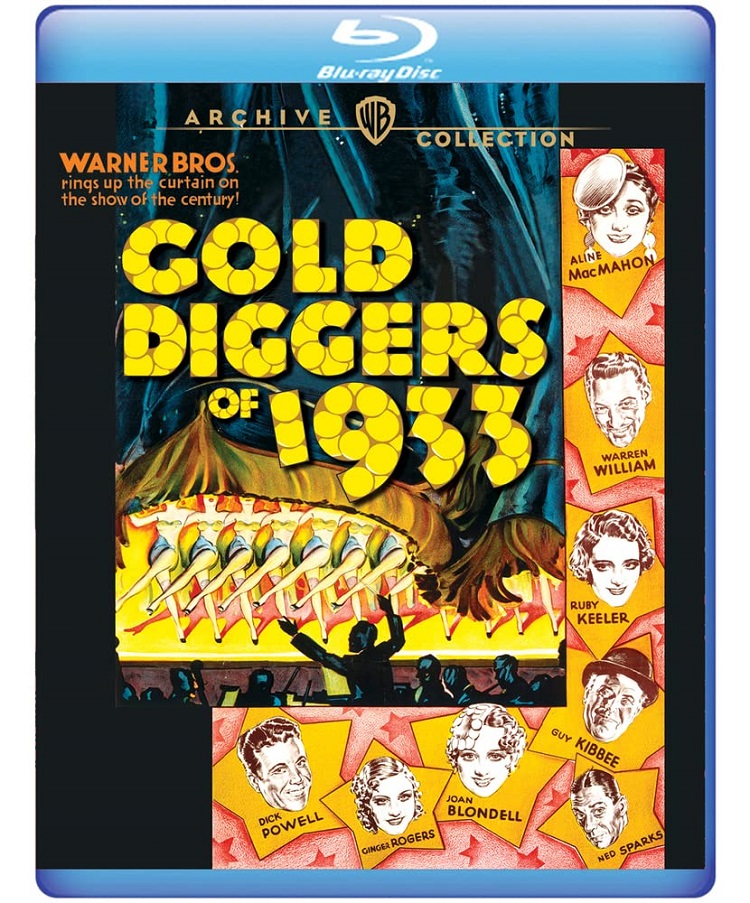 The Depression was and still remains one of the most devastating events in American history. So many people were unemployed, trying to look for any type of job they could get their hands on, and were forced to find any means to feed their families. However, many filmmakers made films to cheer up the public, especially to help them forget their troubles, even only for a certain running time. And that's where the musicals came in. One of the very best ones to come out of that era is the 1933 Mervyn LeRoy-directed Gold Diggers of 1933.
Joan Blondell, Aline MacMahon, and Ruby Keeler star as Carol, Trixie, and Polly, three best friends and unemployed Broadway performers looking to make ends meet. Dick Powell plays Brad, the wealthy songwriter (who is engaged to Polly) comes up with a new show to save them all. However, Brad's brother Lawrence (Warren William) and his family's lawyer Mr. Peabody (Guy Kibbee) find out about his romance with Polly, and threaten to disown him. They think that most women (whom they call 'gold diggers') are just marrying men for their money, especially during the Depression. Carol and Trixie overhear this, and decide to take Lawrence and Peabody on a wild ride they never forget, while also trying to keep the new show going.
It's a great musical-comedy-drama, meaning that musical parts consists of fun and naughty set pieces by the legendary Busby Berkeley, including "Pettin' in the Park", "Shadow Waltz", and the soul-stirring "Remembering My Forgotten Man" (performed by Blondell, but sung by Etta Moten) that boldly ends the film, giving it a somber relevance. The great opening has the iconic number "We're in the Money", with Ginger Rogers (who plays Fay, a glamour puss who also wants to work) in close-up singing Pig Latin to the screen, as she and other dancers wearing next to nothing and covered in giant coins. A daring way to open a film.
The comedy consists of witty and risque dialogue, much of it said by MacMahon, who nearly steals the film with her quick and sharp delivery. There's a clever line with Rogers, as she says, "if he can see me in clothes", and MacMahon concludes, "he wouldn't recognize you". So well-written and just subtle enough to get past the censors. This is pre-Code after all.
The drama is suffused throughout as the Depression weighs heavily on the hopes and dreams of the characters, who are trying to as much hope as they can withstand. It reminds me of the original West Side Story (1961) where the real drama and musical numbers center mostly on racial tension, and 1972's Cabaret, where the gaudy dances and charged songs juxtaposes with the rise of Nazism and violence on the outside. I like these musicals, because beneath the musical freedom lies darkness and life's usual grim realities just ready to explode.
If you love pre-Code films and musicals, then Gold Diggers of 1933 is definitely one of the definitive classics of that early genre. I think it's perfect.
The Warner Archive Blu-ray has special features, such as four featurettes: Gold Diggers: FDR's New Deal…. Broadway Bound, The 42nd Street Special, Rambling 'Round Radio Row #2, and Seasoned Greetings. There's also three cartoons: I've Got to Sing a Torch Song, Pettin' in the Park, and We're in the Money. A theatrical trailer is also on the release.