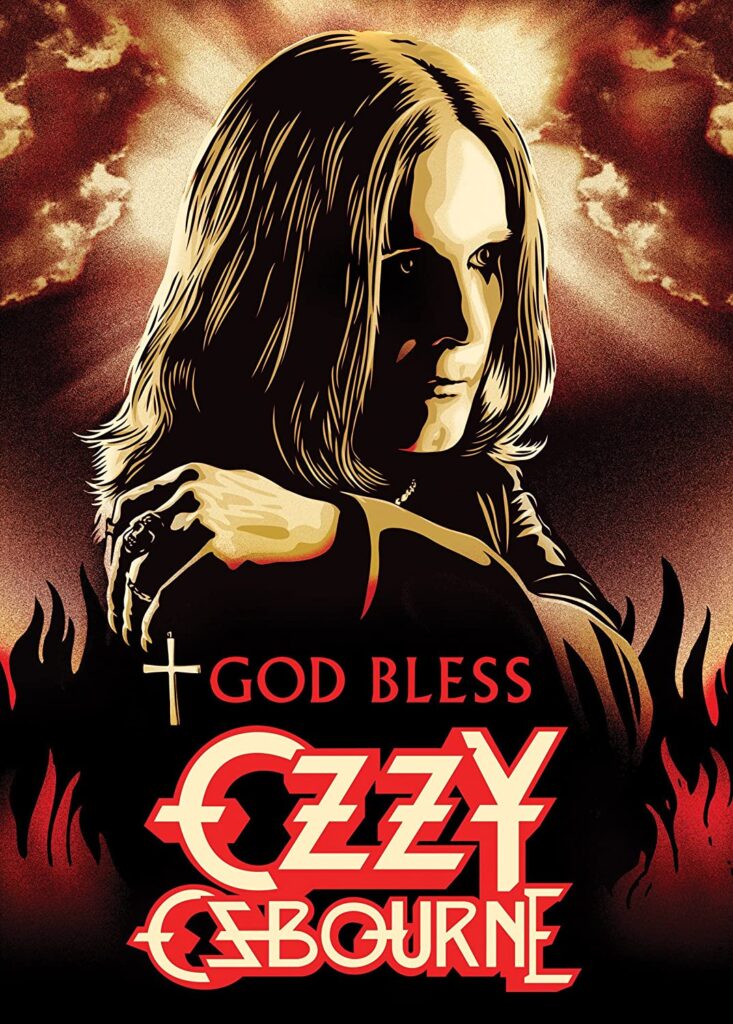 Written by Greg Barbrick
It has been nearly a decade since The Osbournes debuted on MTV, and since that time the first family of rock seemed to have over-exposed themselves. The show was such a runaway hit that the family was suddenly everywhere, and what once was once charming became a bit overbearing. So it was not a huge surprise when the film God Bless Ozzy Osbourne did not sell out theatres coast to coast upon its release this past year. Most probably wondered the same thing I did, what more could there possibly be?
As it turns out, quite a bit. The most devastating revelation is the fact that throughout The Osbournes' run, Ozzy was not suffering from the long-term impacts of all the drugs and alcohol he had used over the years. He was still actively addicted, and barely functioning in the very late stages of alcoholism. The lie that he was sober, but experiencing the accumulated effects of a life lived on the edge was maintained through careful editing. According to Ozzy himself, he was at the lowest point in his drinking career during the filming of the show.
Thanks to his position as Ozzy's son, first-time producer Jack Osbourne was able to get interviews with friends and family of Ozzy's who have rarely spoken about him. These include Sir Paul McCartney, Ozzy's sisters, and most especially Ozzy's first son and daughter Louis and Jessica. His three children with Sharon Osbourne also appear: Jack, Kelly, and Aimee.
There is unanimous agreement about Ozzy as a father, and it is not good. One of the bitterest pills he has had to swallow is his history with his children. At one point, Ozzy explains (or justifies) that he always thought that the role of a father was to provide for his children. And he would defend himself by asking them "Did you ever want for anything?' The moment of clarity came when Jack, now sober himself responded, "Yeah, a father." When the impact of that statement sank in, Ozzy says he was simply devastated. "I never realized that sometimes maybe all they wanted was for their Dad to take them to the zoo," he says.
The film opens with scenes shot at the tiny council house that Ozzy and his two brothers and three sisters grew up in. The near-instant success of Black Sabbath is chronicled, as well as stories of how badly the band were ripped off in the early days. The Black Sabbath years are accompanied by some incredible vintage live footage. There is also a hilarious early TV interview when a straight-arrow host asks what they do for entertainment and a 20-year-old Ozzy blurts out "We smoke marijuana!"
The difficult transition from Black Sabbath to solo performer is also explored, during which time he met and married Sharon. Besides the infamous "dove incident" followed by his accidentally biting the head off of a live bat, Ozzy suffered a monumental loss when Randy Rhoads was killed in 1982.
Ozzy's hard partying was never more publicized than during the eighties, where he out-grossed and out-drank young bucks such a Motley Crue. There were numerous attempts at getting sober, especially after attempting to kill Sharon in a blackout rage. But none of it ever took, until his son Jack managed to do it. For those who have struggled with addiction, it is an incredibly difficult path. Yet Ozzy has managed to stay clean and sober for five years now, and it is obviously for real this time.
There is a scene towards the end that would have been unheard of back in The Osbournes days. Ozzy gets into his SUV and drives out to an isolated lake, somewhere outside of Los Angeles. Seeing him sitting there, telling us that this is one of the places he likes to come once in a while to clear his head is surreal. In this scene, Ozzy Osbourne is the absolute picture of serenity, and in complete control. He is perfectly coherent, walks straight and tall, and is genuinely grateful for all that he has.
This is a side of Ozzy Osbourne we have never seen before, and it is gratifying. In fact, for someone like myself who has been struggling with some family issues of late, God Bless Ozzy Osbourne offers a real message of hope.
Extras include a 20-minute interview with Jack and Ozzy Osbourne, plus another 20-minute montage of deleted scenes and clips.
The film slipped under the radar, most likely due to the family's previous media over-saturation, but God Bless Ozzy Osbourne has a very strong story to tell. You may be surprised at just how moving this picture actually is.