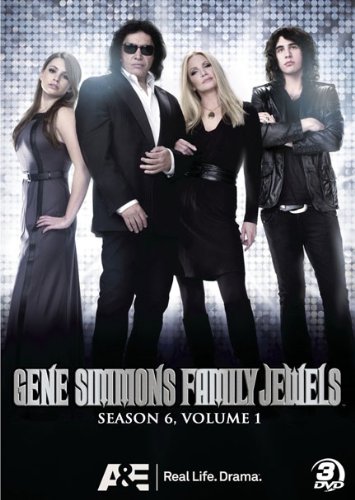 Written by Greg Barbrick
When I first heard that Gene Simmons was finally getting married, the cynic in me figured it was to boost ratings for his reality TV show, Gene Simmons Family Jewels. After all, he is the guy who spouts the motto, "KISS is a brand, not a band," ever possible chance he gets. And to be honest, once he came around to the idea, he probably did realize the publicity and ratings potential of the whole thing. As Bill Maher put it so eloquently during the reception, "This is the best cable wedding of the year."
It's a funny line, but the road that the Simmons clan took in getting there is not. In fact, as it is laid out episode by episode over the course of the new two-volume Gene Simmons Family Jewels Season Six – 2011 was one of the most difficult years of their collective lives.
Volume One is a three-DVD affair, featuring the first nine episodes of the season, plus a bonus disc with eight more unaired, bonus episodes from the fifth season. In the very first program of season six, we see a family in crisis. Gene Simmons met Playboy model Shannon Tweed in 1983, some 29 years ago. They have been together ever since, and have two children, Nick (23), and Sophie (20). During all this time, Gene has maintained a fiction of monogamy to Shannon. And as the season opens, he has finally been busted.
What makes it so heartbreaking are the reactions of his children. When Nick tells him that he had always respected, and tried to live up to Gene's admonition to "always be honest," it was all I could do not to cry. The same thing happened when Sophie confronts him with the simple words, "If it comes down to it, I'm with Mom."
This is powerful stuff, but it gets even deeper. Shannon organizes a trip for her, Nick, and Gene (Sophie decides to stay in college) to Israel. The former Chaim Weitz had not been back to his homeland since he and his mother left for America when he was a little boy. The story he has told is that they were abandoned by his father, and that he and his mother were on their own from then on.
As we discover (along with Gene), this was not exactly the full story. Gene's (now deceased) father did not exactly abandon his mother, but he was guilty of philandering, which she would not abide. So she left. His father remained, and remarried. Once again, it is pretty difficult to stay dry-eyed when we see Gene meet his half-brother and sisters for the first time.
When the family gets back home, Shannon demands that they seek counseling, both together and individually, to try and repair the damage. Volume One ends with the cliffhanger of Gene asking her to marry to him.
The eight-episode Volume Two is a two-DVD collection, subtitled "The Wedding." The counseling continues, and all of the various wedding preparations are made. While all of this is interesting in its own way, nothing comes close to the power of the first episodes of the season. The situation where Gene is "allowed" to have a bachelor party is pretty funny, as (unbeknownst to him) the stripper is actually a transvestite. And the moment when Gene's "other" family arrives from Israel is pretty special.
As Gene's male friends comment, as the wedding day grows nearer, he seems to get more excited. Well, duh! He's realized what a goldmine this whole thing will be! So I guess in that regard, season six of Gene Simmons Family Jewels finds our hero completely unchanged, except for (finally) becoming legally married. I seriously doubt we will ever see "The Demon" as emotionally vulnerable as we do in the opening episodes of season six, and I'm not sure I even want to. It is very tough going for everyone involved.
But it all ends on a high note, which is a nice thing. As Gene Simmons says in his opening monologue: "That's why it's good to be…me!"
Both volumes are available June 12.