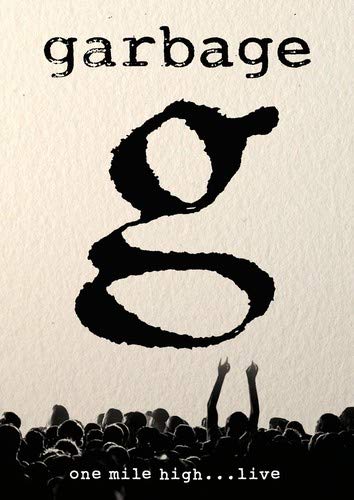 Garbage's Shirley Manson spends a large part of One Mile High…Live traipsing a ring mid-stage like a prizefighter. She sporadically lunges forward and back, prattles in her Scottish brogue and delivers slithery, punk-infused vocals to an appreciative throng at Denver's Ogden Theatre.
Now available on Blu-ray, DVD and digital video from Eagle Rock Entertainment, this document of Garbage's first world tour in seven years captures the band in a loose but adept state. There is nothing overpowering about it, but One Mile High…Live shows a competent rock band trying to yank themselves back in the mix.
Manson is joined by guitarists Steve Marker and Duke Erikson, drummer Butch Vig and touring bassist Eric Avery. The band is terse and well-rehearsed; they've gone through these paces many times before, and only Manson seems to display the slightest bit of impulse. She cordially addresses the gathering and thanks them for sticking around through various hiatuses and false starts.
The Colorado outing comes as part of the Not Your Kind of People tour, but the set-list is well-mixed and most of Garbage's big hits make mandatory appearances. This gives the show a sort of "greatest hits" texture.
A sharp rendition of "Automatic Systematic Habit" kicks off the concert and finds Manson patrolling and sizing up the crowd. Effects are tidily used to add just a slight industrial grain, giving Garbage that little edge over other similar acts.
The familiar opening notes of "I Think I'm Paranoid," one of the band's most well-known hits, is greeted with shouts of appreciation and the energy seems to pick up somewhat. Cuts like "Stupid Girl," "Why Do You Love Me," "Blood for Poppies," "Push It," and "Only Happy When It Rains" offer more of that nostalgic touch.
Manson is at her best when her closely-held tension bubbles over the surface in spots like the rap of "Shut Your Mouth" (watch for the frizzy head-banger close to the stage) or the mean-sex haunting of "Queer." In these moments, she holds the spectators spellbound.
One Mile High…Live lives on these moments over its 116 or so minutes, but many others just blend together. Sure, effects are touched off at the right places and the band hits all the right notes. But for the home viewer, there's little beyond the songs that makes the concert feel unique.
The Blu-ray release certainly looks the part, although the familiar issue of things kind of bleeding together in the lighting department is present. It's not enough to detract from the viewing experience and the images otherwise look clear and beautiful. A particularly striking moment occurs when the stage is washed in white light for Not Your Kind of People's "Control."
The audio is presented in either 2.0 LPCM Stereo or 5.1 DTS-HD Master Audio. The mix is quite loud and pronounced, providing a full and rich listening experience. Even the menu overlay is immediately loud, so be careful when putting the Blu-ray in your player.
One Mile High…Live also features a silly glimpse at what purports to be the band's pre-show routine and music videos for "Blood for Poppies" and "Big Bright World." There are also some individual featurettes that explore some of the motivations behind tunes like "Battle in Me" and "Control."
In this instance, the star of the show is indeed the prizefighter. Manson is the linchpin, the reason this Blu-ray release has any fire. But One Mile High…Live, for all her efforts, is still not quite a knockout.