Previously on FTCH, there was Blondie in the flesh, and Bardot was created by God. There was an Outsider, an escape from prison, and licorice pizza. The spring tease is in full effect. It's 80 degrees, 40 degrees, and then 75 degrees. And that's just a Tuesday. This week there's a rat, a bat, and a picture of my cat. There are dead poets, crunchy cookies, and cool ranches that u want. Aren't you glad you read FTCH? Don't you wish everybody did?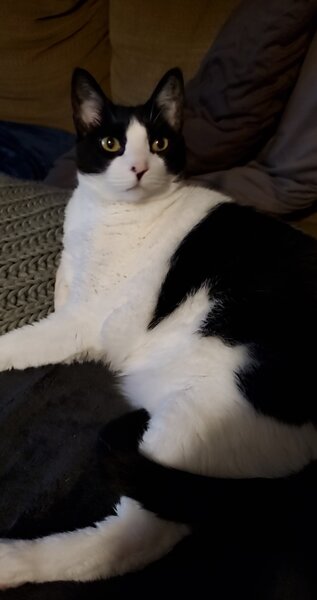 Pop Culture Ephemera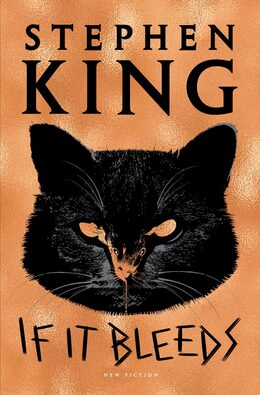 Stephen King – If It Bleeds (2020) (Scribner): "And what makes you think you're a main character in anything but your own mind?" My King Project brings me to the four-novella collection from 2020. Every decade, roughly, King takes a break from novels and short stories to feature some of his works that don't neatly fit into the short novel or short story format. These have also been some of his best characters and stories. I've enjoyed Different Seasons; Four Past Midnight; and Full Dark, No Stars. This collection did not disappoint.

"Mr. Harrigan's Phone": This is the second best of the four. It has pieces of "The Body" and the other teen coming-of-age stories he's written. The story meanders until arriving at a supernatural point. It plays out in a way that would make a great episode of an anthology television show. There's a lesson here never to bury anyone with their phone.
"The Life of Chuck": The strangest of the four and the least impactful. It plays out backwards in three acts and the experiment just doesn't do anything for the story. Forgotten pretty quickly after reading.
"If It Bleeds": This is the star of the bunch and the reason to read the book. We encounter Holly Gibney again in a story that is partially a sequel to The Outsider with many references to the Bill Hodges Trilogy and it manages to read as a thematic sibling to Doctor Sleep. I love the Holly Gibney character and this will set up nicely for her solo book next year. I love how these stories read as both supernatural horror and old school detective stories at the same time.
"Rat": A predictable story of a writer and the nontraditional way he goes about getting the idea for his new novel. This story has elements of a ton of his stories about writers but borrows most liberally from The Dark Half. There wasn't much new ground covered in the end. Didn't matter though with the other two strong entries.
Columbo – "Lovely But Lethal" (S.3 E.1) (1973) (NBC): The star power is on display when the show debuted in September 1973. Vincent Price and Vera Miles are beauty industry rivals. Martin Sheen plays Karl Lessing as a young, very handsome and creepy scientist who has stolen a wrinkle cream formula from Viveca (Miles). The cast is great, the story is slightly lacking ingenuity, and the setting isn't as expansive as the previous season. The casting of Price is brilliant and he's not used nearly enough. He eats up the scenes when he and Miles are verbally battling. The show is evolving into the third season. The trope of the key clue that everyone else overlooks is less interesting and probably why I'm slightly disappointed with the episode. As far as a place to start if you haven't watched much Columbo, it's not a bad starting point because you have all the elements that make this one of my favorite shows.
Devo – "Girl U Want" (1980) (from Freedom of Choice): "Why don't we just admit it's all over / She's just the girl u want." This first single off their third album wasn't a hit. It was the most pop song of their career to that point and it didn't find an audience. Their next single, "Whip It", became a music video darling and found rotation on radio stations across America. There's a female empowerment of the "girl u want" singing to you from far away, enticing you to cross the distance to see her. It's just up to you to admit your attraction. This is another band I will see for the first time in May and I couldn't be more excited.
The Batman (2022) (Dir. Matt Reeves): "Our scars can destroy us, even after the physical wounds have healed. But if we survive them, they can transform us. They can give us the power to endure, and the strength to fight." – Batman. From the first fade in on Gotham, it's obvious that director, Matt Reeves, has not missed too many David Fincher films. Robert Pattinson has more narration lines than he does movie dialog. His quotes help establish this as a major noir film with a minor in armchair psychology. Reeves brought us a fully realized world in his Planet of the Apes films and that's at play here as for the first time in recent memory, I can imagine Gotham being in a country and world that has other cities and doesn't just exist unto itself. This is the Batman of the Detective Comics more than the other comic books. Pattinson fits the suit, dare I say, even better than Christian Bale. He is adept at switching from socially awkward Bruce Wayne to detective mode with Gordon (Jeffrey Wright, brilliant casting choice) and to brooding but tough superhero with Catwoman (Zoe Kravitz) and Penguin (Colin Farrell, is that really you in there?). In the hands of lesser directors, the Paul Dano take on the Riddler would have overshadowed everyone in the film (see: the Joker in every film he appears in). It's perfectly balanced here and it's always Batman's film. It's dark and it's long and not full of happy moments. It's also one of the best superhero films from the DC Universe in a decade.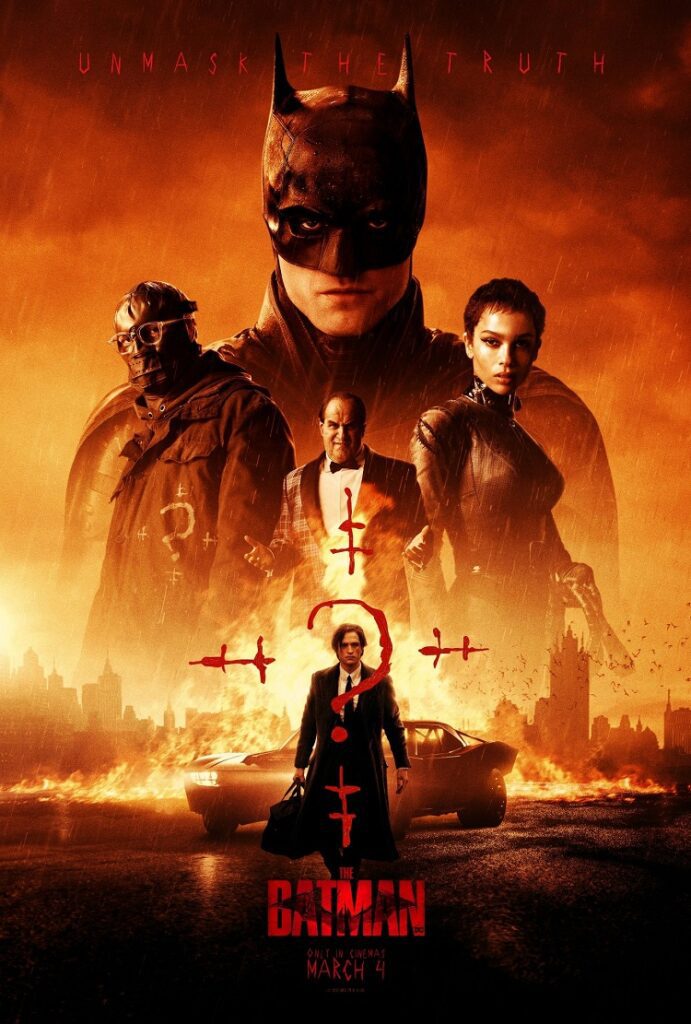 Dead Poets Society (1989) (Directed by Peter Weir): "There's a time for daring and there's a time for caution, and a wise man understands which is called for." – Keating. I've seen Robin Williams' role as John Keating as a poetry teacher with unorthodox teaching methods at a Boarding School in Vermont in 1959 listed as his best role. I can't find much fault in Robin's portrayal of Keating. He manages to balance being the type of teacher he would have wanted and the character we expect of Robin in his films. The issue is with the script. The story of the boys, including stand-out performances by Ethan Hawke as Todd Anderson and Robert Sean Leonard as Neil Perry, is very manipulative. The use of poetry and for some reason Thoreau's prose gets thrown in there is not with an understanding or exploration of the source material. The lines are taken out of context in a way to try to add depth to the teenage experience. Carpe Diem becomes a tagline without heart. It's just something for boys to say before they do something. They don't even use the lessons at the most important moment when they could have saved their teacher. If this movie served to send anyone out to search through the source material, then something good comes of it. Viewed again 33 years after it debuted, I remembered much more substance. But that's often how we remember our favorite classes.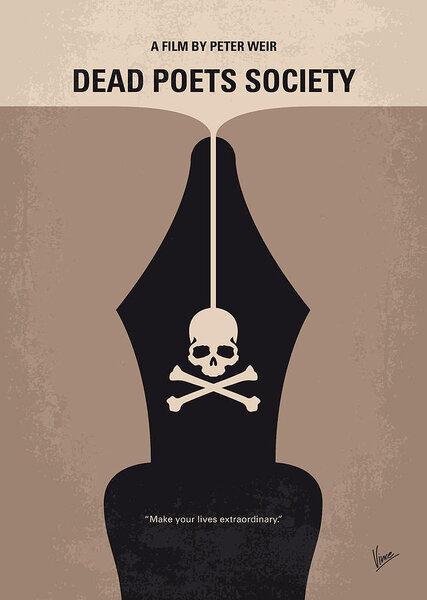 Best of the Rest
I'm usually a little leery of prequels to films or television shows. The news of Welcome to Derry, a prequel to the IT films does have some promise. The source material is there in the book and has been glossed over in both the miniseries and the films. The adaptations so far have mostly stuck to the stories of the adults in the book and the parallels to their experiences as children. Pennywise has been in Derry since it was founded in 1741 and every 27 years after that. Stephen King has set a stage that could tell many stories, although with no happy endings. I'm most fascinated by the Roanoke type disappearance of the original town. And the explosion of the Kitchener Ironworks might have the most impact on the future events of the films. I trust HBO to make this work.
Sunday Morning Tuneage Flashback
On the Sunday Morning Tuneage of 10/29/2006, it was a busy Sunday with Christian having a football game and homework, and getting the kids' Halloween costumes ready. Earlier that week my Taurus had got wrecked up and I was still upset. I was excited for Prison Break, Heroes, and My Name Is Earl. Saturday's had me excited for Andre 3000's Class of 3000 cartoon. It was a week of good talk show appearances and I thought I'd revisit an original idea by Late Night w/Conan O'Brien.

Late Night w/Conan O'Brien (2006) (NBC): In Skelevision! On Halloween, Conan and crew remade a May 2006 episode with skeletons. It's as odd as it sounds. Jokes from 2006 have not aged well – Britney Spears, Arnold as Governor of California, and George Steinbrenner Yankees jokes. Larry King, Omar Epps (from House), and creator of something called the S Factor (stripping) is on last. Skeleton Will Arnett from Arrested Development makes a pretty funny cameo appearance. What was funny for a few minutes was just an odd experience for a whole show. "Mister Mister will receive a PhD from the University of Arizona and insist on being called Doctor Mister." – my favorite joke from a skit called "In the Year 2000".
Flash From The Past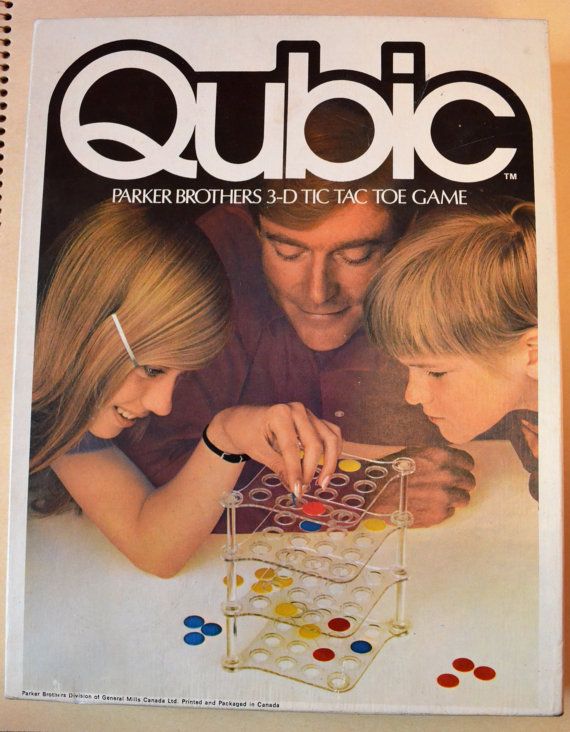 What the Hell Did I Put In My Mouth?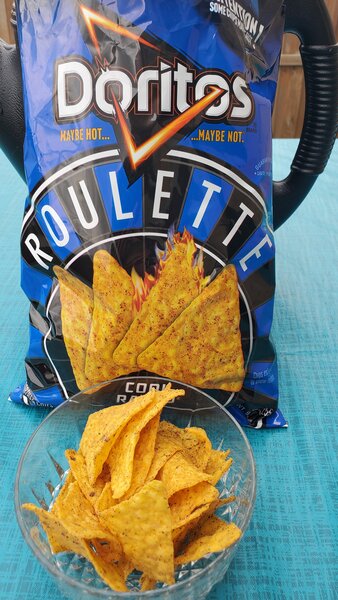 Doritos Roulette: Cool Ranch
The original Doritos Roulette: Nacho Cheese have been around on and off since 2015. I reviewed them on their return last summer. With the advent of the Flamin' Hot varieties, it was only a matter of time before they put something similar in a Roulette bag with the regular Cool Ranch chips. The ratio in my bag seemed to be about 1:10 for the hot chips. And you know immediately. The heat is not painful hot but it's upfront and you know with the first bite. These are not exactly the Flamin' Hot Cool Ranch chips. They aren't as sweet but the heat is similar. Enjoy with a cold beverage.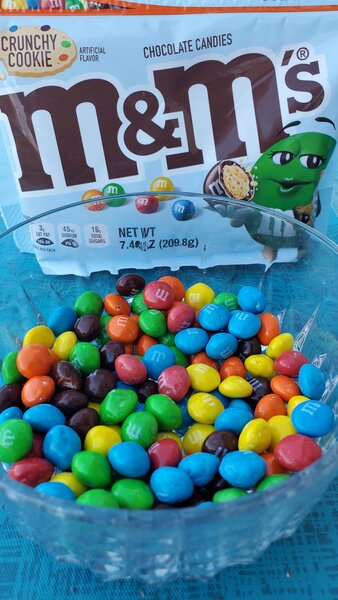 M&M's Crunchy Cookie
These are good. Actually really good. But not because they taste like their name. I was excited about this purchase because I've loved putting M&M's in cookies for decades. A milk chocolate M&M is a great addition to a cookie. Unfortunately these are rice filled, not cookie filled. So there's a small crispy shell with a crunchy rice center. There isn't much more than a hint of cookie taste. These are only slightly bigger versions of Sixlets (for those with a long candy memory). Why couldn't the M&M's technicians find a way to fit a bit of cookie into these candies?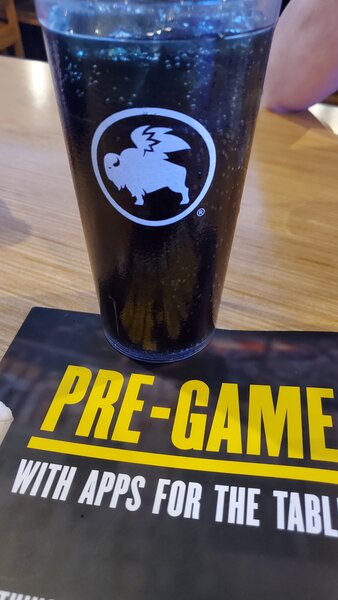 Mountain Dew Legend
The new Buffalo Wild Wings exclusive is called Mountain Dew Legend. They describe it as blackberries, citrus, and ginger. It tastes like a slightly more citrusy version of the sorely missed Pitch Black. I don't think it's a permanent addition to the BWW beverage selections which is too bad. This goes well with the chipotle dry rub wings.
"You hear her calling everywhere you turn
You know you're headed for the pleasure burn
But the words get stuck on the tip of your tongue
She's the real thing but you knew it all along" – Devo
Stay Hard.
sb