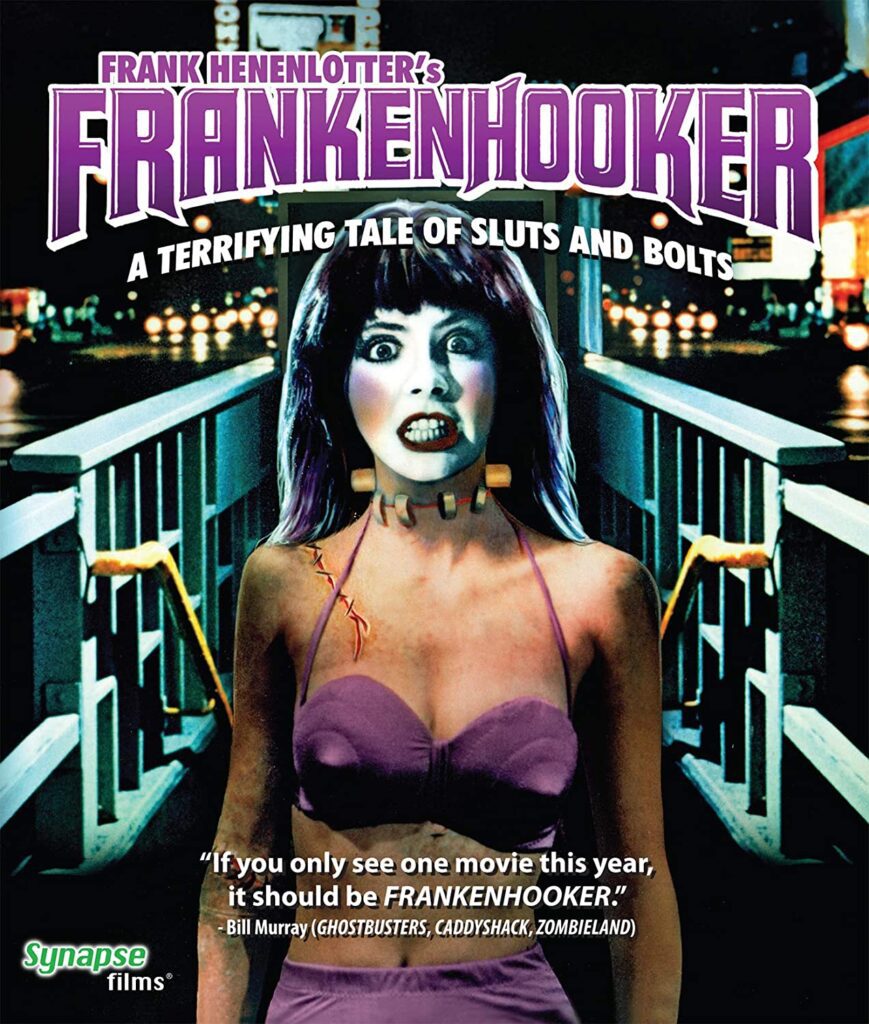 There aren't very many movies out there that have been publicly endorsed by both Joe Bob Briggs and Bill Murray. As a matter of fact, I can only think of two: Frank Henenlotter's Frankenhooker and, er — nope, there's just that one, actually. When it first premiered way back in 1990 (Christ, has it been that long now?), this bizarre, comedic variation on the timeless tale of Frankenstein with oodles of breasts and crack thrown in for good measure gained a great deal of gratitude from the likes of a certain gonzo drive-in movie critic, as well as the famous actor — and their quotes only helped to entice otherwise wary, potential viewers into spending a few bucks to see what the creator of Basket Case had brewed up.
And, if you've ever seen Basket Case (or at least heard of it), then you know that absolutely nobody makes movies like Frank Henenlotter (which I say in a complimentary way) — and Frankenhooker is no exception to his brand of distinctiveness. The story here finds a young medical-school-dropout-cum-electrician from Jersey, Jeffrey Franken (James Lorinz) — who has a hard time letting the love of his life, Elizabeth Shelley, go (one time Penthouse Pet Patty Mullen) after she is killed in a freak lawnmower accident. And so, canvassing the streets for the finest prostitutes New York City has to offer, Jeffrey decides to reconstruct his poor dead better half; a half that now consists solely of a severed head and a few other pieces.
Jeffrey also conjures up some truly killer supercrack that makes the wretched streetwalkers blow up real good (the boys from "Farm Film Report" would surely have given this an excellent review, too), and things seem all fine and dandy-like until the resurrected (and deadly) Liz has an utter identity crisis and starts to roam the streets shouting "Wanna date?" James Glickenhaus (The Exterminator, Maniac Cop) produces this outrageously epic comedy, which features Jennifer Delora, Henenlotter regular Beverly Bonner, and a cameo by legendary horror host Zacherley as a TV weatherman.
Despite being something of an underground title, Frankenhooker has seen its share of home video releases over the years, including an oh-so-memorable VHS version that played a clip of Patty Mullen screaming "Wanna date?" when you pressed a hidden button on the case. Hands down, though, this is the best Frankenhooker has ever looked, and Synapse Films' presentation of this cult classick is a beautimous one indeed. The film boasts a lush 1080p/AVC transfer, which has been created directly from original vault materials. Synapse presents the movie in a 1.78:1 aspect ratio with a gorgeous color palette, rich detail (which is something I never thought I would encounter with this film), and deep black levels.
Sound-wise, Frankenhooker has a great DTS-HD Master Audio 5.1 mix, and Synapse has goes the extra mile to give the original 2.0 Stereo track a DTS-HD upgrade as well. All of the bonus materials for this Region Free release have been ported over from Unearthed Films' 2006 Special Edition, and include an audio commentary by Frank Henenlotter and make-up guru Gabe Bartalos; interviews with Patty Mullen ("A Salad That Was Once Named Elizabeth"), Gabe Bartalos ("A Stitch in Time: The Make-up Effects of Frankenhooker"), and Jennifer Delora ("Jennifer Delora Remembers Frankenhooker"). Delora also hosts a photo scrapbook from her own Polaroid archive. A High-Def trailer concludes the extras.
In short: Frankenhooker is an uproarious parody of the classic horror/sci-fi film wherein all of its risqué elements have been given a sizeable dose of supercrack. If you're in the mood for copious amounts of boobies, one-liners, and cartoonish exploding prostitutes, look no further.