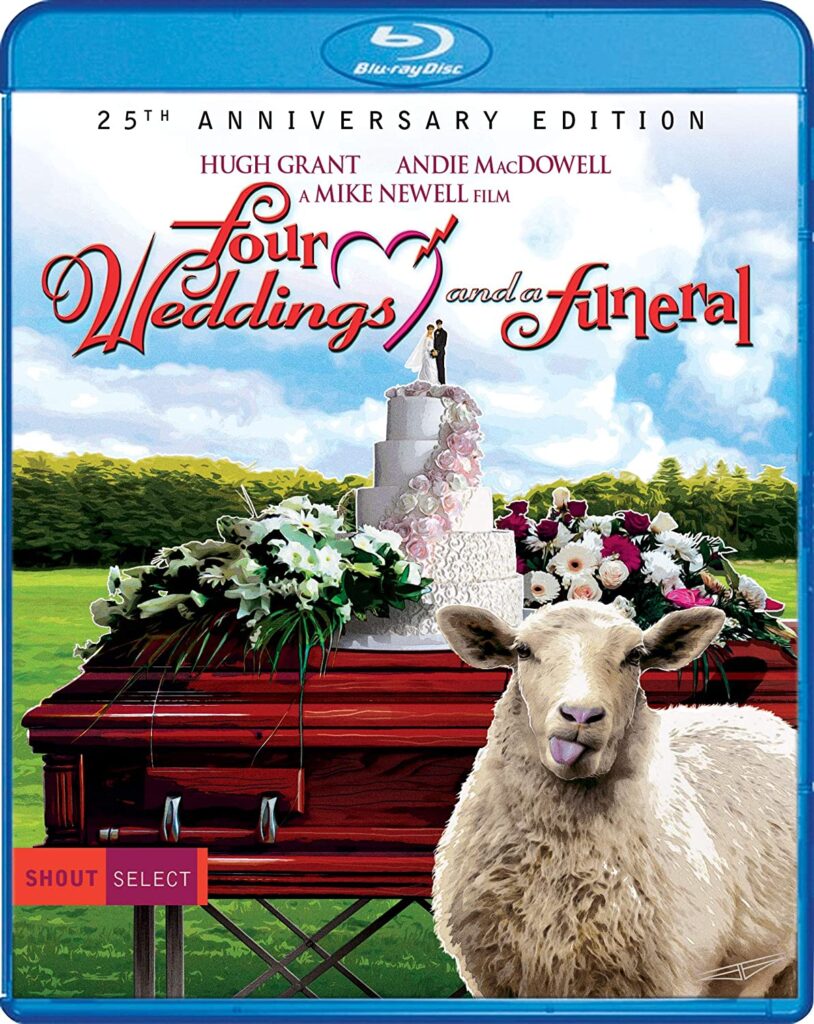 Four Weddings and a Funeral is a 1994 British romantic comedy that follows a group of friends as they attend the five events listed in the title. The film received critical acclaim along with winning several BAFTA awards and earning Hugh Grant the Golden Globe for Best Actor – Musical or Comedy. This film also started a successful relationship between writer Richard Curtis and Hugh Grant which lead to Notting Hill and Love Actually.
Charles (Hugh Grant) is a perennial bachelor who believes in the lightning bolt of love and is searching for his soul mate. He meets Carrie (Andie MacDowell), whom he believes to be that person, at the wedding of Angus and Laura where he is the best man. They spend the night together but she leaves the next morning to go back home to America. Carrie and Charles see each other again at a second wedding where she informs him that she is now engaged. The third wedding is that of Carrie and Hamish (Corin Redgrave) and the joyful celebration turns to tragedy which leads to at funeral. After the funeral, Charles questions whether or not he will ever get married and his faith in finding his soul mate is shaken. The fourth and final wedding is Charles', which results in life-altering decisions and thought-provoking ideas on love.
While the developing relationship between Charles and Carrie is the main focus of the film, the side characters are well developed and engaging. Matthew (John Hannah) and Gareth (Simon Callow) are discreetly revealed as a couple, leaving me wanting to know more. Fiona (Kristin Scott Thomas) suffers in silence over her secret love for Charles. Scarlett (Charlotte Coleman), Charles' roommate, and Tom (James Fleet), Fiona's brother, are the last members of the group who are both also searching for love.
This is not a film that reaps additional benefits from high definition. The has been given a 1080p/MPEG-4 AVC encoded transfer displayed at an aspect ratio of 1.85:1. There is a generally crisp picture highlighting the beautiful scenery but expected softness from the source can be seen in backgrounds. Colors are solid but blacks can't say the same with occassional crush and noise. The audio is a DTS-HD Master Audio 5.1 though though this dialgue-driven film didn't need surround and makes little use of it. Several special features are included from previous releases. An audio commentary from 2004 features director Mike Newell, producer Duncan Kenworthy, and writer Richard Curtis. "Two Actors and a Director" and "Four Weddings and a Funeral" are short, behind-the-scenes featurettes while "The Wedding Planners" is a more in-depth 30-minute documentary on the film. There is also deleted scenes, promotional spots and the theatrical trailer.
Four Weddings and a Funeral is still a delightful film 17 years later. Grant's stellar performance offers charm and vulnerability. This is not just your run-of-the-mill romantic comedy, there is depth and stong character development told in an original way by advancing the story through the title events. Hannah is remarkable in his role and his key scene at the funeral always leaves me in tears. All of the other supporting actors are extremely strong. I have never been much of a fan of Andie MacDowell but she is believable and her subdued beauty works.