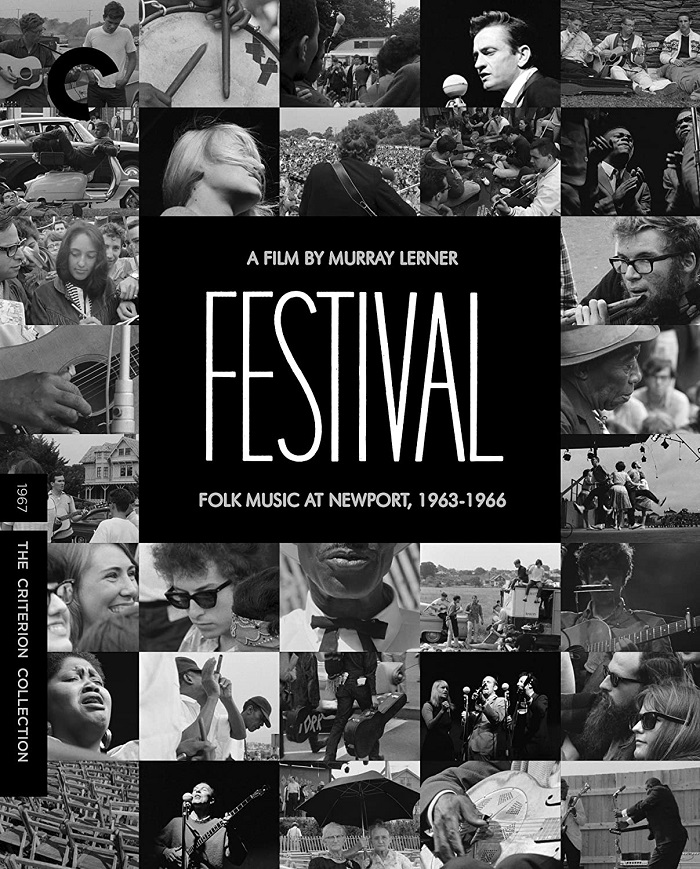 In the early part of the 20th Century, various folklorists, including John Lomax, wandered about the country documenting the songs of the people – folk music. They sought out cowboys and prisoners, former slaves and sharecroppers, and recorded them. In 1952, Harry Smith compiled his favorite songs from these recordings and created The Anthology of American Folk Music. This album reached the ears of folks like Woody Guthrie and Pete Seeger who recorded some of those songs and started the Great American Folk Revival which hit its peak in the early 1960s.
In 1959, music promoter George Wein, who'd had great success managing the Newport Jazz Festival, created the Newport Folk Festival. It was a rousting success. In 1963, the festival asked filmmaker Murray Lerner to shoot some footage. Initially intended mostly for archival purposes, Lerner ultimately realized he was onto something. He came back for three more years and quickly edited his footage into the documentary Festival. Thanks to the good folks at Criterion we now have that film in pristine form.
Festival documents a fascinating moment in both our music and its culture. The folk revival was in full swing but becoming fractious. Many artists were recording their own songs, something folk purists thought was heretical as they felt one should only record the old-time songs of history. In 1965, Bob Dylan went electric and got labeled "Judas" for it. Culturally, the folk revival became known for its political progressiveness. This was the period when the beatniks were giving birth to the hippy movement.
All of this is in the background of Festival, which primarily focuses on the music. Lerner doesn't waste a lot of time in his film giving us any of this information (or any information at all, really). I was halfway through the film before I realized if I turned the subtitles on, the film would let me know who was talking and singing. He lets the music speak first and foremost. There are small interviews with performers and fans scattered throughout, but they don't give us much information either. There's lots of talk about what folk music means and how it might make a change but mostly it's a lot of empty words.
Most of the songs are cut short and we only hear but a few in their entirety. It acts more like a sampler pack than a full feast of music. The sheer number of artists included must have kept them from being able to play every note, but I can't help but wish there was an extended cut out there somewhere. What we do get is pure joy though. There are performances from dozens of people including Judy Collins, Mississippi John Hurt (who was pulled out of utter obscurity a few months before the festival), Johnny Cash, the Paul Butterfield Blues Band, Donovan, Odetta, Son House, Howling' Wolf, Pete Seeger, Joan Baez, and Bob Dylan.
It's Dylan whose songs cast a shadow over the entire film. He's clearly the biggest star and during a performance of "All I Really Want To Do" we see a packed festival crowd rapt with attention. Of course, after the songs we get interviews with hipsters bemoaning the fact that Dylan has sold out and is now part of the establishment. He gets three more key scenes including a rehearsal for that infamous electric show where he sings "Like a Rolling Stone" but we get none of the controversy just a (literally) electric performance. When Dylan isn't on stage, his presence is still felt as several of the other performers sing his songs.
Joan Baez gets plenty of air time as well. She was discovered at the very first Newport Folk Festival at the young age of 18 and had become sort-of the grand belle of the week. We get a couple of songs, see her mobbed by autograph seekers, and a short interview where she seems truly appreciative of the attention though she does note she wouldn't mind if they took a bath.
Bob Dylan is the star and Joan Baez gets all the love but it's Pete Seeger who is the heart of the film, the festival, and folk music in general.  For most of his life, he tirelessly promoted the ideals of folk music about equality, peace, and love.  He traveled the globe learning its songs and bringing them back home.  He narrates Festival, is featured in several songs, and it is he who leads the closing song. Nearly all the performers gather on stage to close us out (except, unsurprisingly, Bob Dylan), but it's Seeger who leads them.  As it should be.
If Festival the film doesn't do much in the way of giving details as to what's actually happening on stage and off, this Criterion release certainly does. The disk includes an excellent making-of feature where Lerner and editors Alan Him and Gordon Quinn talk about the gradual development of their footage into a workable film and how they shot the music and performed their interviews. There is another 30-minute documentary that gives more of a retrospective look at the festival itself with interviews from a variety of the performers and managers. For those looking for a little more music after the film, there are six full songs included as extras from John Lee Hooker, Tom Paxton, Elizabeth Cotton, Johnny Cash (who chews gums and smiles while he sings "I Walk the Line"), Clarence Ashley, and Odetta.
As mentioned, if you turn the subtitle track on, you'll get song and performer identifications (though interestingly they don't subtitle any of the interviews). The enclosed 40-page book includes a nice essay about the film plus short bios on most of the performers.
The audio and video of this release are excellent. Shot in 16mm, Festival looks a bit unpolished but Criterion has done an amazing job of cleaning it up. You can easily see this when watching the songs included as extras as they are full of grit, grain, and scratches; none of which show up in the main film. With a film like this, you want the audio quality to be top notch and is most certainly is. Those high harmonies come in loud and clear as do the acoustic (and sometimes electric) instruments.
Festival is an interesting little film documenting a fascinating period in our cultural history. Without giving much in the way of background information, it puts the music front and center. It's an absolute joy to watch. When you get done dancing in your living room to the songs, Criterion has done an amazing job of filling out all the info you don't get in the movie proper. Highly recommended.