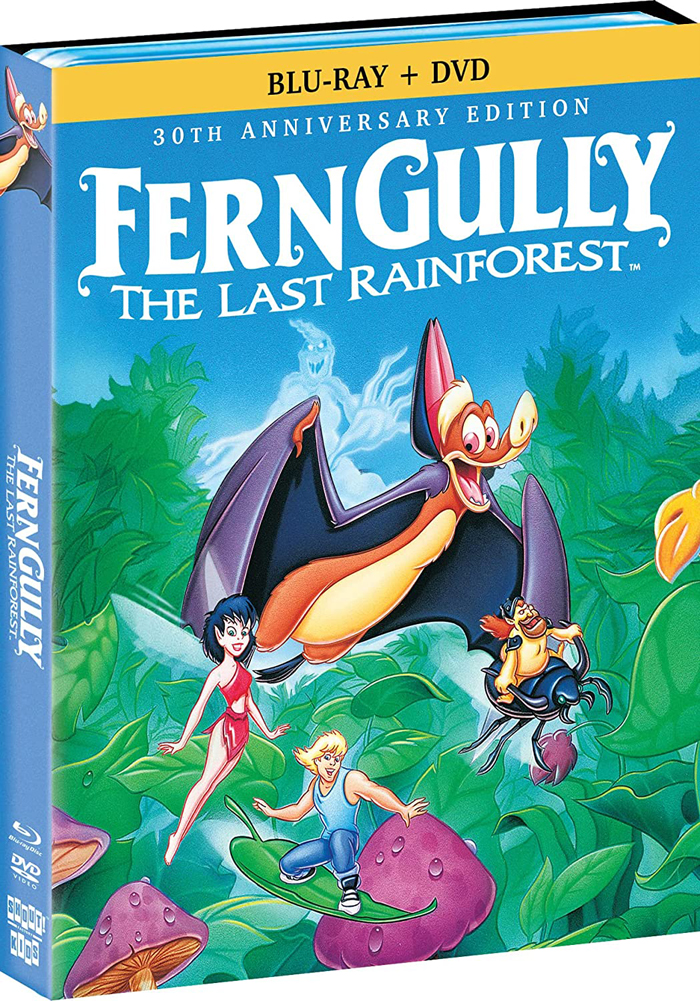 When revisiting a movie from your childhood, it's always best to go in with an open mind and the expectation that the movie may not be as great as you remember. For Ferngully: The Last Rainforest, that is not entirely the case. Released by 20th Century Fox nearly two decades before the studio was acquired by the Mouse House, it's a G-rated animated feature that certainly wouldn't maintain that rating with its more frightening and mature imagery than what its competitor was releasing at that time. Then again, G-rated features are a rarity these days, save for a random documentary here and there.
Ferngully tells the story of the fairies of a forest inhabitation known as Ferngully. Their land is beautiful and full of wonder. But the humans of Earth have a different plan for it. They intend to destroy the rainforest and take all the trees with them to make way for what they wish (it's not entirely clear why they're chopping down the trees). Zak (voiced by Jonathan Ward) is one of the new guys on the crew, tagging each tree that needs to be taken down. When the fairy Crysta (Samantha Mathis) accidentally casts a spell that makes him shrink to her level, Zak becomes immersed in the world of Ferngully – which no other human has ever experienced before. Now he has to stop his crew, which is being controlled by the toxic sludge known as Hexxus (Tim Curry), from destroying the fairies' home.
This was one of the first animated films I recall watching at my grandmother's house and one that would be on a continuous loop. Watching it as an adult, there are certainly moments where the energy kind of sags and brings the momentum to a halt. But when certain characters make their appearance, it's easy to tell the actors were having a blast. The late Robin Williams voices Batty Koda, a fruit bat who escapes from a lab and befriends Crysta. This would mark the first time Williams lent his voice to a feature-length film, and it was released the same year as the other, more widely-known animated feature Aladdin. It's exactly what you would expect from the zany Williams, but he makes the character a treat to watch.
The other actor who is clearly enjoying his performance is Curry as the villainous Hexxus. His deep, menacing voice gives off an eerie feeling, and there are moments where he drags certain letters that make him seem more like a snake slithering its way into the system. His musical number, "Toxic Love," is a blast to listen to.
Ferngully is much shorter than I remember, only running about 70 minutes long. Its animation style is not nearly as polished-looking as that of a Disney product, but there are moments where it fills the screen with sheer beauty. A night scene with Crysta and Zak that is illuminated by the stars is purely magical.
The 30th anniversary Blu-ray release from Shout! Factory comes with a terrific restoration of the film. The film still looks a little rigid in certain scenes, but that is mostly due to the animation style. However, the sound comes through crystal clear and captures every line of dialogue and musical note wonderfully.
The only new special feature in this release is an introduction from director Bill Kroyer, who reflects on the film and what it was like working on it. Every other feature in this release is from previous releases, including a commentary from Kroyer, art director Ralph Eggleston, and coordinating art director Susan Kroyer. A making-of featurette called "Seed of the Story" shows viewers what the film looked like in storyboard format compared to the finished product. There's also the making-of featurettes called "From Paper to Tree," which is a 30-minute special that has interviews with the cast and crew, and also shows Williams in action as he delivers his lines. Unfortunately, Williams is not interviewed in this special. Lastly, there's a multi-angle scene study called "Behind the Voice: Toxic Love," the music video for "If I'm Gonna Eat Somebody (It Might As Well Be You)," and theatrical trailers and TV spots.
Ferngully is still lovely and fun to watch, even if it can get a little heavy in its environmental messaging. Some kids today may be a little too frightened by what Kroyer and crew came up with, but it's still worth introducing them to something outside of the Disney realm for a change.