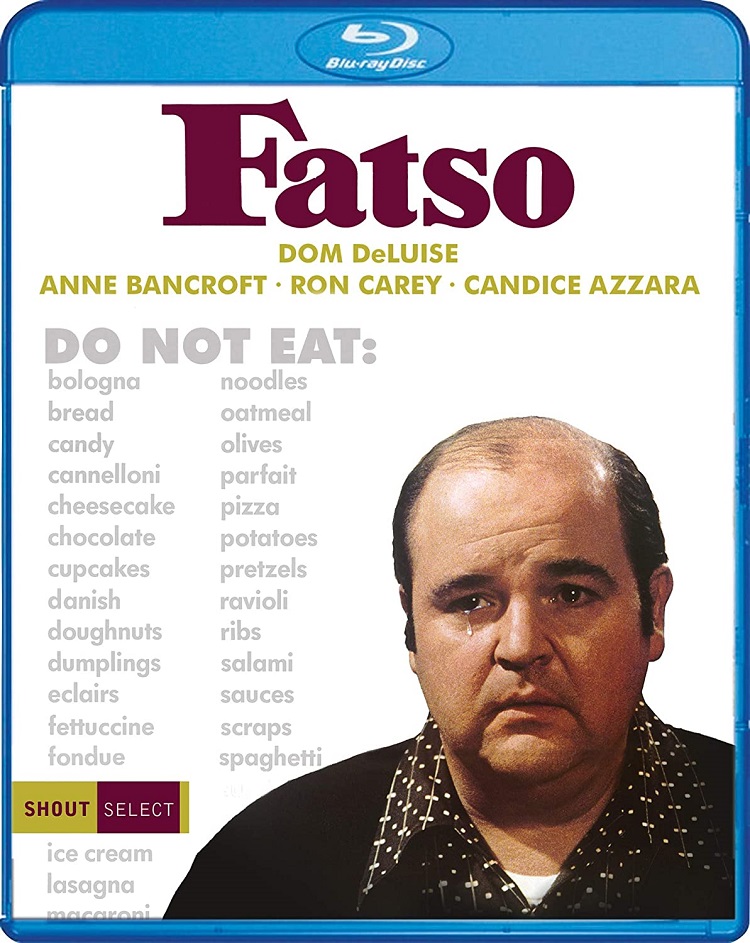 Being a guy on the chubby side, I can definitely relate to films about the dangers of binge-eating and food addiction. Only a few of them are actually good and quite dark, including La Grand Bouffe; The Cook, The Thief, His Wife, and Her Lover; Super Size Me; and my new favorite, the late, iconic actress Anne Bancroft's 1980 sleeper gem and sole directional effort, Fatso. It's a wholly original and painfully funny take on the devastating obsessions we often have with food, as well as an equally hilarious portrait of Italian-American values and family life.
The great comedian Dom DeLuise stars as Dominic DiNapoli, whom all his life has found food as a constant source of comfort. But after the death of his favorite cousin, his often neurotic sister Antoniette (Bancroft herself) and younger brother Frankie (Ron Carey) practically beg and implore him to stop eating himself to an early grave. With this, Dominic begins to bounce from unsuccessful crash diets to the support' group "Chubby Checkers", which makes his hunger for food much worse. Along the way, he finally discovers of what he really needs the most is the love from his family; the new love in his life, Lydia (Candice Azzara); and most importantly, himself.
Seeing this film for the first time, I was struck by how compelling DeLuise was in it. I believe this was the only time in his movie career where he played the lead role. This is actually unfortunate because it showcased his full talent for not just comedy, but also drama. As much as I love Bancroft, her performance can sometimes go into histrionics, but she doesn't go completely full on as one would think. There is heart and honesty there, considering she grew up in a large family where there was lots of yelling. Carey, Azzara, and Estelle Reiner (wife of Carl and mother of Rob, in a rare acting role) give great support as they try and help DeLuise with his struggles (as he did in real life).
The new Shout Factory Blu-ray has these special features:
NEW Looking Back On Fatso, with producers Stuart Cornfield and Mel Brooks. They both provide fascinating insight to Bancroft's direction of the film and what she was like off-screen.
NEW Interview with Film Historian Maya Montanez Smukler. This is a great piece where she explains the history of female filmmakers, and how important they really are to independent and Hollywood history.
Image Gallery
Press Kit
For some people, this may be a step down in terms of quality filmmaking, but in my opinion, it is worth the rediscovery because it tells the often painful and sometimes dangerous truth of our infatuation with food. Just try not to watch it on an empty stomach, since it will definitely make one salivate.