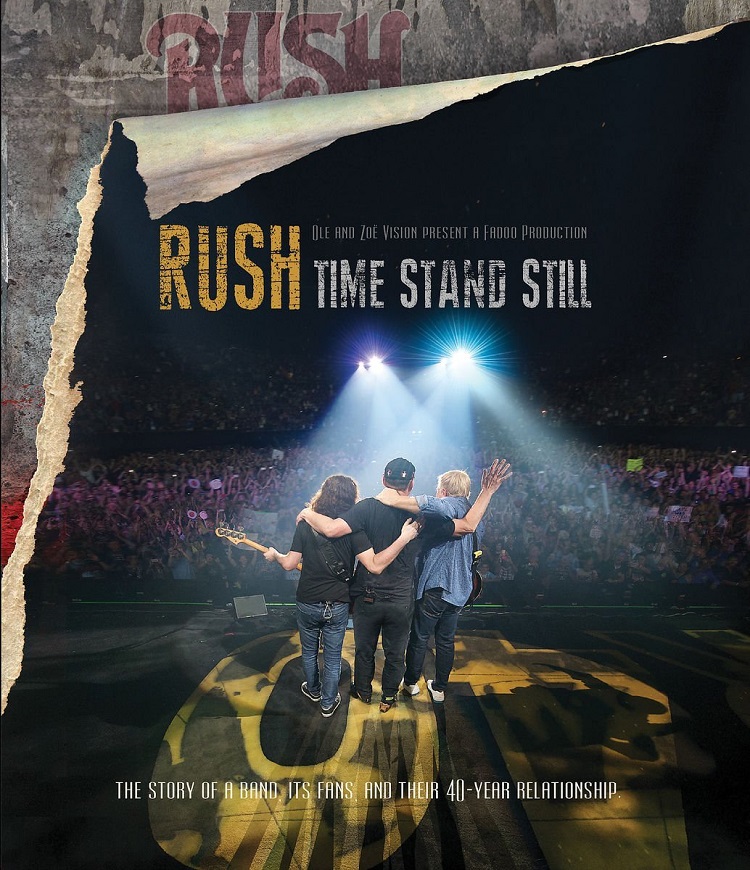 When Rush was preparing and touring for R40, their 40th anniversary tour, it was frequently suggested in the press that it might be their last. The band members didn't come out and say so directly, but they responded to the possibility in interviews. It turns out they knew more than they let on as made clear in Time Stand Still, a documentary about what is now revealed to have been their final tour. The film was screened in theaters in conjunction with Fathom Events, a second date was added because of the huge demand, and is available in different home-video formats.
During the Fathom screening, the program started with A Salute to Kings, a short featurette similar in nature to the documentary Beyond the Lighted Stage, where musicians, from peers like KISS' Gene Simmons and Thin Lizzy's Scott Gorham, both of whom toured with Rush in the 1970s, to fans like Red Hot Chili Peppers' Chad Smith and Foo Fighters' Taylor Hawkins, who grew up listening to them before eventually meeting and befriending their heroes.
The main feature is a heartfelt farewell that explores the end of Rush as a touring group. It turns out the previous 2013 Clockwork Angels tour could have been the last as far as drummer Neil Peart was concerned as he was content to move on then, wanting to spend more time with his family and aware that his ability to continue to play at "Neil Peart" levels was becoming increasingly difficult due to chronic tendonitis. Guitarist Alex Lifeson, who has been dealing with psoriatic arthritis, and bassist Geddy Lee aren't as content but they know Rush is and could only ever be the three of them.
All things must pass, as George Harrison sang, but that doesn't make the acceptance any easier. Lee is as incredulous as anyone that Rush is coming to an end. For fans, it was a soundtrack to their lives. For the band and those that helped behind the scenes, from their manager to truck drivers, it was their lives. And while people should never say never, and nowhere more so than the music business which has seen numerous bands reunite and hit the road again after playing a farewell tour, the finality seems more certain with Rush. They might reunite to play live again for a one-off performance or a handful of nights, but it's hard to see them touring around the world again for months at a time.
The film also focuses on some fans who've seen the band in concert many times over and love Rush like they love no other band. Over 27 years, I have attended the Hold Your Fire tour, the Counterparts Tour, the R30: 30th Anniversary Tour, the Snakes and Arrows tour (twice), the Time Machine Tour, and the R40 Live Tour. However, many interviewees put my seven shows to shame, especially those who mindbogglingly claimed triple digits. As the film concludes, some fans can be seen milling about after the final show at the Los Angeles Forum, soaking in as much as they could of the fading moments in the auditorium, not wanting to believe this was goodbye.
Unfortunately, time doesn't stand still, yet to the many whom Rush meant so much it doesn't make the realization any easier to take. But no matter what the future may hold for them, it was nice the band took the time to let fans in on their decision with Time Stand Still. The documentary likely marks the band's final chapter, making it a must-have for fans.