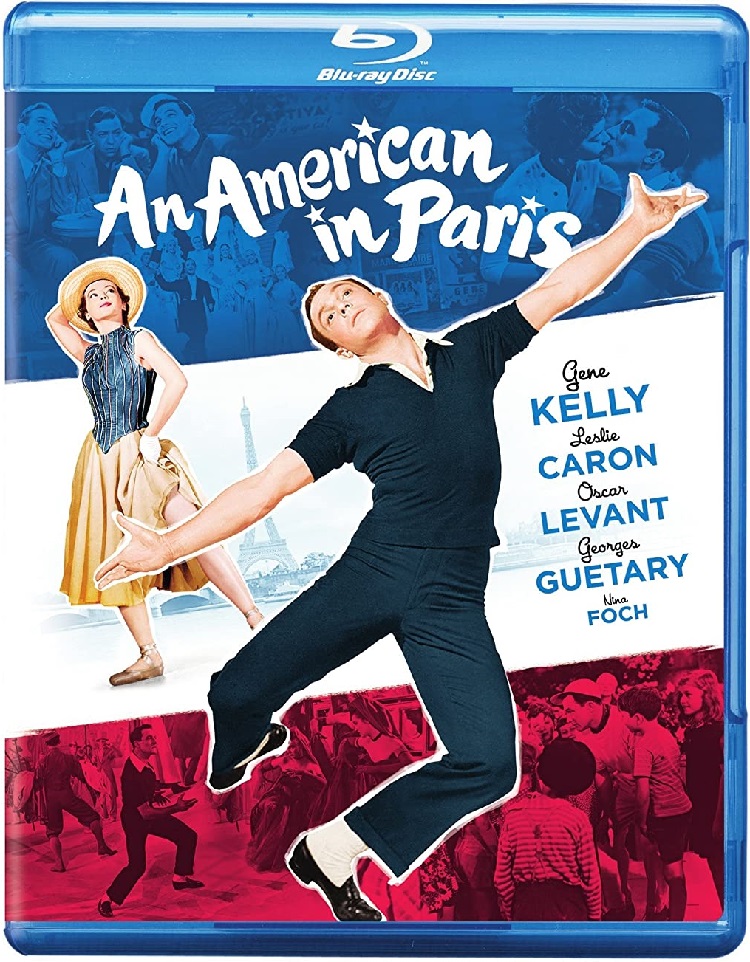 In the late 1940s, MGM executive Arthur Freed attended a production of George Gershwin classics and became inspired by the orchestral composition An American in Paris. Not so much because of the music, which he felt was great, but by the title. He felt you could really make a movie out of something like that. He hired Alan Jay Lerner to come up with a story. Gene Kelley was quickly hired to star and choreograph the many dance sequences. Gershwin's friend and grand pianist Oscar Levant was hired as Gene Kelly's friend and newcomer Leslie Caron was eventually signed to be the love interest. It was a huge hit and won six Academy Awards including Best Picture; Best Cinematography; Best Music, Scoring of a Musical Picture; and Best Writing, Story and Screenplay. Fathom Events and TCM screened the film nationwide last Sunday and will do so again on Wednesday, January 22.
The dancing is extraordinary, especially the 17-minute ballet sequence set to the song "An American in Paris" that concludes the film. The songs, made up mostly of old Gershwin tunes, are delightful. Gene Kelly and Leslie Caron and lovely together. The plot, well, the plot feels like it was based on the title of an instrumental song. It is quite insignificant.
Gene Kelly plays Jerry Mulligan, a WWII veteran living the ex-pat life as a painter in Paris (and though there is a lovely opening sequence filled with many of the iconic buildings of that city, the film was almost entirely shot on an MGM backlot in California). He tries to sell his wares on the streets of Montmartre but usually has no luck. One day, a beautiful society lady, Milo Roberts (Nina Foch), takes an interest in his work and agrees to buy a couple. She invites him back to her hotel where they discuss art and she later suggests that she will act as his sponsor. Though secretly, she has more romantic intentions.
Jerry agrees but while they are at a nightclub, he sees and immediately becomes smitten with Lise (Leslie Caron). He stares at her intently. He walks to her table, pretends to know her, and forces her to dance with him. She lets him know he has no interest in him. He tricks her friends into giving him her phone number. He calls her; she says he wants nothing to do with him. He drops by her work and she tells him to get out. But then he smiles and makes her laugh and suddenly they are in love.
But she has a fiancee. His name is Henri (Geroges Guétary) and he took her in during the war, hiding her from the Nazis. He fell in love with her and her sense of obligation has led her to agree to marry him.
Thus begins our love triangle between a nice girl, one guy who won't take "no" for an answer, and another who used the Nazi occupation to seduce a teenager. The thing is though, I never really minded how gross that is. The plot is so slight, the characters so undeveloped, that the less-than-stellar behavior of the men wound up not being all that bothersome. Especially considering the great charm that exudes from Gene Kelly.
That man was as graceful as he was charming. In the opening scene, we find Jerry waking up in his small, studio apartment. He opens doors, shuts drawers, and pulls out tables with his feet and hindquarters. It is a scene that by anyone else would be nothing much, but here it is a dance number to itself, full of grace and fluid movement like nothing else.
The plot is really just a way to tie all the song-and-dance numbers together. They are a true delight. Highlights are when Jerry gets a gaggle of school children to sort the "I Got" lines in "I Got Rhythm," and the way "Love Is Here To Stay" builds into a romantic dance by the Seine river. There's also a very funny version of "Concerto in F for Piano and Orchestra" that finds Jerry's friend Adam playing all the instruments and conducting himself.
But the true breakthrough piece is that ballet set to "An American in Paris". It took weeks to film, cost half a million dollars to make, and is worth every bit of that time and money. It is a dream sequence where Jerry dreams of being with Lise (who has just left to be married to Henri), dancing all over Paris on sets built to resemble various fine paintings.
Watching An American in Paris on the big screen was an exceptional experience and one I fully recommend. You can do just that on January 22 in theaters across the country. As per usual, TCM host Ben Mankiewicz introduces the movie and gives some final thoughts after the credits roll.