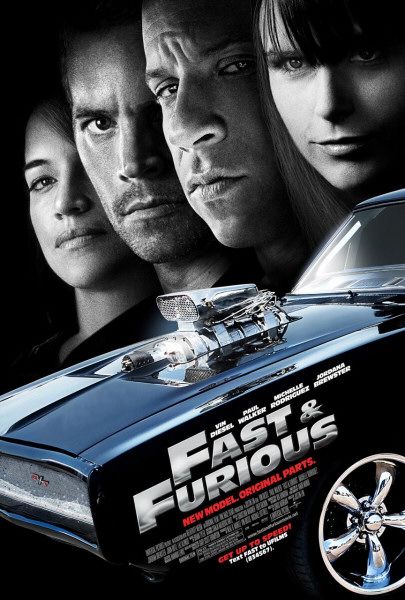 After the disappointment of Tokyo Drift, I am very surprised director Justin Lin and screenwriter Chris Morgan returned for this next installment in the franchise, but they redeemed themselves by going back to the drawing board and increasing the action. 
In the Dominican Republic, Dom (Vin Diesel) and Lety (Michelle Rodriguez) are involved in a caper to steal gasoline tankers from a fully loaded gasoline land train. Their team includes Han (Sung Kang), which is a shock as he wasn't expected to be seen driving again. He talks of going to Tokyo so Fast & Furious must take place before Tokyo Drift; the audience later learns the events of this movie take place five years after The Fast and the Furious. Lin and his team create an impressive and admittedly ridiculous action sequence that immediately has me interested after the problematic previous movie.
The authorities are closing in on Dom, so he slips out one night and leaves Lety behind because the life is becoming too dangerous. In Panama City, he learns Lety has been murdered back in Los Angeles. Although a fugitive, he returns there to find out who is responsible and make them pay. Brian O'Conner (Paul Walker) is now an FBI agent and is part of a task force trying to stop a major heroin dealer. Their paths intersect because they are both searching for Arturo Braga.
An opportunity to get closer to their target presents itself when Braga needs a new driver to join his drug-smuggling team. To earn the spot requires winning a race through the streets of Los Angeles. The sequence works well because it is so outrageously over the top. The loser comes up with a clever way to score a spot on the team, and then off to Mexico they go.
After the mission is completed, Braga intended to have the drivers killed to tie up loose ends, but Dom discovers Fenix (Laz Alonzo), an underling of Braga, killed Lety, and sets off a crazy sequence of events during which Brian and Dom escape. Another intriguing plot twist occurs, leading Dom to work with Brian in capturing Braga. However, the FBI screws up and Braga escapes to Mexico. Dom and Brian unofficially head south of the border for a spectacular conclusion to the movie.
Fast & Furious works well because it's fun and exciting. It's impressive that each action sequence seems to top the one before it. The story is actually the best one of the franchise up to this point. There are some clever parts in the plot, and it has the advantage of having characters fans are familiar with. It works as the truest sequel to the first movie.
That's not to say it's not without its flaws. The characters are still generic and forgettable. It's hard to buy the gorgeous Gal Gadot as Gisele Yashar coming on hard towards Vin Diesel. Haven't seen an unlikely sex symbol in quite a while. There's not one memorable line of dialogue I imagine people quoting. And there's an eyesore of a scene that uses the ugly orange-teal tandem when Brian talks with Mia (Jordana Brewster) in the restaurant.
Despite those issues, I would recommend Fast & Furious to those looking for an entertaining action movie.  Plus, it's the first of the series that has me looking forward to the next one.