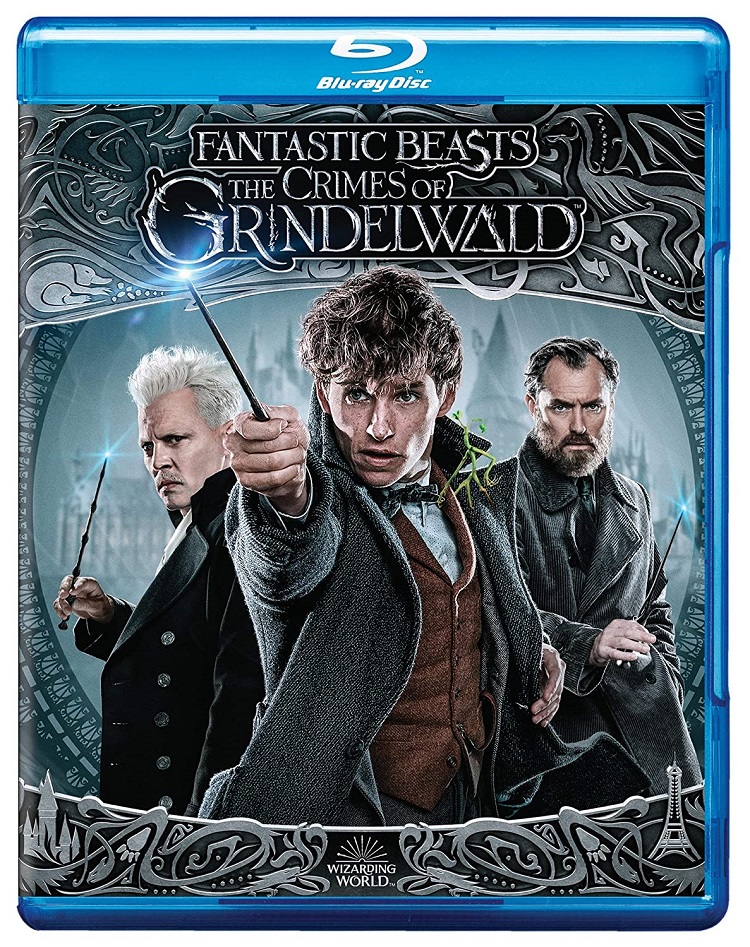 Maybe five films is a bit too much to look at everything in the pre-Harry Potter universe. Or, maybe it's not enough. It depends on how you view it. There's quite a bit of information unloaded on the viewer in Fantastic Beasts: The Crimes of Grindelwald that it feels like there should be 10 movies just to explore everything J.K. Rowling has in mind. But there's also this feeling, after sitting through The Crimes of Grindelwald, of how much of a chore it will be to get through the already-planned three future films.
Picking up where Fantastic Beasts and Where to Find Them left off, Newt Scamander (Eddie Redmayne) has been barred from international travel by the Ministry of Magic. But that doesn't last long as the "magizoologist" (how's that for a job title?) leaves the Ministry, following a disagreement over finding the thought-to-be-dead Credence Barebone (Ezra Miller), and now has complete control over going back to the U.S. on his own terms.
Prior to all of this taking place, we see Gellert Grindelwald (Johnny Depp) being transported from the U.S. to England to stand trial for the crimes he committed. Yet, that doesn't last long, as Grindelwald easily escape the authorities' clutches and is now loose to cause havoc in Europe.
Those are just the two main plots that get shuffled around in The Crimes of Grindelwald, as Rowling and team try to cram in so much that the film becomes aimless and frustrating. We do see the return of other characters from Where to Find Them, such as Jacob Kowalski (Dan Fogler) and Queenie Goldstein (Alison Sudol), but they don't add much to the story other than a few laughs here and there.
Meanwhile, Credence tries to discover his true identity, and a younger version of Albus Dumbledore (Jude Law) comes to grips with the fact that he may be the only person who can take down Grindelwald. The only problem is he and Grindelwald once shared a relationship that Albus claims was "closer" than being brothers.
There's a lot more in The Crimes of Grindelwald that hasn't been discussed in this review, and, frankly, it doesn't matter. It's as if Rowling realized she had a contract for five films, but the Wizarding World, as it's called, has more than enough material to go beyond that, and she tries to shove as much as she can into here. There are (supposedly) three more films to come after this, but this latest entry doesn't give any Potter fan much hope for the future.
Sure, there are moments where The Crimes of Grindelwald is gorgeous to look at, both in cinematography and visual effects, and the performances are mostly fun to watch. Law, hands down, is the scene-stealer here as Dumbledore. But the direction from Yates feels so vapid and the action scenes are surprisingly unengaging for a Harry Potter film.
The Blu-ray for Fantastic Beasts: The Crimes of Grindelwald comes in a 1080p, 16×9 presentation format with a 2.4:1 aspect ratio to make a lot of the really bright imagery and visuals stick out well. It, unfortunately, doesn't do much for the scenes that are already pretty dark, other than make them more presentable. This release also comes with a DVD and digital copies of the film. For those interested in seeing seven extra minutes of the movie, you can redeem the digital code, which includes the extended cut. What's helpful is Yates and team actually indicate which scenes were deleted from the final film in the extended version. They don't add much to the overall movie, but it does seem like a nice gesture.
The special features include more deleted scenes but with unfinished visual effects, bringing the amount of extra footage to 15 minutes or so. J.K. Rowling: A World Revealed contains an interview with the successful author, as well as Yates and other people involved with the making of the film and how they wanted to explore the world some more. Wizards on Screen, Fans in Real Life is actually a fun feature, showing Ezra Miller and Evanna Lynch (Luna Lovegood in the original series) watching The Crimes of Grindelwald and providing commentary on certain scenes. Distinctly Dumbledore is a brief interview with Law about playing a younger version of the beloved character. Lastly, Unlocking Scene Secrets is a six-part series that looks at different aspects of the film and has interviews from multiple cast members and behind-the-scenes people.
While Where to Find Them might have been a flawed but fun starting point, The Crimes of Grindelwald is more like the misguided follow-up that proves it might be time to put this series to bed and move onto something else. Hopefully, the third film will correct course and make it more fun and engaging again, but it's going to be some time before we see how that will pan out.