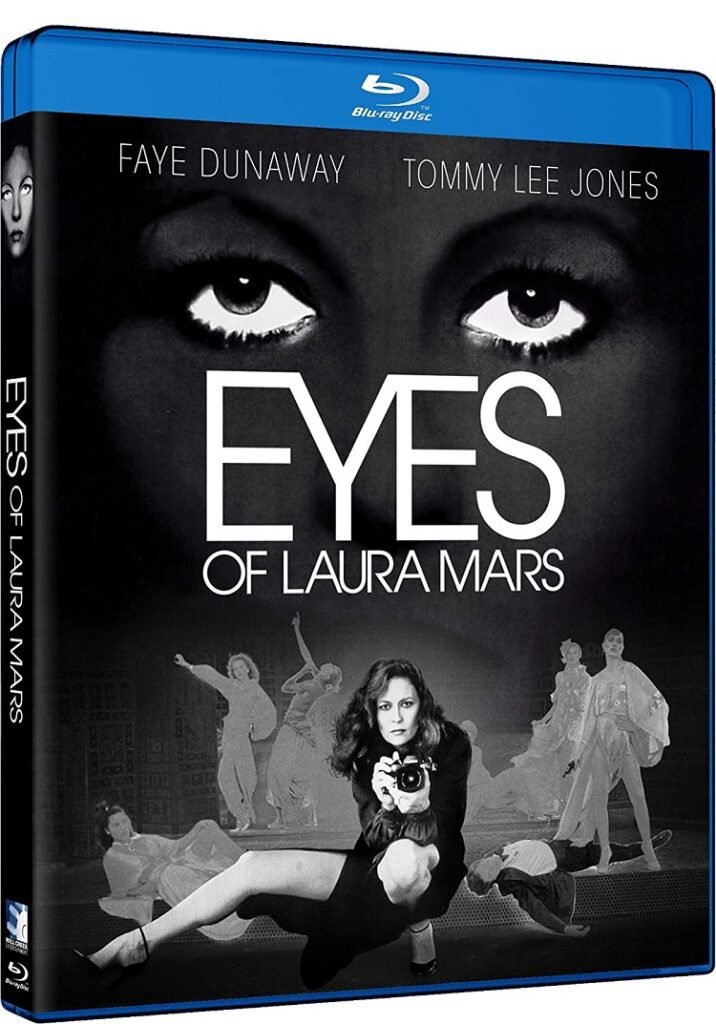 In 1978, hairdresser-turned movie mogul Jon Peters bought a murder-mystery screenplay, Eyes of Laura Mars, for his then-girlfriend, Barbra Streisand. She turned it down. She thought the screenplay about a photographer who stages controversial, sexy, violent fashion shoots (a la Helmut Newton) was a bit much for her, but she did agree to sing the film's theme song, "Prisoner." The elaborate photo sessions in the film featuring lingerie- and evening dress-clad models (including Darlanne Fluegel) staged in front of car wrecks in the middle of Columbus Circle that are attributed to Laura were taken by Newton and commercial director Rebecca Blake.
Faye Dunaway took the title role of Laura Mars, who begins having deadly visions of murders-to-be of her friends and colleagues. Tommy Lee Jones is a sympathetic police officer assigned to the serial murder case. Rounding out the stellar cast are Raúl Juliá as Laura's ex-husband Michael; René Auberjonois as her assistant Donald; and Brad Dourif as her driver Tommy (all suspects, of course). Laura continues to have visions, realizing she is looking through the killer's eyes, as her work mimics the crime scenes from her visions.
Directed by Irvin Kershner (The Empire Strikes Back) from a script by John Carpenter (Halloween), the film is in the style of Italian giallo cinema, with its over-the-top stylish imagery and thriller/suspense aspects. Faye Dunaway plays Laura as a high-strung person constantly on the verge of snapping – unless she is in the darkroom or behind the lens of her Nikon, the only places she seems to feel at home. Jones is appealing as the cop who asks rather personal interrogative questions – he seems to have more than a passing interest in Laura – but as a suspect, or a potential lover?
A great example of late-'70s urban cinema, Eyes of Laura Mars is an involving thriller, taking advantage of its New York City and New Jersey locations. Disco classics like "Boogie Nights," "Native New Yorker," and "(Shake, Shake, Shake) Shake Your Booty" add to the period atmosphere as the background soundtrack for Laura's industry parties and photo shoots. Despite her stylish occupation, Laura lives in a more gritty than glamorous world, although the costumes by Theoni V. Aldredge, especially Laura's wardrobe, are great.
The single disc Blu-ray from Mill Creek Entertainment images are sharp and clean and look great on a large-scale, high-definition television screen. The film has a running time of 1 hour and 44 minutes and is rated R. Video resolution is 1080p, with an aspect ratio of 1.85:1 widescreen (same as the film's original aspect ratio). Audio is DTS-HD, with English SDH Subtitles. Extras include Audio Commentary by director Irvin Kershner.