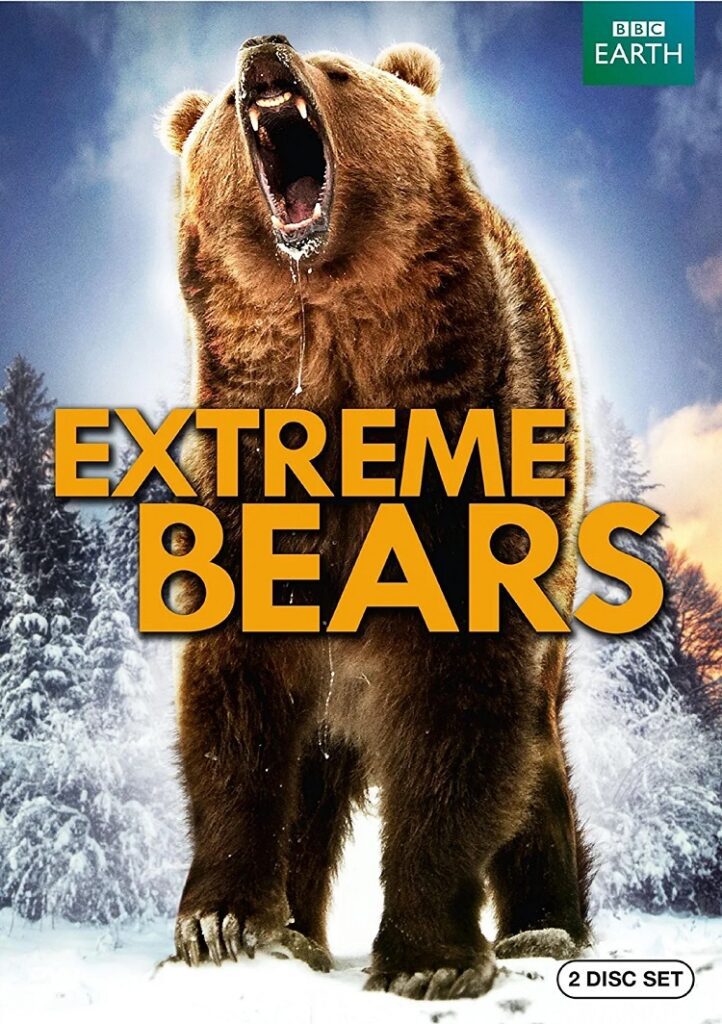 A triple feature of sorts from BBC Earth, Extreme Bears is two discs of grizzlies, pandas, and polar bears in their natural elements. The release features three programs – four episodes in total – that concern themselves with all aspects of bear life.
The most compelling of the programs is the "Great Bear Stakeout." This features two episodes dealing with a group of grizzly bears in Alaska. Billy Connolly narrates and really does a bang-up job, bringing his trademark humour and energy to the events.
The team of photographers and experts get as close as humanly possible to the grizzlies, providing incredible footage and more than a few tense moments. A particularly edgy bit arrives when Van, one of the largest grizzly bears ever seen, believes that the team has made off with his cherished seal carcass.
The aforementioned Van becomes the star of the show in the "Great Bear Stakeout" and things take a Bonnie and Clyde turn when he sets his sights on Alice only to discover what could best be termed a dark side. This leads to an explosive and disturbing moment that quite frankly has to be seen to be believed. Even the crew sits in stunned silence after the barbarous display from the bears.
A less compelling program is "Polar Bear Battlefield." Using "revolutionary graphics," this episode deals in polar bears and relies on off-putting lime grids and radar to lay out the "battle plans" of their subjects. It doesn't work well and the feature plays more like a lesser Discovery Channel bit.
The "Polar Bear Battlefield" special does attempt to weave a story of survival for a young bear, but its flashy effects get in the way. Much like the BBC Two features "Shark Battlefield" and "Wolf Battlefield," this just isn't up to the same standards of other BBC Earth specials.
Luckily, Extreme Bears gets back on track with "Bears: Spy in the Woods." This comes narrated by the mighty David Attenborough and originally aired in 2004. This time, the technology is less of a hindrance and more of an addition. The use of camouflaged spy cameras, one of which is adorably concealed as a trash can, makes for some sublimely comic moments as the brown bears discover them.
"Bears: Spy in the Woods" also achieves rare footage of panda bears as they munch away their lives in bamboo groves. Attenborough describes things beautifully, but he also contrasts the lives of each bear against their fellows. This presents some interesting insight, especially with respect to the less-than-active panda.
Extreme Bears is a mostly captivating set from BBC Earth. While "Polar Bear Battlefield" is a rare misstep, the rest of the set is worth a look. There are no bonus features, which is kind of a shame, but the sordid and bloody tale of Van and Alice is more than remarkable enough on its own.