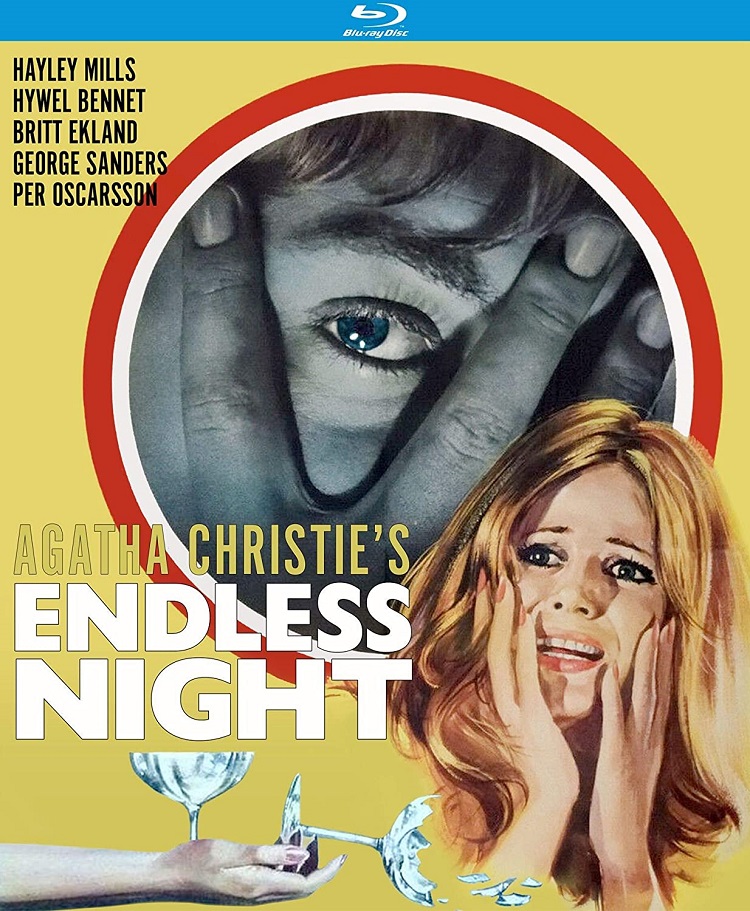 Agatha Christie is well-known for cozy mysteries set in English villages where evil lurks beneath the neatly trimmed hedges; or alternately, in exotic locations where traveling Brits let their passions lead to murderous impulses. Endless Night is a novel she wrote later in her career, in 1967, and it is a departure from those stories, featuring neither of her famous detectives, Hercule Poirot or Miss Marple. In fact it doesn't feature a detective or a conventional crime at all. It is a story that is hard to define. There are elements of mystery, romance, and even horror. Like Christie's Murder of Roger Ackroyd, Endless Night does feature an unreliable narrator, the hero of the piece, Michael Rogers. The film version of Endless Night (1972), available March 24 on Blu-ray, is pretty faithful to the original novel.
Michael Rogers (Hywel Bennett) tells the story of how he became enchanted with a place in England called Gypsy's Acre. Michael, currently employed as a chauffeur, drifts from job to job, with no future prospects, but he dreams of one day living in Gypsy's Acre. He befriends a famous architect named Santonix (Per Oscarsson), who he hopes will build him a house – if he can ever afford to live there. He spends most of his free time on Gypsy's Acre scheming and dreaming and one day meets a girl there – Ellie (Hayley Mills), who seems as in love with the spot as he is. After a rapid courtship, the two are married and Michael discovers that Ellie is not only beautiful, but she is the "sixth richest girl in the world." An orphan, she nonetheless has an assortment of relatives and caretakers who are suspicious of her new husband and protective (and possesive) of her fortune, including family lawyer Uncle Andrew (George Sanders, in his last film) and her (constant) companion, Greta (Britt Ekland).
Ellie purchases Gypsy's Acre for their dream home, which Santonix completes as his final and greatest project, as his health is slowly failing. The home is an amazing, futuristic construction – with a pool in the living room that can be revealed at the press of a remote control – and filled with paintings and sculptures that art lover Michael has collected for Ellie (with the help of Ellie's fortune). The house used in the film is a cultural site in Surrey – The Homewood.
The locals at first seem to embrace the newlyweds, but there are some disturbing signs as well – a brick shatters a large window, and a local "witch" (Patience Collier) seems to turn up unexpectedly to frighten the couple, complete with the pronouncement that the land and they are cursed. When Ellie hurts her foot in a riding accident, Greta moves in with them and life gets even more complicated – and tragic.
The supernatural elements of Endless Night are more creepy than scary. Director Sidney Gilliat (his last film) creates a very dreamy, haunted atmosphere through the use of quick cuts, close-ups, and lurid colors. The main characters' costumes are primarily black and white, which suggest their duality. The score by Bernard Herrmann adds to the overall atmosphere of unease. Endless Night may best be considered Agatha Christie's haunted house mystery.
Endless Night, available from Kino Lorber, has a video resolution of 1080p, with an aspect ratio of 1.85:1 (original aspect ratio: 1.85:1). Audio is English, DTS-HD Master Audio 2.0 (48kHz, 16-bit). Subtitles are English SDH. Ellie's singing in the film was dubbed by Shirley Jones.