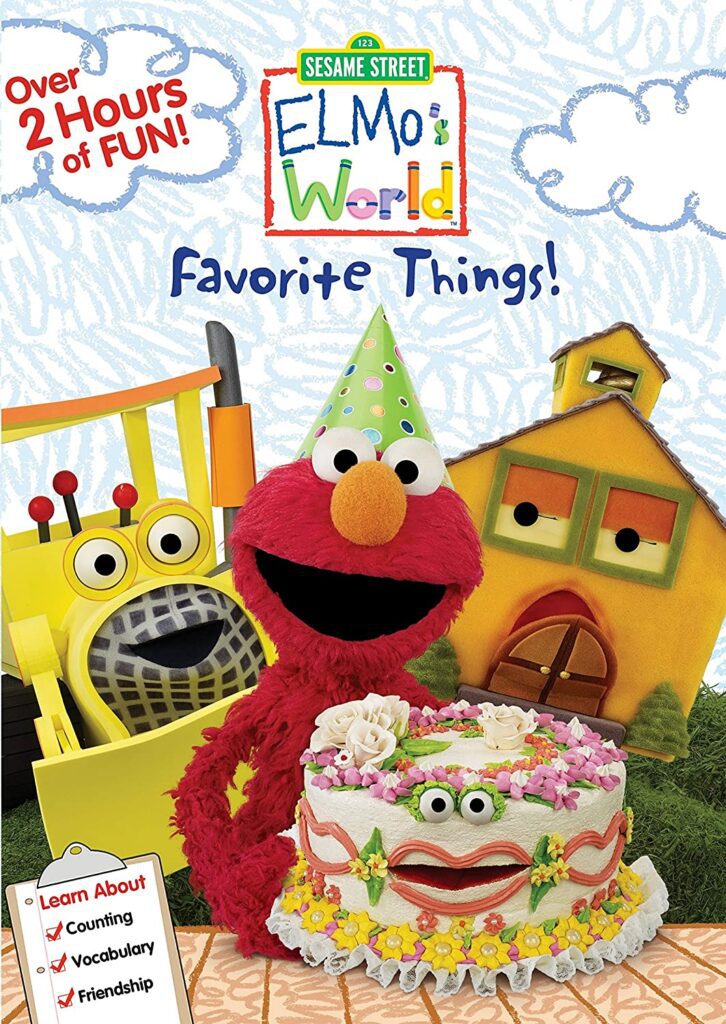 Written by Amanda Salazar
Though he has dabbled in films, starring in The Adventures of Elmo in Grouchland and having a peripheral role Being Elmo: A Puppeteer's Journey, any fan of the three-year-old, bright red puppet knows him best for his work on Sesame Street, where he stars in a segment known as "Elmo's World". New to DVD is Elmo's World: Elmo's Favorite Things! where Elmo takes eight subjects and does what he does best: makes them fun, colorful and educational.
The eight episodes are "Birthdays," "Dinosaurs," "Pets," "Fun and Games," "Building Things," "the Beach," "Friends," and "School." Each one is educational on the topic but in true Sesame Street fashion, kids, songs, and a lot of love are in every one.
The episodes range from educational to how-to steps on making and doing certain things. For "Dinosaur," we find out about dinosaurs, where they came from and even take a trip to a museum to see fossils. For "Birthday" and "Building Things," we learn how to wrap presents and how to put together building blocks. In all cases Elmo is able to take a subject and make it fun, interesting, and a learning experience for the kids.
In every episode, Elmo visits all of his friends, asking them what they do and how they feel on each of the subjects. Kids chime in on how they play and what they do at the beach, and some of his Sesame Street buddies show up to give advice on what they think. Dorothy, Elmo's goldfish, always imagines Elmo in different settings, which is always fun because we get to see Elmo as a fish, playing basketball as a dinosaur or a baby.
Of course each episode includes sing-a-longs but there is also counting and use of modern technology, like getting emails. He asks the audience to interact, asking them questions about the episodes. For example, "Can a monster be a pet?" and the kids get to answer.
On the educational side there is always a section where we learn even more about the subject, going more in depth with cartoons and interactive counting.
Overall, there is a perfect mixture of live action, animation, and puppets. Children will easily be entertained by the whole episode, and it makes it interesting for parents to watch as well.
Each episode is about 12 minutes and they nicely play into one another with no breaks. This way if you are only interested in one episode you can choose that or have the option of running them all together like a movie. In true Elmo fashion each episode ends with Elmo singing about the subject and my favorite part of any episode is when Elmo "asks a baby" – it is by far the cutest, most endearing and playful thing that he does and that is what Elmo is all about.
The best extra on the DVD is a printable PDF handbook that you can print out and enjoy with the viewing. As for the parents there are a few tips on how to interact with your kids as another extra as well.