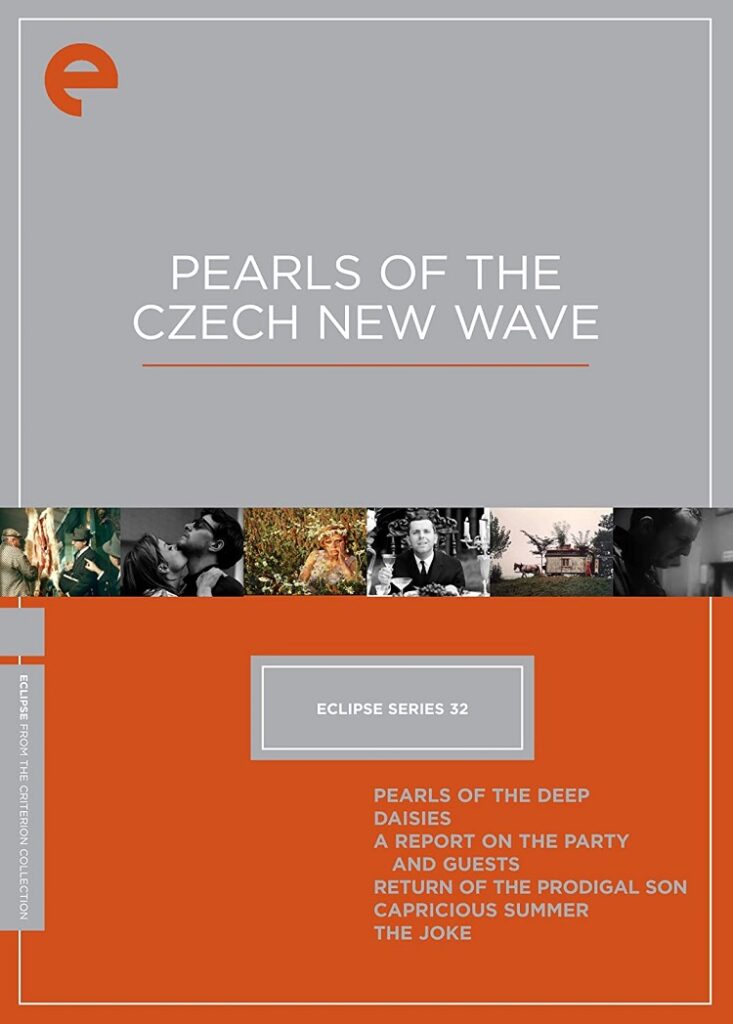 You never really know what to expect from the more "arty" contributions the world of international cinema has to offer us. When the Criterion Collection released A Hollis Frampton Odyssey earlier in the year, I found myself being tortured by a self-absorbed artiste's experimentations with celluloid. With Pearls of the Czech New Wave, however — a collection of oddities from assorted filmmakers of the former Central European state now available under Criterion's Eclipse banner — I found the pretentious art-lover in me at long last emerging. Of course, I have always preferred New Wave over avant-garde art any ol' day, so I can't say I was surprised.
The four-disc set brings us six rather-neglected classics from the politically-fueled era of the late '60s, helmed by such visionary masters and mistresses as Věra Chytilová, Jaromil Jireš, Jiří Menzel, Jan Němec, and Evald Schorm. We begin with the anthology flick Pearls of the Deep (1966), which was crafted by all five directors, with the only similarities here are the fact that all of the film's chapters are based on works by writer Bohumil Hrabal; the subjects of the movie's segments range from two old men in the hospital reminiscing about the past, to a loony maverick artist. It's an OK experience overall (in my opinion), but — apart from it being the first entry in the set chronologically as well as being the inspiration of the set's name — might discourage newbies to the subgenre.
On Disc Two, we have a double feature. First, Ms. Chytilová returns to bring us what she is probably best known for: the charming classic Daisies (also 1966), a surreal tale of two completely spoiled and bored girls named Marie (Ivana Karbanová and Jitka Cerhová) that is an utter delight — and is quite possibly the best entry in this entire set. Mr. Němec's A Report on the Party and Guests (another from 1966) — a yarn wherein a picnic becomes a bizarre lesson about the pecking order of politics once a couple of peculiar individuals show up — became a unpopular item with the Czech government at the time of its release, and managed to get itself banned for its parables of real life repression.
Disc Three gives us a peek at Evald Schorm's Return of the Prodigal Son (1967), a bleak drama about a successful married man who suffers from a horrible depression that constantly takes him back to a decidedly peaceful asylum, where he forms a friendship with another depressed individual. The fourth and final disc in this set bring us two more offerings from Jiří Menzel and Jaromil Jireš: Capricious Summer (1968) and The Joke (1969). The former title (from Mr. Menzel) follows the entertaining plight of three middle-aged men who encounter a circus performer and his lovely assistant; the latter (courtesy Mr. Jireš) focuses on the humorless absurdity of the Communist Party, with a member being ousted following a political joke, only to wind up in prison, where he begins to devise a recipe for revenge against the ex-pal who put him there.
As with other Eclipse Series releases, the films included in Pearls of the Czech New Wave have not been restored or remastered to the extent that most Criterion Collection titles are. As such, the quality of the films is not very consistent, but they're all still perfectly viewable, and their accompanying mono Czech soundtracks deliver quite nicely. The discs themselves are barebones affairs, but each disc contains liner notes by Criterion's own Michael Koresky that will shed a little light on each title for those of you who — like me — might find their ostentatious traits emerging after watching these gems and wish to find out more.
Enjoy.