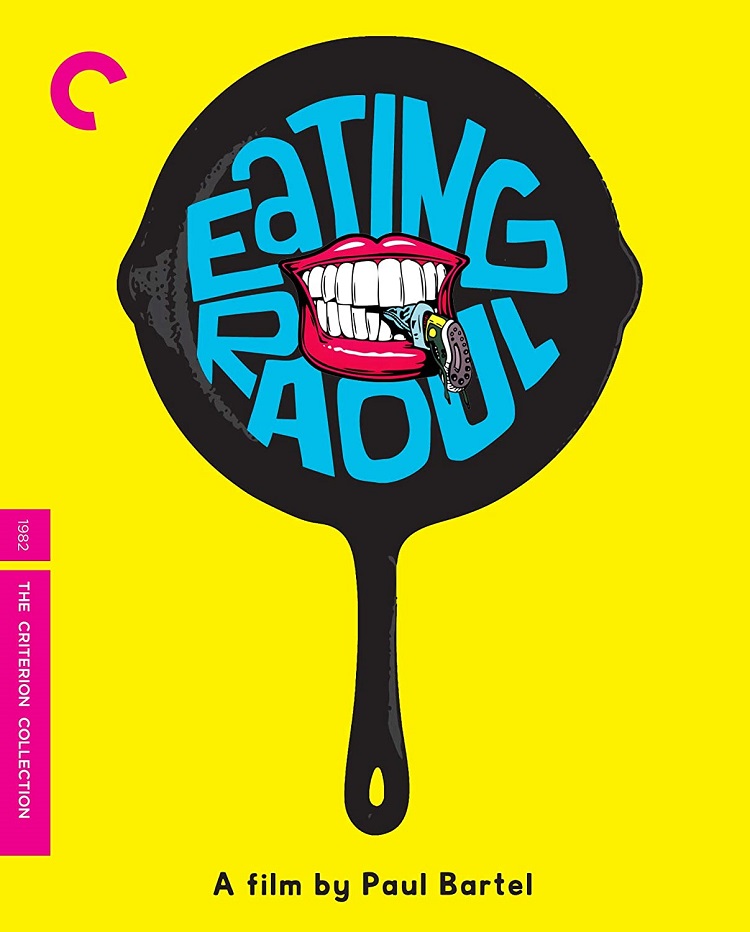 Independent cinema of 1982 did not resemble today's genre in any shape or form. Viewers had to work to find access to see these films. They would show in small, dingy theaters for a week at a time but rarely be seen beyond the largest cities. But in 1982 things were starting to change with the expansion of cable television and the advent of the VHS player. As a teenager in this period, I was discovering all kinds of films I had never heard of thanks to HBO and local video rental stores.
One of the underground films that fascinated me was Eating Raoul that now gets a Criterion Collection release. Paul Bartel co-wrote, starred, and directed this cult classic. It stars his frequent collaborator, Mary Woronov, and has a wealth of guest stars including Ed Begley, Jr., Buck Henry, and John Landis. The plot is deceptively simple on the surface but contains lots of subtext that make it interesting to revisit. Paul and Mary play a conservative married couple in Los Angeles who discover (quite by accident) a way to "handle" the perverts surrounding them. And in the meantime, get closer to their dream of opening a restaurant. That is until Raoul enters their lives.
Much of the understanding of this film is probably lost on younger viewers. There is a subtext to the film that is deeply rooted in the time of the early '80s. The couple are named Paul and Mary which brings to mind the blandest of folk rock groups in Peter, Paul & Mary (not just the actors names). Their last name is Bland to further drive home their Midwestern prudishness. They have moved to Los Angeles at the end of the Disco era, at the height of the drug scene and before any of the AIDS scare. This is an era of excess in American cities still. The Blands dream of opening a place called "The Country Kitchen" to serve what the call a decent meal. They are surrounded by swingers who try to force their lifestyle on the Blands. One night Paul comes upon a neighbor forcing himself on Mary. He kills the man in self defense with a frying pan. It's through this event that they discover a way to make money to realize their dream. They advertise to meet people for orgies and kill them for their money.
It's a dark turn quickly into the film but it works as satire on the excesses of life in LA. Much like the subtext of many slasher films, the penalty for sexual indulgence is death. The evolution of the couple as serial killers is also a clever device for Bartel to explore the seedy side of Los Angeles and have fun with some sexually outrageous characters. Their plan isn't well thought out and they start having trouble getting rid of all the bodies. This is where Raoul enters the film. He has discovered what Paul and Mary are doing and wants to exploit them. The couple so offended by sexual deviances have no problem with any other moral dilemmas. They agree to let Raoul dispose of the bodies, unaware that he is making money off the victim's cars and selling the bodies for meat for dog food. And as things devolve, he also arouses new sexual feelings in Mary.
The film isn't even about what happens, especially the last half of the film. Upon seeing this for the first time in over 20 years, I see that this is a broad satire of society wrapped in dark humor. The actors read their lines like this is a stage play by Shakespeare. Their haughty attitude, especially that of Bartel, adds even more to the dichotomy of what is being said versus what the subject is.
It's hard to place this film within the Independent film genre, especially of its day. It's easy to throw this film in with the early works of John Waters. Certainly the production values are similar – this film being made for $500,000 – as is the portrayal of the seedier side of society. This film differs in that Waters revels in the fringe elements of society and their shocking behavior, while Bartel enjoys poking fun at the absurdity of both sides. There's an equal element of the early Warhol films with actors spouting lines that are very incongruous to the action. And lastly, there's an element of punk rock. Paul Bartel is making a movie about cannibalism and serial murders without showing us shocking, bloody scenes. It's hilarious to constantly hear the sound of the frying pan hitting folks in the head. Bartel combines a DIY attitude with the brashness of what was happening on cult shows like Saturday Night Live.
The Blu-ray is beautifully restored. I watched it so many times on very faded VHS copies. The 24-bit sound remastering is impressive considering the low-budget source material. But I expect such greatness from the Criterion Collection. There is the usual audio commentary (unfortunately Paul Bartels passed away before making one), two short films from Bartels, and a nice documentary called "Cooking Up Raoul" that offers some context. There are archival interviews, outtakes and a small essay from David Ehrenstein. I could have used a longer essay (usually one of my favorite extras from Criterion) and in all, I just don't feel that I've come any closer to knowing the man, Paul Bartel.
This dark comedy isn't going to necessarily influence a new generation of movie makers. But for those who pay attention, this is a brilliant satire that's well constructed. Paul Bartel tells a complex tale with a low budget. Another coup for Criterion, I hope there are more '80s films like this to come.