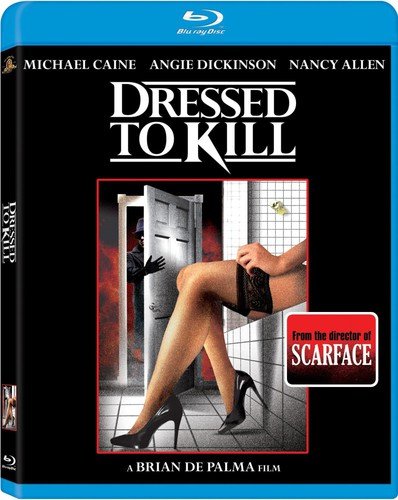 The Film
Exhibit A of the "Brian De Palma just rips off Hitchcock" trope has to be Dressed to Kill, which lifts settings, plot twists, and character types whole cloth from Psycho. But that mere description doesn't account for the often-thrilling stylistic virtuosity De Palma displays. Yes, Dressed to Kill can be clumsy, tawdry, and in one particularly tone-deaf moment, oddly racist, but more often, it's elegant, erotic, and terribly effective at pulling the strings of terror. It's not quite the masterpiece that De Palma's follow-up Blow Out is, but Dressed to Kill remains a high point of De Palma's career.
Bookended with dream/nightmare/fantasy shower sequences, Dressed to Kill delves into the highly sexualized worlds of Kate Miller (Angie Dickinson), a dissatisfied suburban housewife, and Liz Blake (Nancy Allen), a chipper hooker who may or may not have a heart of gold.
A gruesome murder by straight-edge razor brings the two into each other's lives, along with Dr. Robert Elliott (Michael Caine), a psychiatrist who sees Kate and whose razor has gone strangely missing. Also on the lookout for the killer is Kate's boy-genius son Peter (Keith Gordon) and takes-no-shit Detective Marino (Dennis Franz in an immensely enjoyable turn).
The conflation of sex and violence here was bound to get people up in arms, and Dressed to Kill was forced to undergo cuts to achieve an R-rated U.S. release. The film certainly has its share of salacious moments, but De Palma hardly just goes for cheap thrills. Case in point: a stunning sequence early in the film at the Philadelphia Museum of Art where Kate enters into a tentative flirtation with a stranger. The sequence rests almost entirely on the power of suggestion, with stylish Steadicam work and sustained tension that rewards patient viewers. It's hardly the work of a simple schlock peddler.
Elsewhere, the film is filled with De Palma's capable visual storytelling, including his trademark split screens and split diopter shots, which highlight the dual nature of several characters' lives. Even when the film is lacking narratively (and its strict adherence to much of Psycho's plotting ensures its surprises aren't terribly inventive) it remains consistently stylistically smart, which is De Palma's strong suit anyway.
The Blu-ray Disc
Dressed to Kill is presented in 1080p high definition with an aspect ratio of 2.35:1. The disc presents only the unrated version of the film, which for all intents and purposes is De Palma's director's cut. The image quality here is quite good, accurately representing what was likely the theatrical look, with healthy grain levels and a finely detailed, if a tad bit soft, picture. The materials used are obviously in good shape, with little to no damage present, aside from some infrequent pulsating and flicker. It's a nicely film-like transfer that presents a significant upgrade over DVD.
The film's original mono track has been converted here into a 5.1 DTS-HD Master Audio mix, but the gussying up doesn't change much. The track is still adequately clean and clear, but doesn't possess a whole lot of dynamic range.
Special Features
Some decent extras get ported over from the DVD edition, including a 45-minute making-of that features interviews with De Palma and all the major players except Caine. These same interview sessions are used for shorter featurettes — one that has Gordon talking about his appreciation of De Palma's work and one that discusses the MPAA-mandated cuts to the film. Another piece shows split-screen differences between the unrated, theatrical and network TV versions of the film.
Also on the disc is a six-minute slideshow of stills and production photos along with the film's theatrical trailer.
The Bottom Line
Worth it alone for the virtuosic museum sequence, Dressed to Kill is better than its borrowed Psycho elements might suggest.