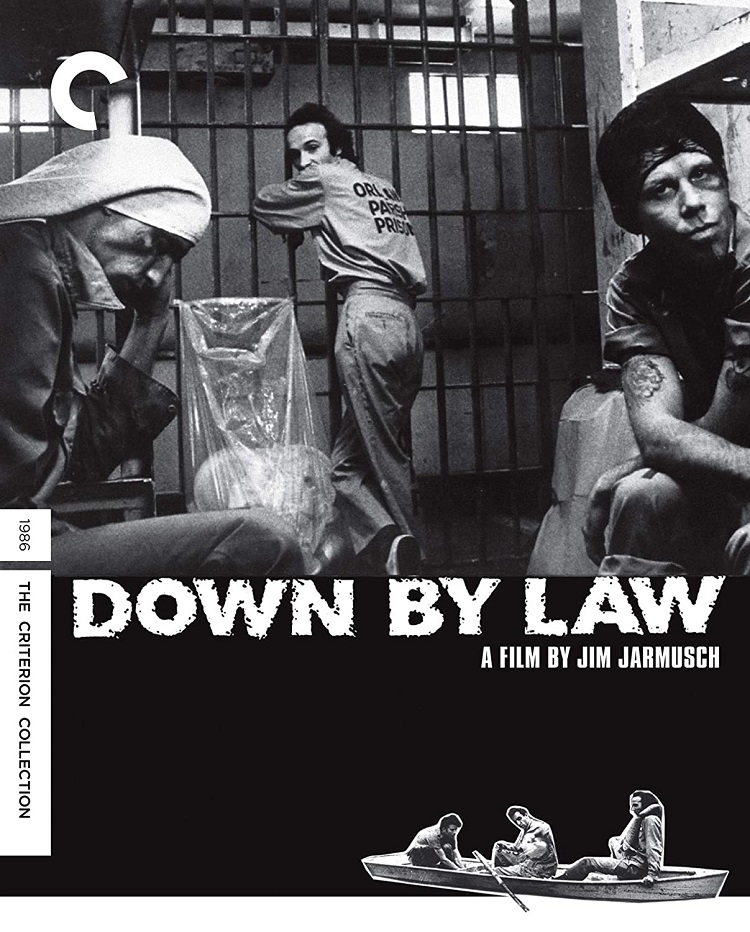 Written by Ben Platko
Jim Jarmusch. A name that should resonate with independent filmmakers and aficionados alike. Sadly, I had only heard the name whispered around film festivals and classrooms. This shiny, new, Criterion Collection Blu-ray of Down by Law was my first exposure to Jarmusch. Starring Tom Waits, John Lurie, and Roberto Benigni, Down by Law follows three characters as they escape from a New Orleans prison and make their way through the bayou – hopefully to freedom.
The entire film is paced, scripted, and scored as if it were a stage drama. With every best-seller coming to theaters, successfully adapting a story across mediums is almost standard practice, but capturing the essential feel of another medium on film is an incredible challenge. Even The Wizard of Oz, with static backgrounds and minimal camera movement, feels more like a movie than a musical. The most outstanding characteristics Down by Law shares with the stage are its intense character development, and intimate settings. Robby Müller's cinematography creates very tight (although never cramped) visual spaces. Even a forest and empty city street feel as closed-in as the prison cell that our heroes share. What Jarmusch did properly, and successfully, was to direct it like a film. When a film is directed like a play, the result is often disastrous. Often, the camera is constantly squared to the background, and actors are directed to cheat the camera as they would their stage's audience (that is, to stand at an angle to appear to be addressing another character while projecting your voice to the back of the audience). Luckily, Jarmusch didn't learn any of that nonsense while he was at NYU, and directed this film with what can only be described as a deft and deliberate touch.
The Criterion Collection is known for restoring and cleaning the films that they release. I think film restoration is necessary, and an overall good thing, but Criterion's restoration of Down by Law gave the film an almost surreal air. It's not something that I noticed right off the bat, and it was not, by any means, a detriment. The extent of the restoration, though, is nothing short of impressive. The trailer included on the disc is extremely grainy, and none of that grain is in the cleaned film. It made the movie feel less like an art house film than the trailer makes it out to be. Nitpicking aside, the Blu-ray looks magnificent – crisp, clean, shiny – add in simple, almost Steinbeck-esque story and characters, and you end up with an incredible finished product. One that, thanks to Criterion, will not be lost to time.
This Blu-ray is loaded with bonus features. That's not so surprising when you consider that Criterion pioneered the bonus feature concept, as well as standard letterboxing for home releases. Here is a list of all the extra stuff you will find on the Blu-ray:
• High-definition digital restoration, with uncompressed monaural soundtrack
• Thoughts and reflections on the making of the film from director Jim Jarmusch in 2002
• Interview with director of photography Robby Müller from 2002
• Footage from the 1986 Cannes Film Festival, including a press conference featuring Jarmusch and actors John Lurie, Roberto Benigni, and Nicoletta Braschi, and an interview with Lurie, with commentary
• Sixteen outtakes
• Music video for Tom Waits's cover of Cole Porter's "It's All Right with Me," directed by Jarmusch
• Q&A with Jarmusch in which he responds to fans' questions
• Recordings of phone conversations between Jarmusch and Waits, Benigni, and Lurie
• Production Polaroids and location stills
• Isolated music track
• Optional French dub track, featuring Benigni
• Trailer
• PLUS: An essay by critic Luc Sante
Let's not kid around here, that is a ton of stuff. You could probably fill a dump truck with all the cool features that Criterion packed into the disc.
Time for the bottom line. Down by Law is incredible. The story is wonderfully paced (if a little slow off the start), the characters are relatable (they are closer to actual people than characters), the cast works wonderfully together, the score is beautiful, and the images that Jarmusch puts in front of the lens are astounding.