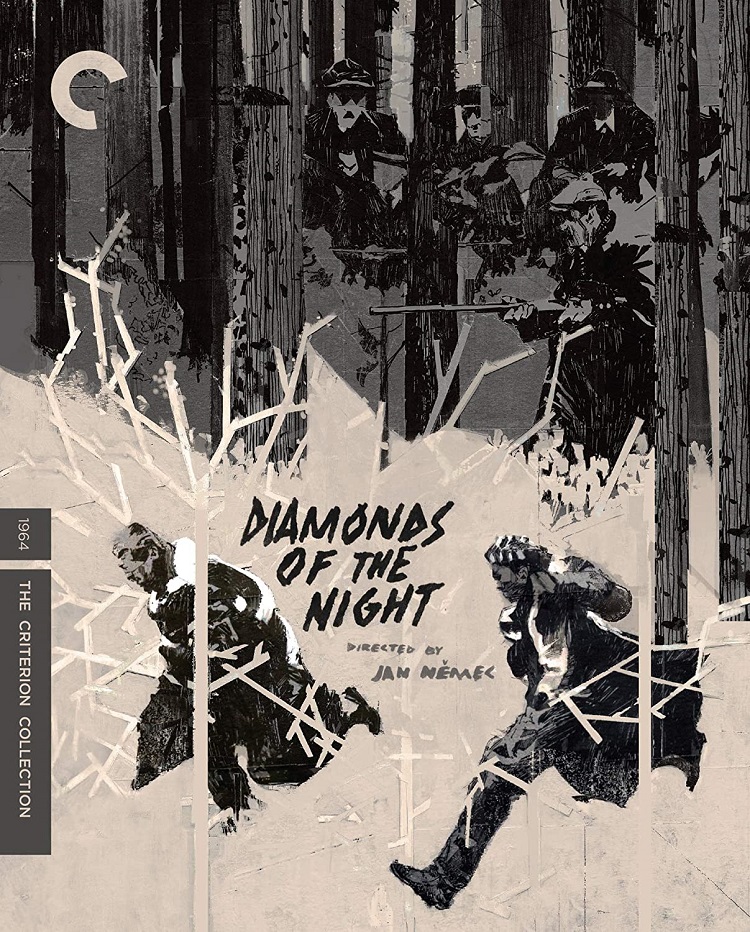 There are many similarities between Luis Bunuel and underrated auteur/director Jan Nemec. They both use surrealism to dictate the often limitless boundaries of human behavior. When it comes to their films, you don't really know which is reality, and which is fantasy. However, you want to watch their cinema repeatedly to uncover more details that missed the first time around. While Bunuel depicts human behavior with a satirical edge, Nemec directs his films with surrealist details, but which a more serious viewpoint, especially when it comes to war and how it affects people in a certain time and place. This is definitely evident in his 1964 harrowing debut feature, Diamonds of the Night, which tells the story of youth under fire with a brilliantly fractured eye.
Loosely based on an autobiographical novel by Arnost Lustig, the rather short 67-minute film starts with two young boys: an older blonde man with a bad foot, and a younger brunette kid, escape a train that takes people from one concentration camp to another. They flee into the forest where they are forced to survive by fighting hunger/thirst, and to avoid being caught. During this time, there are flashbacks that consists of their dreams, memories, and thoughts meshed with arguably some of the most stark visual poetry I've ever seen in a film. They are able to get away for a little while, but are eventually captured in the end by a group of Germans. The concludes with one of the very few double endings in film history, as they're either executed or released back into the world. The last shot is both of them continue their descent in the woods before it fades to black. The End.
Believe it or not, I do love films that don't offer easy answers to explain their endings, such as Diamonds, The Shining, Run Lola Run, and especially Belle de Jour, which ends almost exactly the same way as Nemec's masterpiece. You're able to go back and try to uncover more secrets or moments that you didn't get after first views. Talking about the surrealism, images such as ants crawling on a hand and a face; the younger kid hitting a woman and stealing her bread, dogs and cats; and aforementioned final shot, add up to the visual splendor the film creates. This is where the plot (basically an afterthought) ends, and the sheer artistry begins. Honestly, not all films can get away with that.
The stellar Criterion Blu-ray release has an incredible new 4K restortation, allowing the images to come to life, and includes a few great supplements, including:
an interview with from 2009 with director Nemec
A Loaf of Bread, Nemec's 1960 short thesis film, which was also based on a short story by author Lustig
Arnost Lustig Through the Eyes of Jan Nemec, a short documentary from 1993
New interview with film programmer Irena Kovarova
New video essay on the film's stylistic influences by scholar James Quandt
a wonderful new essay by celebrated critic Michael Atkinson.
In closing, this is obviously an arty film that not is for everyone, but I truly recommend it. It's a really lyrical work that should hopefully open up a new renaissance of Nemec's filmmaking and craft. In terms of Criterion titles, it is definitely a must own.