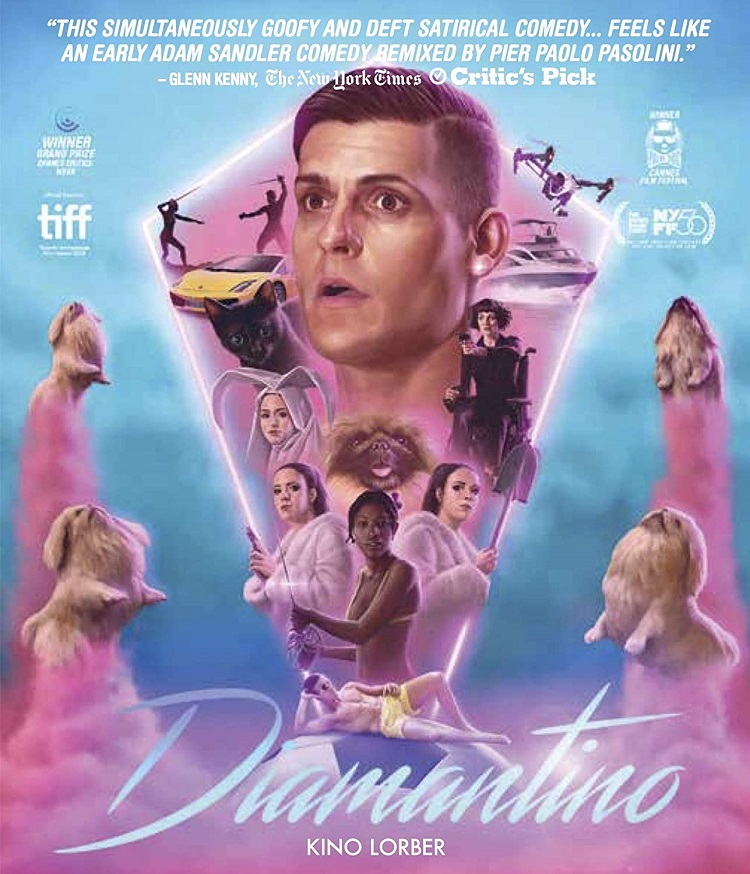 Whenever the main character, soccer player Diamantino Matamouros (Carloto Cotta), steps onto the soccer field, he imagines himself seeing cute puppies and colorful mist. What the puppies represent in unclear but it's still one of the many crazed things about this brazen queer thriller. Diamantino is quite balls-to-the-wall, attempting to mix sociopolitical context and eccentric science fiction, while featuring some exemplary character development.
Once Diamantino Matamouros is introduced, he's established as a sports icon. However, after he misses a penalty shot in the World Cup championship which results in Portugal's loss, he becomes an immediate laughing stock. Wanting to get back in the public's good graces, he decides to adopt a refugee child. What he doesn't know is that the "child" he eventually adopts is Aisha (Cleo Tavares), a secret agent sent to spy on him. Meanwhile, his abusive sisters, Sonia (Anabela Moreira) and Natasha (Margarida Moreira), are involved in a secret experiment to creates clones of him.
The plot point involving a sinister experiment remains the story's highlight. It's where the film's social commentary really shines since it illustrates the pursuit of physical human perfection. Also, it helps make Diamantino a 70's style thriller with a unique reverie. That being said, the refugee storyline remains a weak point because its significance feels unclear. After Diamantino sees a canoe of refugees while on his private boat, he feels like he wants to adopt one but there's minimal insight as to why that is.
Diamantino wanting to adopt is an admirable attempt to make him as sympathetic as possible. Yet, in the grand scheme of things, the refugee plotline doesn't mesh well with the rest of the story. Plus, Diamantino's reaction to the public scrutiny he's received is enough to already make him a congenial character. That being said, Carloto Cotta still effortlessly demonstrates his empathetic nature. Diamantino may be incredibly naive and unobservant but Cotta still showcases his personality quite well.
Additionally, both Anabela and Margarida Moreira are incredible scene stealers as Diamantino's sisters. They are quite rapacious as two women who constantly dress in lavish, feminine clothes despite being more masculine than their meek brother. Cleo Tavares also does a terrific job with a tricky job she has to handle, presenting her as shy enough to fool Diamantino while allowing her eyes to demonstrate her conflict over going through her mission.
In conclusion, Diamantino has some flawed narrative structures, yet it still thrives thanks to its vibrant genre verve. The performances also work quite well and help this rather colorful experience come alive. Simply put, Diamantino is a wonderful camp thriller and its cheesiness is what makes it a worthy watch.