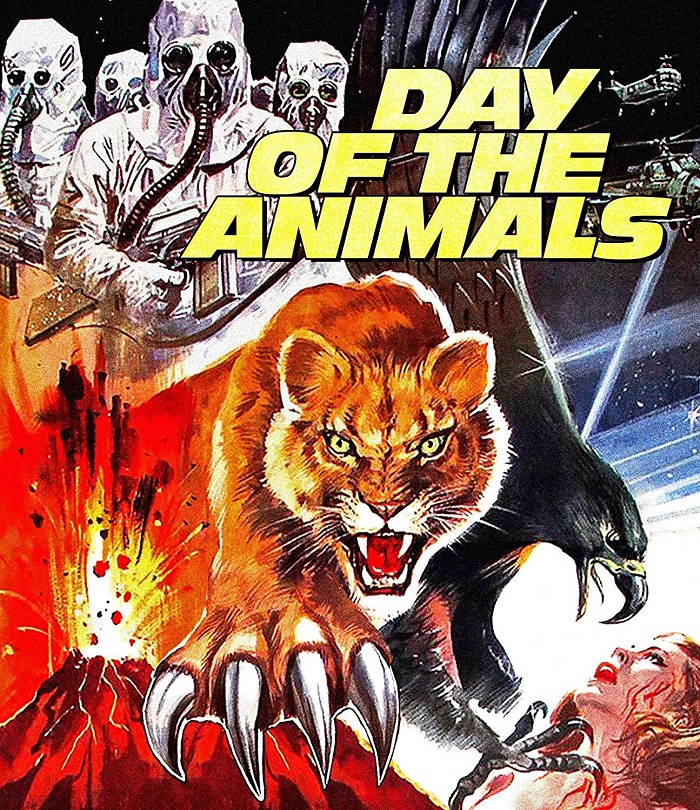 When The Birds and Jaws were released in their respective years, 1963 and 1975, they immediately became critical and commercial sensations. They also became iconic and inspired countless imitations; a very few of them that actually work on their own. I think that director William Girdler's 1976 follow-up to his mega-hit Grizzly, Day of the Animals is definitely one of them. It's pure '70s cheese, but one with a little more cheddar to it.
A group of tourists (including Christopher George, Lynda Day George, Ruth Roman, and Andrew Stevens) trek on an overnight mountain hike for a little bit of survival recreation. Obviously, they reasonably get cranky, tired, thirsty, and hungry. To make matters worse, they discover that a severe break in the ozone layer has caused all the wild animals surrounding them to go berserk and start killing not just many of them, but also people in the small town nearby. The remaining survivors eventually reach safety and are rescued by men in hazmat suits that set off a virus (immune to humans) to kill all the animals and save what's left of the population. In the end, the group learn that maybe next time, they'll just stay in the city.
Despite the slight outrageousness of story elements, there are some good and delightfully over-the-top performances (particularly a never better and unhinged Leslie Nielsen as the advertising man who gets a bear hug and then some), which is what you'd expect from late '70s movie. What makes this a standout of the nature-gone-awry genre is the overall message, which states that we humans have to change our ways and save the environment, otherwise we may all have to face dire consequences.
This release being the first from Severin that I've ever owned, I was very impressed. The picture and sound are the best they'll probably ever be (unless the film gets a future 4K release), and the special features are solid. They consist of two commentaries: one by Lynda Day George ("Terry") and John Cedar ("Frank"), the other by author Lee Gambin; author Stephen Thrower on the career of the film's distributor Edward L. Montoro; new interviews with Bobby Porter ("John'), Andrew Stevens ("Bob"), George herself, and animal wrangler Monty Cox; an archival making-of featurette; alternate opening title sequence SOMETHING IS OUT THERE; trailer and radio/TV spots.
Overall, I did get invested in this cult gem. It's clearly a product of its time, but one that seems to age better than its ilk, especially now with climate change and its threats that may catch up to us, if we don't take action.