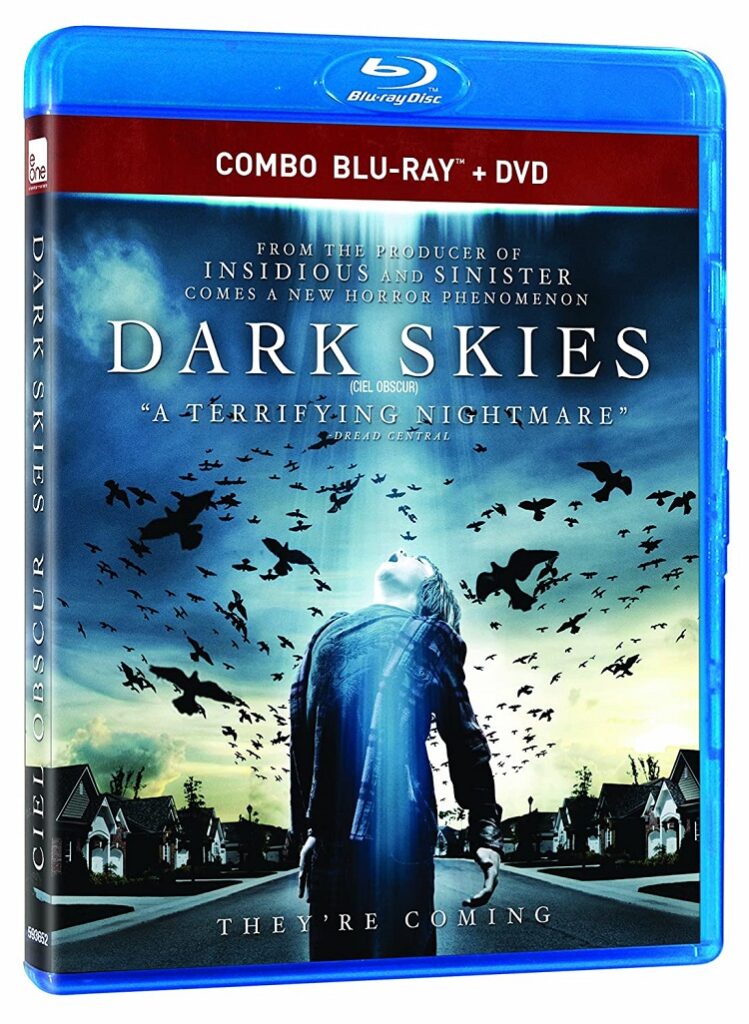 I have never been a big fan of alien movies because they have never been particularly scary to me. More real life and tangible things are scarier; give me a psycho killer or a big shark and I am not sleeping. Little green men, on the other hand, are too far beyond reality. What is interesting about Dark Skies is that while the cause of the scares is aliens, the story is more about real-life happenings and what draws families together and pulls them apart.
The Barrett family seem to be a normal suburban family dealing with everyday issues. Daniel (Josh Hamilton) is unemployed and struggling to find a new job to support his wife Lacy (Keri Russell), their 13-year-old son Jesse (Dakota Goyo), and younger son Sammy (Kadan Rockett). Lacy is trying to help out by selling real estate but is unsuccessful. The state of their finances is causing strain on Daniel and Lacy's marriage and is having repercussions on the children as well. While having to deal with these issues, strange disturbances start to happen in their home. First, the refrigerator is emptied on the floor with certain things missing. Next, all of the pantry items are stacked into large towers on the dining room table. As these strange things escalate, each member of the family is brought into terrorizing events, leading Daniel and Lacy to get outside help from Edwin Pollard (J. K. Simmons), a supernatural expert, to solve the mystery.
I didn't particularly like or dislike this film. The portion of the story that deals with the family's real-life problems is compelling. Russell and Hamilton give believable performances during an unbelievable series of events. That believablilty is based on what families truly have to deal with. J.K. Simmons is underutilized. I am always so happy to see his name associated with anything, but in this he only has one small terrific scene which left me wanting more.
The film isn't super scary, but it does have a slow built of creepiness and intensity. What is most disappointing is the revelation of the source of the mysterious happenings and when the story enters the realm of aliens. I knew going in that was part of the film, but I thought there might be more to it yet there wasn't. The ending was interesting and ties together several things learned throughout.
The Combo pack comes with a Blu-ray, DVD, and UltraViolet access. The Blu-ray disc has a 1080p/AVC MPEG-4 encoded transfer displayed at 2.40:1 and the audio is available in 5.1 DTS-HD Master Audio. The special features include an audio commentary with writer/director Scott Stewart, producer Jason Blum, executive producer Brian Kavanaugh-Jones, and editor Peter Gvozdas. There are also alternate and deleted scenes.