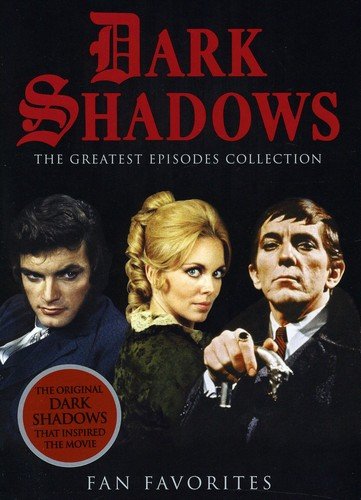 The DVD for Dark Shadows: The Greatest Episodes Collection – Fan Favorites opens with original series star Kathryn Leigh Scott (Maggie Evans/Josette DuPres) on camera, attempting to explain the unique charms of the classic (1966-1971) ABC-TV daytime serial about all things supernatural.
Towards the end of her first wrap-around segment, the sound of a slamming door can clearly be heard off-camera. But does she stop? Of course she doesn't. This is Dark Shadows, where tombstones shake, stagehands wander through crypts, actors forget their lines, and special effects are often anything but special.
But these technical imperfections are part of why fans love the show, and have for more than 45 years. The "mistakes" are an essential component of the show's unique charm, giving it a sort of live-theater quality, where anything can happen (and often does). And considering that many Dark Shadows cast members got their start on the stage – and perform their lines as if written by Shakespeare – thinking of the show as a televised play may help you get in the proper mindset.
Dark Shadows was recorded "live on tape" every day at a TV studio on West 53rd Street in New York City. The tape started at 4pm and ended at 4:30pm and what was on it was on it. I emphasize this not to excuse the show for its technical imperfections, but rather to defuse the haters who ridicule the production values. Watching Dark Shadows for the production values is like watching porn for the dialogue.
They did what they could with what they had. And what they did was amazing.
A huge part of the success of Dark Shadows was Canadian actor Jonathan Frid, who passed away recently at age 87. What better way for us fans to remember Jonathan Frid than by watching him in his signature role, as the original vampire with a conscious, Barnabas Collins.
Frid was about to take a teaching job when he was cast on the series in 1967 and, had he known what awaited him, he probably would never have accepted the gig. But he did, and we are all the better for it. He was a reluctant actor playing a reluctant vampire, and the result was a brilliantly conflicted, tortured, romantic hero that landed him on the cover of teen magazines for four years and in the hearts of fans for nearly half a century.
Dark Shadows: The Greatest Episodes Collection – Fan Favorites
1) Episode 212 (Original airdate: April 19, 1967)
After Barnabas is released from his coffin by caretaker Willie Loomis, he introduces himself to his own descendants as a "cousin from England." Frid's slightly stiff nervousness in this episode – his first complete show as a cast member – fits perfectly with the panic the character feels as he attempts to acclimate after a 172-year nap.
Note: This episode concludes with a sequence that Frid himself often selected as among his best work on the series – Barnabas' "soliloquy" to the portrait of his lost bride, Josette DuPres. Interestingly, the writers had not fully figured out the back-story, so there are some tonal inconsistencies to what Barnabas says in this sequence, but all the narrative pieces are in place. This is Frid's first moment to spread his (vampire) wings and fly. And fly he does.
2. Episode 365 (November 17, 1967)
The seminal 1795 storyline kicks off with a séance in which governess Victoria Winters is sent back to the past to discover "the story of how it all began."
Note: At about 20:00 minutes in, watch as the cameraman zooms out too far, revealing the edge of the set and the boom mic. How can you not love this show?!
3. Episode 370 (November 24, 1967)
In 1795, the human Barnabas welcomes his fiancée Josette to the family mansion for their impending marriage, but the witch Angelique has other plans (involving voodoo dolls and such).
Note: The irony of this show is that Angelique spends the better part of 200 years making Barnabas miserable, but he can't keep his hands off her. This is part of what so attracted female fans to Barnabas, he's the prototypical romantic fool, powerless to fight the power of love. Or in the case of Angelique, lust.
4. Episode 699 (February 27, 1969)
Collinwood is haunted by the ghost of Quentin Collins (David Selby) and Barnabas keeps a werewolf locked in the mausoleum. What fun!
Note: This is the last full episode to take place in the present day of 1969, before Barnabas travels back to the year 1897 to save the possessed children David and Amy. The Dark Shadows storyline would remain in the past for the better part of the calendar year, spanning 183 episodes.
5. Episode 725 (April 4, 1969)
Zombie Quentin possesses a child, and a bogus preacher performs an exorcism. Just another day at Collinwood.
Note: David Henesy was a Dark Shadows cast member for nearly the entire run of the series, beginning with the fourth episode on June 30, 1966 (when he was only nine-years-old) and continuing through episode 1165 on December 11, 1970. Part of the show's success with young viewers, particularly during the hugely popular 1897 storyline, can be attributed to the youthful protagonists, like Henesy and his female co-star Denise Nickerson (who later went on to play Violet Beauregarde in Willy Wonka and the Chocolate Factory).
6. Episode 1024 (May 28, 1970)
In Parallel Time, Angelique returns from the dead and assumes the identity of Alexis, the sister she murdered, while maid Julia Hoffman attempts to pull a Mrs. Danvers on young bride Maggie.
Note: This storyline became the loose basis for the second feature film based on the series, Night of Dark Shadows (1971). In the film Grayson Hall again plays the manipulative maid, with David Selby as Quentin and Lara Parker as the ghost of Angelique. The female lead is played by Kate Jackson, who played the character of Daphne on the TV series.
7. Episode 1065 (July 24, 1970)
The series takes a rare leap forward in time, as Barnabas and Julia travel to 1995, only to find the house in shambles, Carolyn (Nancy Barrett) insane and Quentin untouched by time, thanks to a Dorian Gray-esque portrait.
8. Episode 1102 (September 15, 1970)
David and the ghost of Daphne attempt to save the family from the evil Gerard Stiles.
Note: As the ratings sank, the Dark Shadows writers essentially tried to recreate the hugely popular 1897 "ghost possesses children" storyline. This time around Gerard Stiles (James Storm) was the malevolent spirit and Daphne Harridge (Kate Jackson, later of Charlie's Angels fame) was the helpful, protective ghost. David Henesy (now nearly 14) was joined in the storyline by Kathleen Cody as Professor Stokes' niece Hallie. At the 2011 Dark Shadows Festival in Brooklyn, Cody (now 57) cracked up the fans with stories of sneaking off (at age 15) to smoke cigarettes in Kate Jackson's dressing room.
9. Episode 1115 (October 2, 1970)
In the year 1840, Julia Hoffman (from the future) unchains the coffin that contains the vampire Barnabas, in hopes that his spirit from 1970 has traveled back to inhabit his body of 130 years prior. Sadly, it has not. Barnabas attacks Roxanne Drew, and bares his fangs to bite Julia(!) but collapses before he can complete his evil plan, as his spirit from 1970 finally arrives (and not a moment too soon).
So there you have it. There are now 18 "Best Of" episodes on two DVDs to get you hooked on the work of Jonathan Frid & Co. And when you do become an addict (like me), there's always the 131-DVD, Dark Shadows: Complete Original Series DVD box. It retails for $599.98, so start saving those pennies.