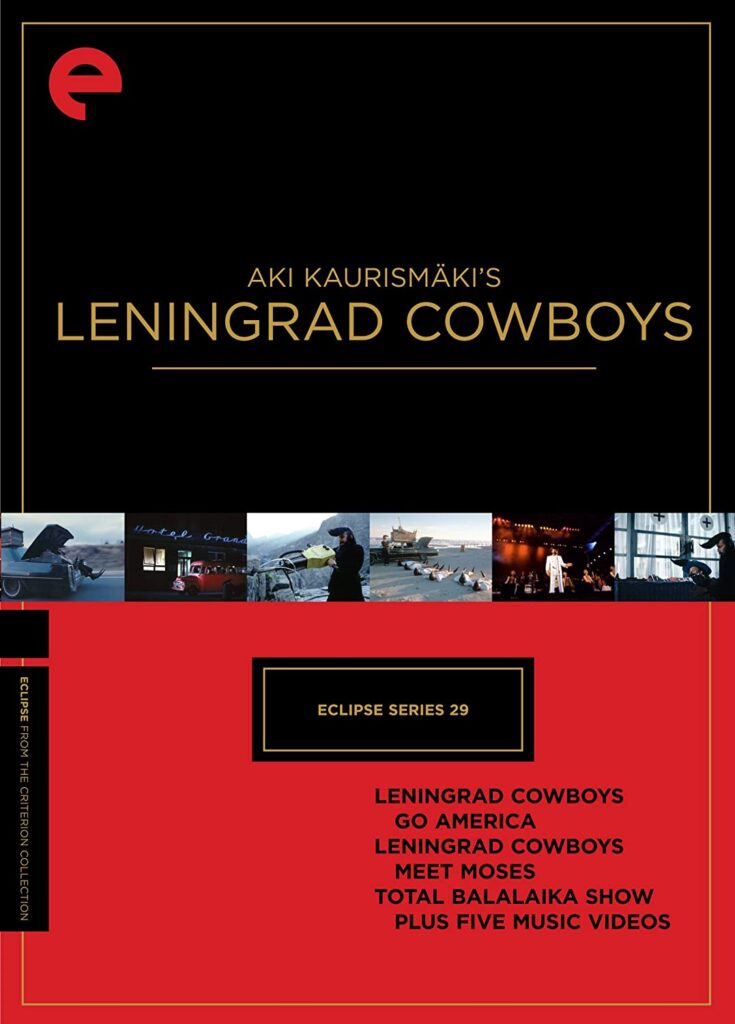 Written by Greg Barbrick
Not since the likes of Sigue Sigue Sputnik have a band with so little to offer gained such mass attention. One might argue that Milli Vanilli and Spinal Tap achieved even more in the field of fakery, but that is not a fair comparison. Spinal Tap always knew they were a joke, while Milli Vanilli were actually serious about the whole thing, and never did understand why their Grammy was rescinded. Leningrad Cowboys were invented first, then toured as an actual band. Theirs was a beautiful career arc – and it is little wonder that they became ultra-hip for a brief moment in the late eighties.
The Finnish band came together one night in a bar when a couple of musicians and director Aki Kaurismaki began discussing the idea of a parody group. They wanted to call themselves Leningrad Cowboys (a nod to the waning influence of the Soviet Union at the time), and have Kaurismaki direct a music video for them. The idea soon progressed into making the group a real band, and for them to tour America. Leningrad Cowboys Go America (1989) chronicles this, to often hilarious results. It is definitely a fish-out-of-water tale, but unlike Borat, the results are never mean-spirited. Mostly it is confusion from all concerned.
Leningrad Cowboys Go America is one of those pictures that virtually defines the term "cult movie." From their massive pompadours to their 24-inch winkle picker shoes, these guys look hilarious. And there is really no describing their music. Imagine a mix of polka, rock, Russian marching songs, and big band for starters. This is an offbeat, and quite endearing road movie.
The film proved to be so popular that a sequel was ordered, Leningrad Cowboys Meet Moses (1994). To his credit, Kaurismaki came up with a very different story than the first. Picking up where Go America ended, with the group happily drinking in Mexico, they get a call from the manager who had abandoned them earlier. By calling them with the pretext that they have a gig scheduled at Coney Island, Vladimir gets them to come back to the east coast. Upon arrival he informs them "Call me Moses and obey me in all things…so I can lead you back to your people."
With those words, the band set out from Coney Island in a tiny boat, to return to the paradise from which they came, Siberia. Meet Moses works as something of mirror-image of Go America. The trip back home is through some desolate locales, and features more than a few grim-looking people. The Cowboys are forced to book gigs along the way, and these are often as out of sync with the locals' expectations as they were in America. Everyone's attitude greatly improves when they get home however, and Meet Moses ends on a high note.
The third film in this triple-DVD set from Criterion's Eclipse imprint is titled Total Balalaika Show (1994). This was filmed at a massive concert in Helsinki's Senate Square. The event was huge, in addition to the Cowboys, there were the 150-member Alexandrov Red Army Chorus and Dance Ensemble. The 70,000 fans who turned out for this concert proved that with the right people, even idle barroom chatter can result in something truly amazing. Total Balalaika Show also contains five Kaurismaki directed music videos as bonus material.
This modestly priced set captures two cult films and a concert basically. But looking back at it 20 years later, it reflects a really incredible time in history. Glasnost and Perestroika were steadily chipping away at the literal and figurative wall between East and West, and the Leningrad Cowboys seemed to define this. It remains a bizarre experience to watch these heavily pompadoured men playing a combination Russian march/pop/polka hybrid of The Turtles' "Happy Together," or The Doors' "L.A. Woman."
The world of the Leningrad Cowboys is a strange and wonderful one. It is unlikely that circumstances will ever conspire to create a band like this again, so enjoy their oddly sweet moment in the sun.