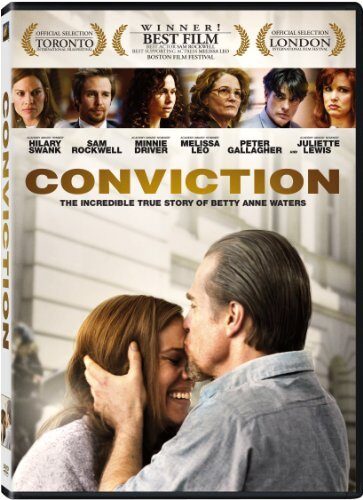 Written by Amanda Salazar.
There is not a love that runs deeper or a bond stronger than that shared by family. On the surface, Tony Goldwyn's film Conviction is about bringing a wrongly convicted man to justice but at its core it convincingly challenges the unwavering love between brother and sister and what one would do for family.
Conviction is based on the true story of Betty Ann Waters and her 18-year struggle to get her brother, Kenneth Waters, out of prison after he was wrongly accused of murder. Expertly portrayed by Hilary Swank (Betty) and Sam Rockwell (Kenny), the film aggressively captures the determination and blind passion of someone so certain of the truth.
Kenny and Betty Ann are disobedient children from a small town in Massachusetts that grow up stealing, bargaining, and have more than one confrontation with the police. With his mischievous track record growing up, Kenny is accused and tried for murdering their neighbor and is sent to prison with a life sentence without parole. Convinced that her brother is innocent, Betty Ann decides to go through all of the necessary schooling, starting with her GED, to graduate from law school and become his lawyer. Even after this feat is accomplished she then must find the right evidence to get her brother out of prison.
Time tends to blend together in this film, only showing its presence in the different hairstyles, gray facial hair and wrinkles in Kenny's face. It is a challenge to cover over 18 years in prison while also having to develop such a strong relationship between the characters in the span of a film. Goldwyn ultimately succeeds, but the sense of how long this actually took Betty Ann is lost.
Therefore our anticipation and draw to the film comes from Betty Ann, the performance of Swank and even the supporting roles of her kids and law school friend, played by Minnie Driver. Swank is tenacious and unstoppable, carrying a deep-rooted fierceness through the whole film that makes the viewer believe in Kenny's innocence as much as her. You begin to feel that this injustice must be stopped, just as those around her rally with Betty Ann, because it is clearly the right thing to do.
Constantly faced with challenges from school, her home life and the law, Betty Ann takes every hiccup and continues to move forward, unwavering. It is truly inspiring to watch, especially knowing that this actually happened. That being said, this film would not resonate as well if the audience did not know that it was based on a true story, which makes it perfect for the silver screen. A story as brave and determined as Betty Ann and Kenny's, proves that people will do extraordinary things when faced with extreme challenges, especially when it involves those that we love the most.
The DVD has one Special Feature that is involved with the picture: a conversation between the director, Tony Goldwyn and the real Betty Ann Waters. This is definitely worth watching for many different reasons. Betty Ann is actually very soft spoken and still very emotional about what she has done and what had been done to her brother. It shows how closely Swank studied the real Betty Ann to get her voice to match hers as closely as possible. And if anything, Betty Ann overshadows Goldwyn with her story, her honesty and her humbleness about the whole thing.