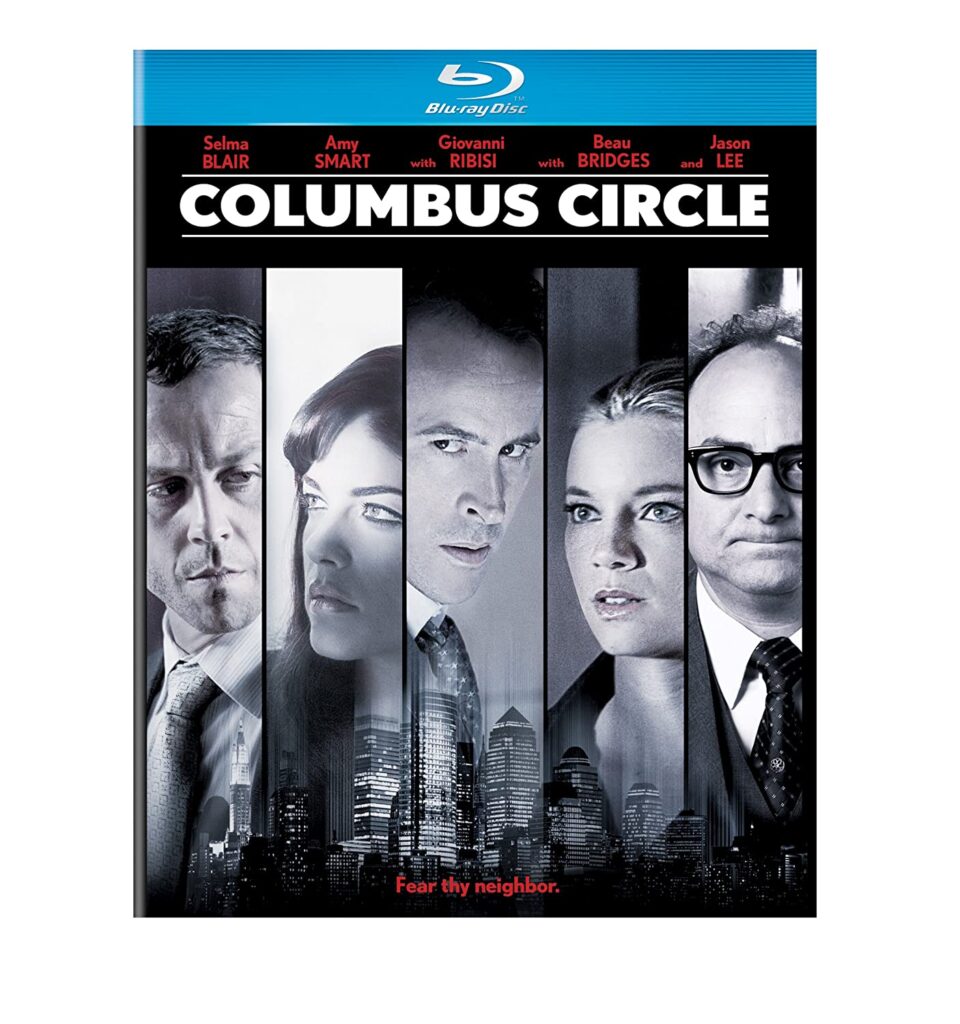 Over twenty years ago, I saw the great Kevin Pollak for the first time on cable TV doing a killer parody of Star Trek. While I'm not the most ardent admirer of anyone (outside of Arch Hall, Jr. or Grady Sutton, that is), I do tend to watch a movie the actor/comedian is in — if I know he's in it, that is. In the case of Columbus Circle, Pollak has returned to one of his lesser-known trades: the penning of a serious story. Unfortunately, as much as I like Mr. Pollak's work, I'm afraid Columbus just doesn't succeed in coming to a full circle.
The story focuses on Abigail Clayton (Selma Blair), the heiress to a mega-fortune who has been in hiding from the world for the last twenty years in a high-class, high-rise condo in Columbus Circle, Manhattan. Now, I'm not quite sure if we're supposed to know she's the heiress right off the bat, but between the fact that the marketing for the film announced it long before the movie was released on home video, and the verity that any sense of mystery that should be present in Columbus Circle is not present, it's a genuine no-brainer.
So, anyway, Abigail's life of seclusion is disrupted once her elderly neighbor across the hall (the only other person on the floor, as far as I can tell) is murdered. Though it has been made to look like an accident, cynical NYPD detective (Giovanni Ribisi) suspects foul play; he also begins to construe that there's something strange about that agoraphobic lady across the hall. Meanwhile, Abigail tries to put the pieces together of a mystery of her own once a young couple (Jason Lee and Amy Smart) move in next door. Right away, you sense that the new tenants are up to no good. And surely, they are.
Sadly — as I had already stated — the suspense just isn't here. By the time the movie reveals its twists and turns, you've already figured it all out. Worse still, many of the film's performances are underplayed, giving the movie a really campy value. In fact, Columbus Circle succeeds in reaching that ultra-fine point of being so ridiculous that it actually becomes fun. To be honest, it wouldn't surprise me if this one went on to become a cult classic several years down the road. And, if that were the case, I would be pleased: Columbus Circle is definitely a turkey, but it's certainly one that should be enjoyed.
Co-starring in this flaccid thriller from director/co-writer George Gallo (Bad Boys, Midnight Run) are Beau Bridges (and his huge, hairy eyebrows) as Blair's doctor/confidant, Jason Antoon (a regular Pollak collaborator) as Ribisi's partner, and Kevin Pollak himself as the tower's concierge. Robert Guillaume also pops up in a couple of scenes.
For reasons that should be pretty obvious by now, Universal Studios Home Entertainment shelved this one back in 2010 after it was made, and have only recently decided to release the movie after all this time — though they have wisely avoided putting any effort into it. The A/V aspects of the film are pretty decent for the B-movie that it is, and there is no main menu to be found whatsoever. The only extras included here are a handful of trailers (one of which, Rosewood Lane, blatantly rip-offs Goblin's theme for Suspiria!) for other flicks that play when the disc boots up: there is nothing else. At all.
Why? Because Columbus Circle is a bomb, that's why. But at least it's good for a few laughs — even if that isn't what Kevin Pollak was going for. Although, frankly, I would have preferred it if Pollak had named this one Columbo Circle, and done the whole movie impersonating Peter Falk.