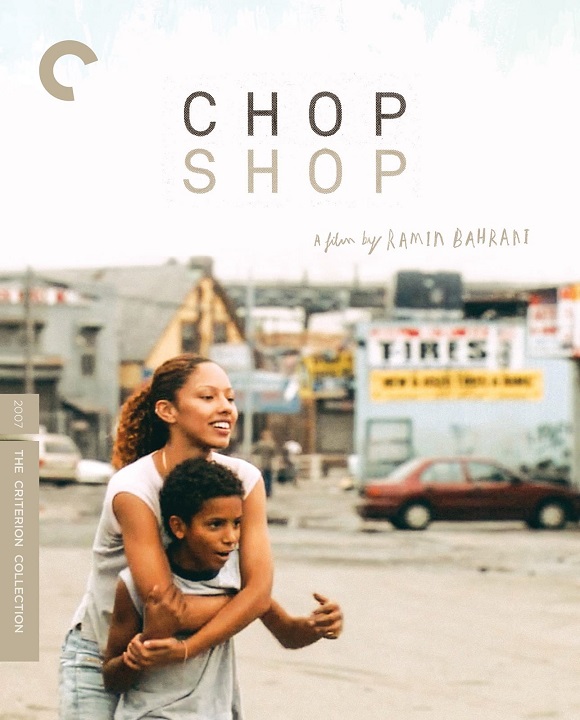 With his wonderful 2005 Man Push Cart, filmmaker Ramin Bahrani beautifully captured the grim circumstances of being an immigrant in America. However, he went even further into his creative peak with his 2007 landmark Chop Shop, which is perhaps the more superior of the two. Bahrani successfully delves into the harsh realities of life that can have no sympathy or remorse for even the most innocent of people: the young.
Showing a slice of life that rarely gets the forefront of cinema, the film depicts the life of twelve-year-old Ale (Alejandro Polanco), who is wise beyond his years. Parentless, he learns how to grow up pretty fast, where he hustles on a daily basis in a neighborhood chop shop in Queens, New York, in order to make life a little more promising for himself and his older sister Isamar (Isamar Gonzales). He's able to get her a job working in a food cart; a job that she doesn't particularly care for but does it anyway. Besides that, he makes money in selling bootleg DVDs and candy on subways with his best friend. He is also able to purchase a truck (albeit decreipt), so that he and Isamar can start their own taco service business. When things start looking up for both of them, he discovers that she has her own ideas of survival, which involves servicing older johns to make money. In this case, the unbreakable bond between them becomes breakable, where they both have to compete with each other, as well as the people around them, to prosper in the only ways they desperately know how.
What makes Chop Shop a little more believable than Man Push Cart is that there are moments of hope, especially in a moving final scene where Ale shows Isamar how he makes friends with pigeons. There are no words between them, just smiles, which suggests that no matter what has happened in their lives up until now, and the betrayals they've experienced (between themselves and others), that they will always be a loving brother and sister and that their bond will never broken.
One of the many aspects I loved about the film is the naturalistic and completely honest performances of both Polanco and Gonzales. They have amazing chemistry, and look like they could actually be siblings in real life. They are just that good! There is also a great, and subtly villainous supporting turn from Ahmad Razvi (Man Push Cart). You don't know if he really wants to help Ale and Isamar, or be an ultimate obstacle in their way. He doesn't have many scenes in the film, but you do sense his presence when he isn't on screen. Another fantastic element is thar Bahrani, again, incredibly shows a side of New York that is not usually shown in modern film. This is a type of grim New York that connects back to the 1970's and 80's with brutally truthful detail, the type of detail that most filmmakers today would definitely overlook.
As with their release of Man Push Cart, Criterion has yet again delivered another spectacular special edition with Chop Shop, providing a new pristine picture and sound quality, and some worthwhile supplements, including a 2006 audio commentary with Bahrani, cinematographer Michael Simmonds, and Polanco; new program featuring a new conversation with Bahrani, Polanvo, Razvi, and assistant director Nicholas Elliott; new conversation between Bahrani and writer/scholar Suketu Mehta on the immigrant experience in New York City and on film; rehearsal footage from 2006 featuring Polanco, Gonzales, Razvi, Rob Sowulski, and Carlos Zapata; and a trailer. There is also a great new essay by novelist Viet Thanh Nguyen.
Chop Shop definitely stands by Man Push Cart as a miracle of independent cinema, which is the type of cinema that feels more accurate and real than most mainstream movies. Bahrani's oevrue is important cinema; one that we truly need right now. It's authentic, sad, depressing, and unglamorous, the way life itself really is.