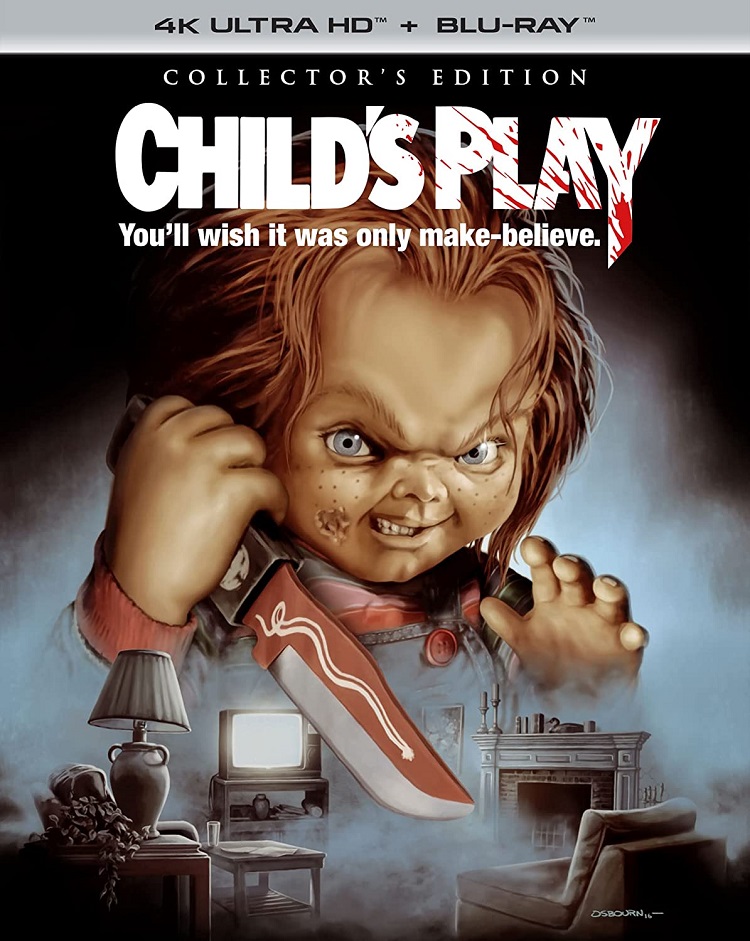 Let's just get this out of the way. Child's Play (1988), directed by genre icon Tom Holland, still has one of the most ridiculous plots in the history of horror cinema, nor will you find it at the top of everyone's favorite horror films list, but you have to admit that Chucky, the "Good Guy" doll who never played nice, is a bona fide horror icon for the ages, right there with Michael Myers, Jason, Leatherface, and Freddy Krueger. Despite all the sequels, prequels, and recent TV series, you can't beat the original, which debuts on 4K UHD this week from the good folks at Shout/Scream Factory.
The aforementioned plot of a child's doll possessed by a serial killer doesn't matter; it's the execution that does. Despite some of the dated special effects (headlined by Kevin Yagher), I'm still amazed how they managed to pull it off and make Chucky pure nightmare fuel, especially for all kids. I'm also impressed by the cast. Besides phenomenal voice work by the Brad Dourif (Charles Lee Ray/Chucky), there is Catherine Hicks' committed performance as Karen Barclay, a single mother trying to save son Andy (brilliantly played by a young Alex Vincent) from Chucky's wrath. There's also great work from Chris Sarandon as the cop pursuing Ray, and Dinah Manoff in a brief role as Maggie, who has the unfortunate honor of being Chucky's first kill. There is a certain charm to this first film in the franchise that still has some creepy surprises that actually continues to make it watchable. It may not be the most convincing horror film out there, but I do think that it should be regarded as a classic of the genre.
Making its 4K UHD debut, it is stacked with a few new special features and vintage ones. The three-disc set contains four commentaries: 1) Holland; 2) Vincent, Hicks, and Yagher (also Hicks' real-life husband); 3) producer David Kirschner and screenwriter Don Mancini; and 4) Chucky himself.
The remaining two discs include new interviews with Mancini, Vincent, Sarandon, Kirschner, and production manager Robert Latham Brown. There is also Making Chucky documentaries, featurettes, TV spots, trailer, and more.
If you're a big fan of the franchise or need to upgrade, then this release is definitely for you. Child's Play 2 and Child's Play 3 are also available in 4K Collector's Editions as well.
Other releases:
Daddy Long Legs (Criterion): The Safide Brothers' 2009 indie starring frequent collaborator Ronald Bronstein as a father juggling his kids and his responsibilities who is faced with the ultimate choice of being their father or friend.
Frownland (Criterion): Bronstein's own first feature is a nightmarish descent into outsider alienation as a salesman who lives an alternate kind of life, plunging him into even more disturbing self-destruction.
The Black Phone: Ethan Hawke stars as a sadistic, masked killer who has a 13-year-old named Finney held in a soundproof basement. When a disconnected phone starts to ring, he can hear the voices of previous victims, who make it their mission to save Finney from a gruesome fate.
Coming Apart (Kino): The late Rip Torn stars a therapist who places a hidden camera behind his couch, as women patients come and go. He decides to record an experiment of sexual aberration, which leads to his own mental breakdown.