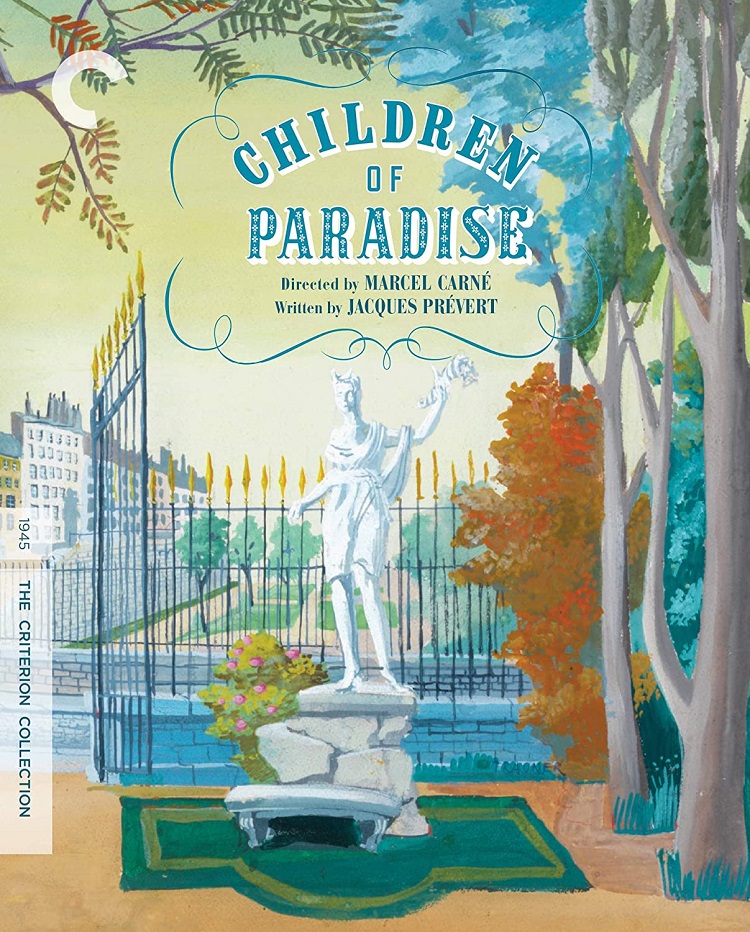 Written by Jordan Richardson
Widely hailed as one of the finest French films of all time, Marcel Carné's Children of Paradise is an astounding piece of art and a dazzling historical document. Now available thanks to the good people at Criterion Collection, this 1945 motion picture was actually made during the Nazi occupation of France. Constraints on the production were significant, but Carné still created one of the most expensive pictures in the country at the time.
There is some discussion as to the suitability of filming such a movie during the occupation (even Carné considered it "madness to make such a film in a country lacking the bare necessities") and much of that is valid, but there's also something to the restorative power of such an honest piece of work. Indeed, Children of Paradise stands as a document of defiance in a fashion: a record of theatrical wills.
The story is deceptively simple. It follows Garance (Arletty), a staggeringly beautiful courtesan, as she is pursued by four men. It takes place during the July Monarchy period in Paris, mostly focusing its activity around the Funambules pantomime theatre and the hurried "Boulevard du Crime." Garance is pursued by Baptiste the mime (Jean-Louis Barrault), Lacenaire the thief (Marcel Herrand), Frédérick the actor (Pierre Brasseur), and eventually Édouard the count (Louis Salou).
The tale progresses as Garance takes to each of the men, entering into some form of relationship with all of them. With Édouard, for instance, she feels protected by him but fails to love him. With the unscrupulous Lacenaire, she feels excited by his misconduct but unable to cope with his rashness (he is "off the table" for other reasons, so to speak). These relationships, set against the sometimes hysterical milieu of the wrong side of Paris, conclusively change the lives of the participants.
The character of Garance is astonishing. Arletty draws various dimensions out of the role, creating a character that is sympathetic without wanting pity. It is no mistake that she is introduced nude, dubbed as "truth itself," for she is one of the most authentic characters in film history. Her pursuit of warmth, perhaps informed by her father's desertion and her life on the streets, is audacious.
The other characters are fascinating too, with perhaps the most pure and compassionate among them being Baptiste. He is buoyancy personified, at least in the first half, and his love for Garance is insufferably sweet. When he is roughed up by Avril (Fabien Loris) after approaching her when she's with Lacenaire, he emerges from the shattered window Chaplin-style and reattaches a fallen flower.
Carné's picture houses many such scenes, from the stinging discovery by Baptiste of Garance and Frédérick's relationship to the sinister but darkly comic events involving drunken duels on misty mornings. The film is split into two parts, with the first ("Boulevard of Crime") serving as a more active, wild narrative and the second ("The Man in White") featuring more inert shots and disheartened tones.
Children of Paradise clocks in at about 190 minutes, with about 37 or so of those minutes comprised of pantomime. It can be quite an undertaking, but this is a picture that uncompromisingly bathes in its poetically melodramatic sensibilities. It is unabashedly romantic, yet Carné's taste for moulding genuine but bitter subtext creates a romanticism that is more Gone With the Wind than doleful soapsuds.
As a historical document, Children of Paradise is a mesmerizing piece. As a theatrical achievement, it is nothing more than the implausible but impeccable plaiting of multiple tones, characters and stories to their necessarily inadequate resolutions. Carné has crafted a masterpiece, a film of character and wonder that, without fragrance of irony, confirms that "Novelty is as old as the hills" but honesty sustains all things.
The Criterion Collection DVD is spread over two discs, creating the experience of consuming this feast in two parts like Parisians had to upon release. It features a new subtitle translation and comes presented in its original aspect ratio (1:37:1) with France's Pathé (the same company that took over the troubled production) overseeing the restoration in 2011. There were some issues associated with some shots, like a few soft focus portions, but these don't get in the way of the overall viewing experience.
The DVD features include an informative and amusing introduction by filmmaker Terry Gilliam, who comments as to his amazement about how much he stole from the film. There is an audio commentary from scholar Charles Affron and a few bonus features, including the 51-minute Julie Bonan documentary Once Upon a Time: Children of Paradise and the one-hour 1967 documentary The Birth of Children of Paradise. The booklet, which features an essay by Dudley Andrew and parts of a 1990 interview with Carné, proves indispensable.