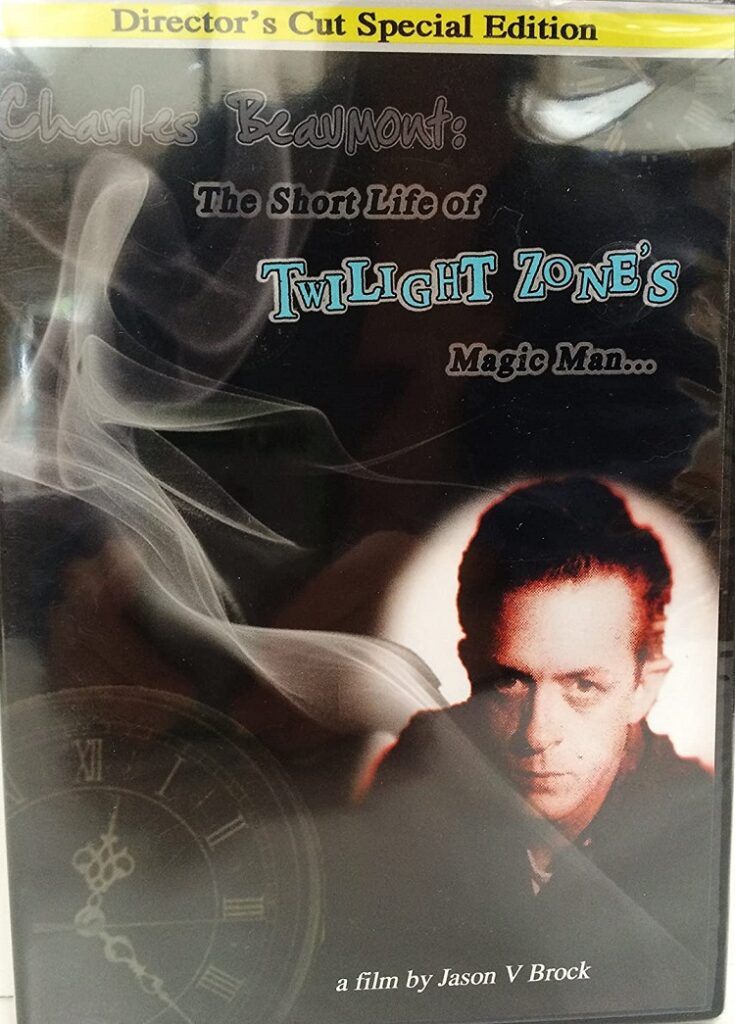 Written by Greg Barbrick
Charles Beaumont (1929-1967) is credited with writing 22 episodes of the original Twilight Zone (1959-1964). That number is only about a quarter of creator Rod Serling's 92 episodes, and while it may sound a bit outlandish to say, I contend that Beaumont was the best writer of the series. There is a brilliance to stories such as "Dead Man's Shoes," "Valley of the Shadow," and "Printer's Devil" that is truly magic.
As it turns out, I am not the only one who feels this way. Comments to that effect are made throughout Jason V. Brock's Charles Beaumont: The Short Life of Twilight Zone's Magic Man (2010) which has been released to DVD in a Director's Cut Special Edition.
The point of Brock's documentary is not really about Beaumont being the "best" of The Twilight Zone's writers though. This is the story of a man whose life was in many ways more incredible than any of his stories. He was a man seemingly possessed at times, and friends wound up in some truly outrageous situations when they were with him.
The list of interviewees Brock managed to get to participate in the film is impressive. Some of these include Ray Bradbury, Roger Corman, Harlan Ellison, William Shatner, Richard Matheson, George Clayton Johnson, and William F. Nolan, among others.
They do not pull their punches either, and rather than a white-washed account of his life, we get the full story of the type of man the former Charles Leroy Nutt was. What comes through is a picture of a guy who lived life at its fullest, and made every second count. It is hard to wonder if he knew that he would only be around for a short time when you hear some of the stories. Sadly, Beaumont only lived to be 38 years old.
Besides offering an opportunity to learn about the man behind those tremendous Twilight Zone stories, the movie also provides a great deal of perspective about the show itself. If you think the world of science fiction and fantasy is ridiculed today, just imagine how bad it was in the 1950s. Ray Bradbury (1920-2012) was something of a mentor to Serling, and was interviewed extensively here. He was most definitely a fan of Beaumont, and told Serling that if he hired Beaumont his show would be a success.
Beaumont did not shy away from the political issues of the day either. Director Roger Corman recalls the filming of Beaumont's The Intruder (1962) as being terrifying. The film starred William Shatner as a man who was violently opposed to court-ordered school integration, and was filmed in Missouri. Of course, this was a situation that was going on in real life there at the time, and the townspeople did not appreciate the anti-racist tone of the movie at all. Corman says they were lucky to get out alive.
The 7 Faces of Dr. Lao (1964) and The Masque of the Red Death (1964) were two more films that Beaumont was involved with. His career was definitely moving forward post-Twilight Zone, but then some strange things began to happen. As is explained in the film by his son Christopher, Charles' behavior began to become more and more erratic. At first, it was hard to know whether or not the things he was doing were just part of his well-known eccentricities. But someone as close to him as his son could tell that something was wrong.
Like a character right out of one of his stories, Beaumont was rapidly aging right before everyone's eyes. The doctors had not explanation for it. Today we would call it early-onset Alzheimers. But nearly 50 years ago, nobody knew. So here was a man who was full of life, suddenly acting and looking like an elderly man. It must have been horrible for everyone, and friends such as John and Wilma Tomerlin remain deeply troubled about it.
When the movie was first released, it was 90 minutes long. This new Director's Cut adds about 40 minutes for a running time of 133 minutes. The DVD has a number of extra features, including audio commentary by Jason V. Brock and William F. Nolan, a photo slideshow, audio recordings of Beaumont's story Black Country read by William F. Nolan, and of My Fair Lady read by Beaumont.
The most interesting bonus comes from the premiere event at The Egyptian Theatre in Hollywood on March 10, 2010. This includes a question-and-answer segment which runs about 45 minutes. The theatrical trailer and a preview of Brock's The AckerMonster Chronicles film rounds out the special features.
The writing of Charles Beaumont were a very special thing, and I am grateful to have had the opportunity to learn more about the man behind the stories. With all of the additional material, this Director's Cut is definitive, and a must for fans.