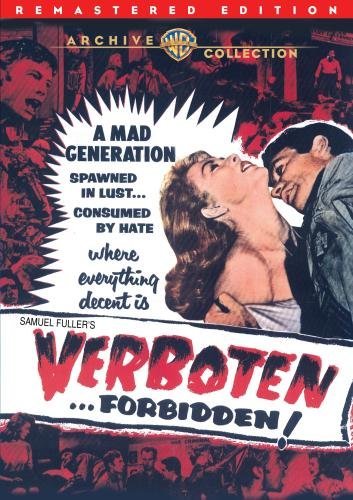 "A mad generation!" the movie poster exclaims. "Spawned in lust…consumed by hate…where everything decent is Verboten!"
As with all good exploitation films, the hyperbole on the one-sheet for Samuel Fuller's Verboten! (1959) has little to do with the actual content of the movie. But then again, how do you market a romance set in World War II that features both a sappy title ballad sung by Paul Anka and an eight-minute mini-documentary on the Nuremberg Trials?
Thankfully, the folks at the Warner Archive Collection don't have to worry about this with their manufacture-on-demand DVD of a film Fuller acknowledged was "a hardy soup" of entertainingly disparate elements. In the more than half a century since Verboten!'s tortured birth – it was coproduced by Fuller's Globe Enterprises and RKO but distributed by Columbia after RKO closed up shop – the director has been canonized as an indie auteur who circumvented the studio system and made visionary films with controversial subject matter. And Verboten! is consistent with his canon, with its wrong-side-of-the-battlefield love story between an American soldier and a fräulein who sleeps under a picture of the Führer.
Fuller, who was born 100 years ago today, would go on to lose important battles with Hollywood studios late in his career, first when his 1980 "comeback film" The Big Red One was cut to ribbons by United Artists and Lorimar and again when Paramount declined to release the completed White Dog in 1982, due to concerns about racial subject matter. Everything worked out okay legacy-wise, though sadly not before Fuller's death in 1997. The Big Red One was reconstructed with fifty minutes of excised footage and re-premiered at the Cannes Film Festival in 2004. And thanks to the Criterion Collection, White Dog has found an enthusiastic new audience on DVD, as have Fuller's brilliant Shock Corridor (1963) and The Naked Kiss, (1964). And now it's time for the same thing to happen to Verboten!, which is not among the director's best work, but is still a very worthwhile curiosity.
In a German village in April, 1945, Sgt. David Brent (James Best) and a small squad of American soldiers track a sniper through bombed out buildings, to the triumphant strains of Beethoven's 5th Symphony. His buddies are shot and killed, and Brent is grazed (in der asch), but he manages to dispatch the enemy and meet-cute with Helga Schiller (Susan Cummings), a comely local who tends to his wounds. He also butts heads with Helga's 15-year-old brother Franz, a (former?) Hitler Youth who is understandably perturbed about losing his arm in an Allied attack.
The War soon comes to an end, but Brent's affection for Helga does not. Unfortunately for the young lovers, fraternization by members of the occupying American Military Government with the (former) enemy is forbidden – thus the title – and Brent must jump through logistical hoops to make the relationship work.
All frauleins want to hook an American," Brent's grim-faced commanding officer (Paul Dubov) warns him. "A G.I. means chow, cigarettes, security. If you weren't an American she'd want no part of you."
Regardless, Brent, who boasts to his superior about "how many Nazis he killed," marries Helga, dons a traditional Tyrolean hat and takes his new bride on a honeymoon cruise up the Rhine, past the Remagen Bridge.
"I crossed it," he says to Helga, as he awkwardly recounts his recent battles against her countrymen.
Further complicating matters is Helga's friendship with Bruno Eckart (Tom Pittman) the murderous mastermind of Werwolf, a neo-Nazi guerilla unit plotting to overthrow the AMG. In a shocking scene, Helga – eating Hershey bars and smoking American cigarettes – suggests to Bruno that her interest in the soldier may not be about love. Is she just protecting herself, or is she really a villain? As in life, intentions in a Sam Fuller picture are often unclear
"I was raised on hate," Helga tells Brent. "(But) I will show you there is a difference between a Nazi and a German."
This is a level of storytelling nuance rarely seen in an American war film of that era. And we, like Brent, are forced to sort through the muddiness of her motivations, and what we've been taught to believe about "the enemy." What is not muddy is the message Fuller, a decorated war veteran who was present at the liberation of the Falkenau concentration camp in Czechoslovakia, hopes to convey about the Nazis and their war crimes. Late in the film, Helga brings her brother (who is secretly conspiring with Werwolf) to observe the Nuremberg Trials. Fuller unapologetically interrupts the narrative for a lengthy documentation of atrocities, narrated by the director himself, with heartbreaking newsreel footage of death-camp victims. It's tough to watch, but that's the point. Subtlety is not Fuller's purview, and there are moments when the truly horrifying images feel cheapened when intercut with Harold Daye's histrionic performance as the teenage Franz. But the point is made. If you don't know the grim details of what the Nazis did, you'll be fully aware after Verboten!.
Subtlety of storytelling may not have been Fuller's goal, but he did manage to elicit nuanced performances from the rest of the cast. For an actor who was as broad as the side of a barn in The Dukes of Hazard TV series (as Sheriff Roscoe P. Coltrane), James Best is delighfully low key and believable as Brent, with an infectious Southern charm. Susan Cummings is suitably complex as Helga, a woman who has been taught by war (and visiting members of the SS) to survive by any means necessary. And as the villain Bruno, Tom Pittman is chilling. Pittman, who was being groomed for James Dean-type roles, died tragically before the film was released in a car wreck – driving a Porsche, just like Dean.
Verboten! is economical B-filmmaking from a director who made a career out of transcending limitations. Fuller uses fewer than 100 shots in the 93-minute film, including one that lasts more than five minutes without a cut. He also makes extensive use of stock footage in ways that are both harrowing and hilarious. And then there's Paul Anka, in all his incongruously syrupy late '50s glory:
"For we know true love cannot be verbotennnnn," he croons, over shots of soldiers lying face down amongst the rubble. "And no matter what they say, I'll give you my love!"
Happy birthday, Sam Fuller. They don't make them like you anymore.