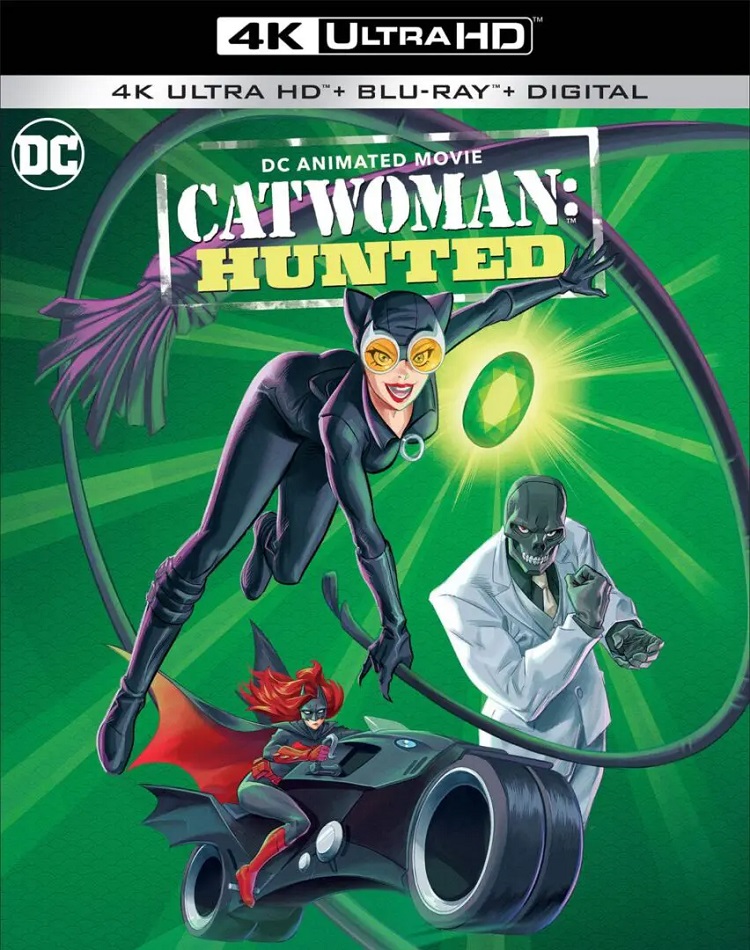 DC's latest animated film answers the question you probably never asked: what would a DC film look like as anime? Yes, for no discernible reason, Catwoman: Hunted is produced in full anime style, with all big-eyed characters, some kaiju and mecha-esque battle action, and Japanese direction and production. There's even a jazzy score by Japanese composer Yutaka Yamada that sounds like it was lifted from the original Cowboy Bebop recording sessions. The film offers no discussion of this creative choice in the bonus features, so just buckle up and go with it.
The plot lets Catwoman do what she does best: steal stuff. As the film opens, she's on the trail of a massive gem as she infiltrates a swanky costume party dressed in a legacy version of her own costume. After successfully nabbing the gem and making her escape, she's apprehended by Interpol and forced to work for them to bring down the international crime organization Leviathan. Her job is to steal from the organization, a task she happily accepts to clear her sentence. Along the way, she works her feminine wiles on everybody in her path, even a very flustered Batwoman filling in for her usual foil/love interest Batman.
The movie is a spritely 79 minutes, and it feels like it, ultimately seeming like an abbreviated adventure in need of a strong final act. The intro jewel heist is fun, her Batwoman seduction is memorable, and the infiltration of Leviathan has shades of a Bond movie, but as the plot starts winding down it just feels like not much has happened. It's not helped by the lackluster rogues gallery. While it's nice to see characters that don't usually get much exposure, such as Cheshire Cat and Tobias Whale, the film feels lacking when the primary baddie is Black Mask, aided only slightly by a late appearance by Cheetah.
The voice actors are capable if unremarkable, with Elizabeth Gillies nabbing the lead and Stephanie Beatriz voicing Batwoman. Gillies captures the character's continual coquettishness without overselling it, but Beatriz seems to think she's still playing her gruff, monotone Rosa Diaz character from Brooklyn Nine-Nine instead of employing any of the emotional complexity she displayed as the lead in Encanto. Elsewhere, Lauren Cohan (The Walking Dead) pops in briefly as Julia Pennyworth to remind us that she can play British with a capital B thanks to her formative years living there, and Jonathan Banks (Better Call Saul) growls his way through his role as Black Mask.
The 4K version boasts 2160p Ultra HD picture and is enabled for both Dolby Vision and HDR-10. That's great on paper, but in practice there's little tangible difference between the 4K and Blu-ray. Blacks are a bit darker, color a bit more vivid thanks to HDR, but nothing in the artwork or action is so detailed that any high-end specs are necessary. Sound is also a push, with both discs featuring the same DTS-HD Master Audio 5.1 primary track.
Two bonus features are included, and they're unusually expansive. The first is a 20-minute look at the Catwoman character in relation to this movie, featuring interviews with key comic book writers that have contributed to her characterization along with some creative staff for the project, but no voice actors. It's a bit jarring to see ex-Marvel TV head Jeph Loeb featured as one of the interviewed writers, but he does have a lengthy history with DC Comics as well. The second bonus feature is a 40-minute look at Catwoman's various iterations across all media including her appearances on TV and in video games, and features both new and legacy interviews with actors and other key contributors to her legacy. Both bonus features are available on both the 4K and Blu-ray discs, as well as accessible at Movies Anywhere for digital streaming.