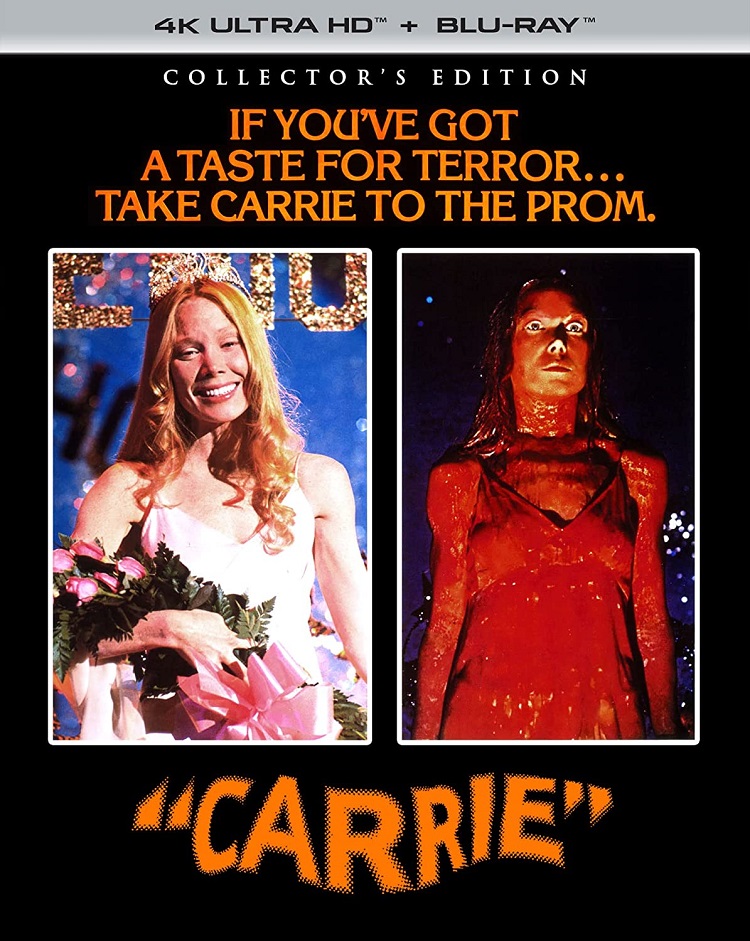 What else can one say about Brian De Palma's masterful 1976 Stephen King adaptation Carrie? It's one of the greatest horror films ever made and a solid, cautionary tale about how not to piss off the weird loner teenager.
The story of Carrie White, a young teenaged girl being horrifically harrassed by her classmates and even more so at home by her sadistic and ultra religious mother, has been remade, has an unfairly maligned 1999 sequel, and even has been made into a musical, but none of that has sullied the impact and the reputation of the 1976 classic.
Sissy Spacek remains the perfect Carrie, especially in the famed prom night massacre sequence. Piper Laurie is the definitive Margaret White, being so creepy, insane, and unexpectedly poignant. There's also Nancy Allen, being deliciously entertaining as main villain Chris; Betty Buckley as Miss Dusjardin; Amy Irving as the kindhearted Sue Snell; William Katt as Tommy Ross; and John Travolta (pre-Saturday Night Fever) in an early role as Billy Nolan.
Adding to this brilliant cast is De Palma's expert direction, and amazing special effects by Gregory M. Auer, as well as an eerily melancholic score by Pino Donaggio, and that all-time shock ending. With these elements, you get a chilling and still riveting pop culture/horror classic that works on every single level.
Making its 4K UHD debut this week, I bet the picture and sound look immaculate, and the special features (albeit vintage) still seem enjoyable. They include a Carrie trailer gallery; interviews with De Palma, screenwriter Lawrence D. Cohen, cinematographer Mario Tosi, editor Paul Hirsch, casting director Harriet B. Halberg, art director Jack Fisk, composer Donaggio, and actors Spacek, Irving, Buckley, Allen, Katt Laurie, Priscilla Pointer, and P.J. Soles; featurettes on the film's original shooting locations and the musical; still galleries; TV/radio spots; and Stephen King and the Evolution of Carrie text gallery.
If you don't already own previous DVD/Blu-rays and/or have a 4K player, then this release should definitely be a must have to your collection.
Other releases:
The Velvet Underground (Criterion): Director Todd Haynes crafts a documentary that explores the multiple threads that converged to bring together one of the famous rock and roll bands in music history.
Cooley High (Criterion): A 1975 classic high school tale set in 1960s Chicago about two best friends navigating through girls, school, and troubles with the law.
Three Films by Mai Zetterling (Criterion): A box set including three taboo-breaking portraits of female agency in Europe by pioneering Swedish actress turned filmmaker Mai Zetterling.
Spider: Ray Fiennes stars in David Cronenberg's psychological drama as a mentally disturbed man who moves into a halfway house. His mind slips back into the realm created by his illness, where he confronts a key part of his fractured childhood.
Hogan's Heroes (The Complete Series): Bob Crane headlines a cast of iconic characters in this celebrated television series about an international group of POWs who run special operations missions from the very camp where they are prisoners during World War II.