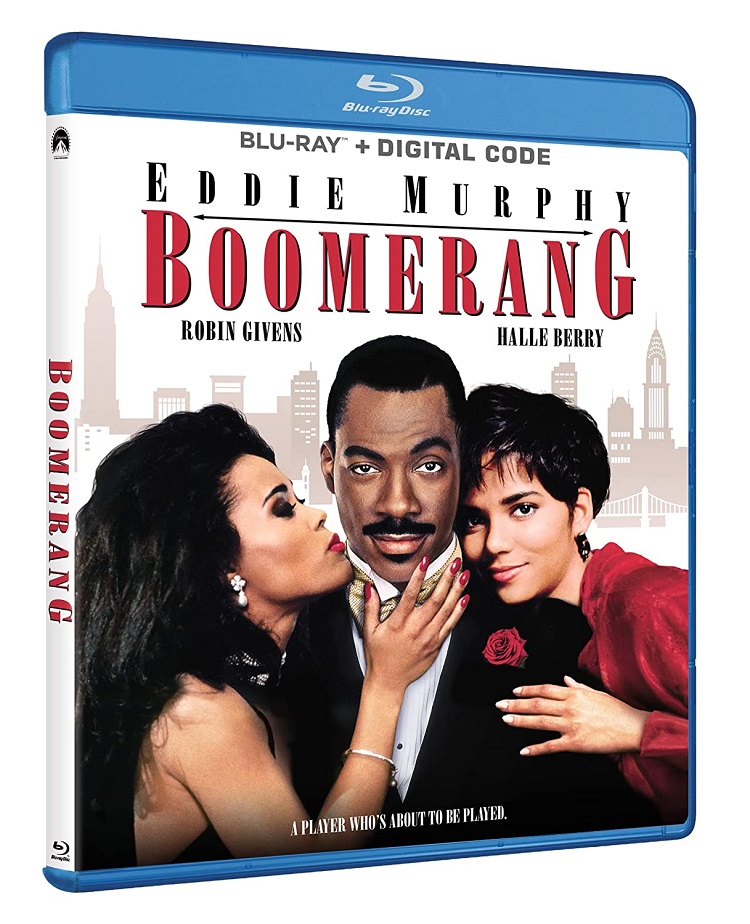 I remember seeing Boomerang in theaters when it first came out. I have seen it many times since and still quote it on a regular basis. "You got to coordinate." Now, to celebrate the film's 30th anniversary, Paramount is releasing the film on Blu-ray for the first time.
Boomerang is the story of womanizing advertising executive Marcus Graham (Eddie Murphy) who knows how to sell his products and himself to women. When his new boss Jacqueline (Robin Givens) enters his world, he finds himself unprepared for the female version of himself. And while Jaqueline shows Marcus what it is like to be on the other side of this kind of behavior for once, Marcus begins to re-evaluate himself and the women in his life.
Outside of Murphy and Givens, the movie has an all-star cast which also includes Halle Berry, David Alan Grier, Martin Lawrence, Grace Jones, Geoffrey Holder, Eartha Kitt, Chris Rock, John Witherspoon, Tisha Campbell, and Melvin Van Peebles. With a primarily black cast, the film caused a lot of conversations after its release about race in Hollywood. Many of those conversations are still being held today. Boomerang is a good example of a great film that showcases Black success throughout its plot and character choices. While 30 years after its premiere, the homophobic jokes in Boomerang don't hold up, the rest of it does. It's a hilarious film that challenged stereotypes when it premiered and still challenges them now.
The Boomerang Blu-ray includes access to a digital copy of the film, as well as the following legacy bonus content:
Commentary by director Reginald Hudlin
Extended and deleted scenes with director's commentary:

Thanksgiving at Marcus' Place
Strangé's Arrival at the Dinner
Bony T Asks Marcus About Sex with Jackie
First Dinner Between Jackie & Marcus 
Dinner Between Gerard & Angela
Boomerang is rated R, has a runtime of 1 hour 57 minutes, and is out on Blu-ray now.