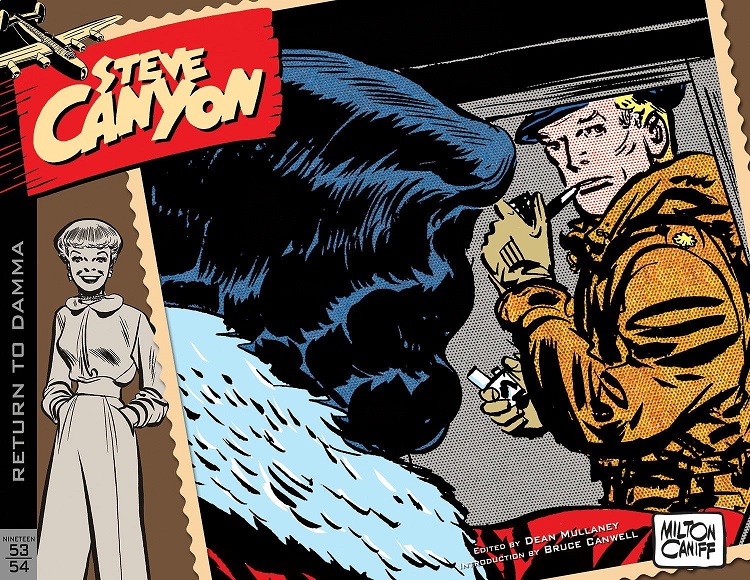 In 1946, cartoonist Milton Caniff ended a successful 12-year run on the adventure comic strip Terry and the Pirates for the opportunity of a creator-owned title where he would have more creative control and reap more the benefits of his work. Beginning in 1947 just a few weeks after his last Terry strip was published, Steve Canyon debuted. The strip ran 41 years and even continued a couple of months after Caniff's death. Since January 2012, the Library of American Comics, by way of IDW Publishing, has been releasing collections of Canyon strips, and Volume 4 demonstrates what a talent Caniff was as both a writer and an artist.
Steve Canyon is the typical action hero. He's strong, smart, confident, and has rugged good looks. Women want him and men want to be him. Although understandably a fantasy, it's actually a bit silly that so many of the women fall under his spell. Steve runs into obstacles during his missions, but through his ingenuity and with some assistance from others, he always comes out on top.
Volume 4 begins with the first strip of 1953. Steve is a Lieutenant Colonel in the Air Force stationed at Indian Cape where some the townsfolk are none too thrilled to have an airbase in their town regardless of what the military tells them about the danger of the Soviets. It's a believable concept and intriguing to watch Steve working with town leaders while someone with an agenda strives to undermine the military behind the scenes.
After Indian Cape, Steve goes on a series of Asian adventures working Air Force assignments undercover and reuniting with familiar faces. He has to sneak into Red China with a doctor to aid anti-Communist guerrilla leader Princess Snowflower. He attempts to escort the family of a U.S. ambassador from an unnamed country into India, but they get captured by hill bandits and held for ransom. He hires on with Herself Muldoon's Indonesian airline to investigate heroin trafficking. The latter story is made compelling with the inclusion of a drug addict that complicates the tasks of both Steve and Herself.
Upon returning to the U.S., Steve gets caught up in a different type of story as he competes against Clarke Netherland for the hand of Summer Olson, who he has long wanted to marry. Steve then heads north to investigate the sabotaging of early warning radar stations and discovers the sultry Miss Mizzou working as a barroom singer.
The marvelous artwork by Caniff and those uncredited, such as Dick Rockwell, is on display every strip. Faces are extremely expressive and augment the emotion of the dialogue. Settings, both interior and exterior, are made believable from the brilliant details created through the line work. The use of inks for shading is impressive and the Sunday strips make great use of color to help the image pop off the page.
Setting aside his talents as a cartoonist, Caniff comes through as a great human being who cared about others. He honored the troops on both Armed Forces Day and on Christmas 1954 drew attention to the sacrifice of 80 correspondents "who died in foreign lands." During a story that makes use of a code, he offered and paid a reward to the military person, here and abroad, who could solve it. The most heartwarming example is the one most easily overlooked. On January 2, 1953, a bulletin posted on the wall has a few messages. It seems innocuous, but in the book's introduction it is revealed that the first message is to a 15-year-old boy who ran away from home. His mother had reached out to Caniff because the boy was a big fan of Steve Canyon. A few days after the strip had been published, the boy called his parents.
For those interested in seeing a classic adventure comic strip unfold, LOAC's Steve Canyon series is highly recommend.