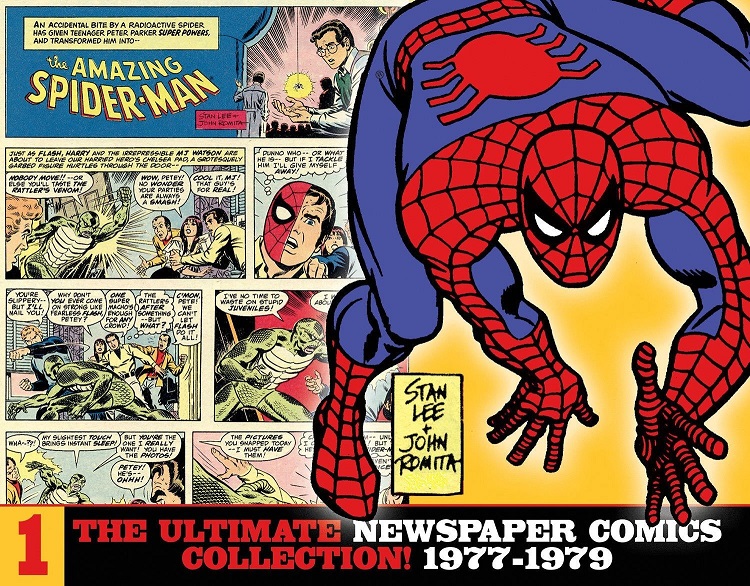 Let's face it: daily newspaper comic strips have never been a great way to follow serialized stories. When a story is doled out in just a few panels a day, it's difficult to follow and even more difficult to appreciate as a whole. Thankfully, IDW Publishing is here to save the day with their latest archival comic strip project covering the first two years of Spider-Man's daily adventures.
This comic strip wasn't just handed off to junior hacks; it was written by the character's creator and architect of much of the Marvel universe, Stan "The Man" Lee. Likewise, the art chores were handled by Marvel legend John Romita. Of course at the time their names didn't carry the same weight they do today, but it should be obvious to all readers that these two know their way around a comic panel.
With a solid creative team in place and growing newspaper syndication throughout the country, the strip's success was virtually guaranteed as long as the quality remained consistent. Thankfully, it did, at least for the first two years represented in this collection.
Lee's approach was to tell individual stories lasting around two months long, mostly pitting Spidey against his biggest foes while also occasionally sprinkling in references to '70s celebrities to anchor it in its time. Rather than dole out a retelling of the origin story, Lee dove right into the action in the first story featuring Doctor Doom's latest plan for world domination via control of the United Nations. Doom is described as the "world's worst terrorist", and yet comes dangerously close to swaying the UN delegates to his mad plan before Spidey saves the day.
In subsequent stories presented in their entirety here, our friendly neighborhood web crawler tangles with Doc Ock, Kingpin, Kraven the Hunter, Mysterio, Doctor Doom again, as well as a few street-level adventures. Those are particularly notable for their focus on relatable crimes rather than superpowered shenanigans, with foes such as a gang of thugs stealing Social Security checks and a jilted fashion model who discovers his secret identity and threatens blackmail.
Lee's writing is of its time, leaning heavily on the bam pow bang rather than delving into any meaningful character development, which is perfectly suitable for the bite-sized morsels in which it was originally delivered. For logistical reasons, the strips operate in their own self-contained universe with no ties to the concurrent monthly comic books. As for the art, Romita's work is well above what one would expect of a daily strip, with gorgeously clean, crisp lines masterfully conveying all of Spidey's perilous situations. It's amazing now to think that these two legends toiled away on this daily strip and maintained such a consistent level of quality, and it's rewarding to enjoy the fruits of their labor in this lushly produced hardcover collection.