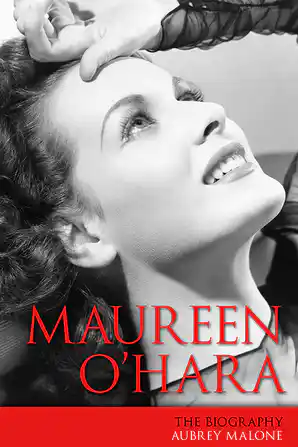 Maureen O'Hara: The Biography by Aubrey Malone (University Press of Kentucky – 2020) is a heartfelt biography of the screen legend. Beginning with her birth as Maureen FitzSimmons in Dublin on August 17, 1920, we learn that O'Hara was set on an acting career from her early teens. Before her twentieth birthday she had four movies under her belt, including starring roles in The Hunchback of Notre Dame (1939, William Dieterle) and Jamaica Inn (1939, Alfred Hitchcock).
From her twenties onward, we learn that, for the most part, Maureen O'Hara had a fine life filled with fame and fortune and few setbacks. Unfortunately, Maureen O'Hara: The Biography has two major flaws. First, by the time the biography was being researched, most of O'Hara's family and colleagues were long dead; therefore, Aubrey Malone relies too heavily on quotes from O'Hara's autobiography written with John Nicoletti, 'Tis Herself: A Memoir (2004). Second, the author has padded the book with unnecessarily long summaries of nearly every movie Ms. O'Hara starred in. The good news is that the photos included at the center of the book make up for what may feel lacking in the rest. A star like O'Hara had countless photos taken of her over the years and the selection contained in the book highlight her incredible beauty and the smoldering looks of several of her male co-stars.
This is a new paperback edition of a biography first published in 2013 before Maureen O'Hara's death in 2015 at the age of 95. The edition has been updated and expanded to include the days leading up to O'Hara's death, how she became a "poster girl" for the #MeToo movement after death, and how a museum in Limerick planned to dedicate an entire wing to the life of Maureen O'Hara. The plans for the museum have been put on hold due to the outbreak of Covid-19. It should be noted, however, that the updates fill just a few pages at the end of the final chapter.