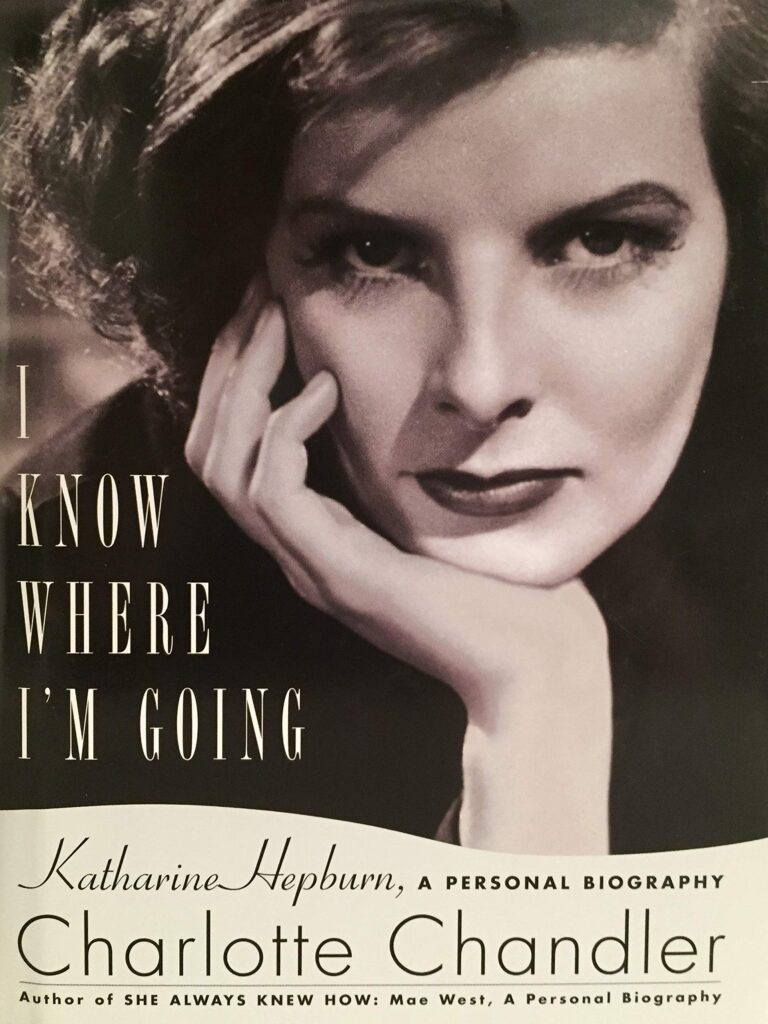 Written by Lisa McKay
Katharine Hepburn certainly ranks among the most legendary of American film stars. With her patrician bearing, her Bryn Mawr accent, and her highly individual sense of style, she graced the screen in some of the most memorable films ever made. Hepburn exemplified the term "movie star."
Charlotte Chandler's I Know Where I'm Going: Katharine Hepburn, A Personal Biography offers the reader some insight into Hepburn's long and interesting life in the actress's own words and occasionally those of close friends and colleagues. Based on a series of interviews recorded over a period of many years, Chandler's book is less a biography in the traditional sense and more of an extended conversation. In it, readers will learn something of Hepburn's Connecticut upbringing in a well-to-do family (her father was a prominent physician and her mother an early feminist and suffragette) and the early death of her beloved older brother Tom, an apparent suicide at the age of 15. This tragedy changed Hepburn's life suddenly and forever and the subject is one that she returns to again and again over the course of these conversations.
The interviews are presented mostly in chronological order as Hepburn recounts her childhood, the early years of her acting career, her only marriage (which ended in an amicable divorce), her relationship with Howard Hughes, her later success, and finally, her legendary relationship with on- and off-screen partner, Spencer Tracy. Interspersed are synopses of her films which have the unfortunate effect of breaking the rhythm of the narrative.
In her own words, Hepburn comes across as a frank and intelligent woman with lots of stories to tell. She speaks frequently of her great admiration for her parents (her father in particular who, in spite of her adulation, comes across to this reader as a cold fish) and her closeness to her family (who paradoxically never speak to her about her career or appear to take any pride in her accomplishments).
Among the friends and colleagues whose words are also included here are George Cukor (who directed Hepburn in The Philadelphia Story, Adam's Rib, and Pat and Mike, among other films), Douglas Fairbanks, Jr., Cary Grant, and Christopher Reeve. Throughout there are interesting behind-the-scenes tidbits about some of Hepburn's most memorable films (the story of the filming of The African Queen makes for a particularly entertaining chapter).
Hepburn has always been regarded as something of a rebel and a woman ahead of her time. This image seems at odds with her actual life in some ways – her 27-year relationship with Spencer Tracy seems mostly to have been lived on his terms. For the duration of his relationship with Hepburn (which lasted until his death in 1967) Tracy refused to divorce his wife, his devout Catholicism being most frequently cited as the reason for his refusal. The Catholic church also frowns on marital infidelity, so one does wonder whether this was yet another case of a philandering male choosing to have his cake and eat it while being enabled by the other woman. Hepburn proposes at one point in the book that she loved him more than he loved her. In spite of this, the relationship endured, with Hepburn taking time out from her career to care for Tracy in his final illness.
Hepburn died at her family home in Old Saybrook, Connecticut in 2003 at the age of 96, having won a record four Academy Awards and left behind a body of work that any actor would be proud of. Readers looking for a critical examination of Hepburn's life and times or a thorough analysis of her work won't find it here. I Know Where I'm Going is an entertaining read, however, and the attentive reader will glean enough insight into Hepburn through her own words to form an opinion about this most fascinating of American icons.