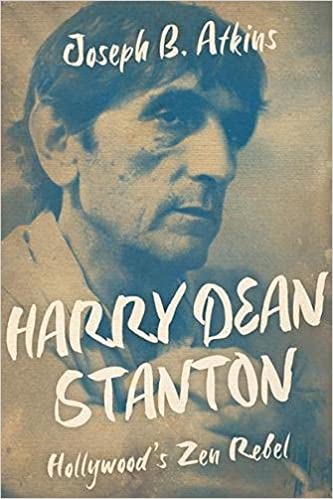 Harry Dean Stanton: Hollywood's Zen Rebel, by Joseph B. Atkins (University Press of Kentucky, 2020), is a carefully crafted tribute to one of Hollywood's greatest character actors. Easily recognizable with his gruff face but relaxed demeanor, Stanton had parts in some of the greatest films of all time: Cool Hand Luke (1967), The Godfather Part II (1974), Alien (1979), and The Straight Story (1999). He also had two lead roles: Wim Wenders, Paris, Texas (1984) and John Carroll Lynch's Lucky (2017), his last film. Hollywood's Zen Rebel makes it clear that Harry Dean Stanton made it big by playing himself as closely, and often, as possible. Most captivating are the moments we see Harry Dean Stanton interacting with famous friends like Jack Nicholson, Kris Kristofferson, Marlon Brando, and Bob Dylan. There are a lot of drug-fueled, late-night philosophical discussions mostly involving the work of Alan Watts.
Unfortunately, Harry Dean Stanton died in 2017 before Joseph B. Atkins could interview him for his book. However, plenty of friends, family, biographers, and colleagues were still available. Especially enlightening are interviews with Wim Wenders (director of Paris, Texas), Sophie Huber (producer and director of the documentary Harry Dean Stanton: Partly Fiction), and Lois Pemble (Stanton's girlfriend while he was a student at the University of Kentucky). The parts of the book where no interview was available are thoroughly researched through the use of archived interviews with the actor himself, mounds of news articles pertaining to Stanton over six decades of work, and other critical biographies.
Hollywood's Zen Rebel is a great tribute to the life of a great actor and is just one entry in the University of Kentucky Press' excellent Screen Classics series which now includes well over fifty books. Screen Classics is "a series of critical biographies, film histories, and analytical studies focusing on neglected filmmakers and important screen artists and subjects, from the era of silent cinema through the golden age of Hollywood to the international generation of today…This series also serves the purpose of advancing scholarship on film personalities and themes with ties to Kentucky." Harry Dean Stanton: Hollywood's Zen Rebel, and the Screen Classics series, are highly recommended.