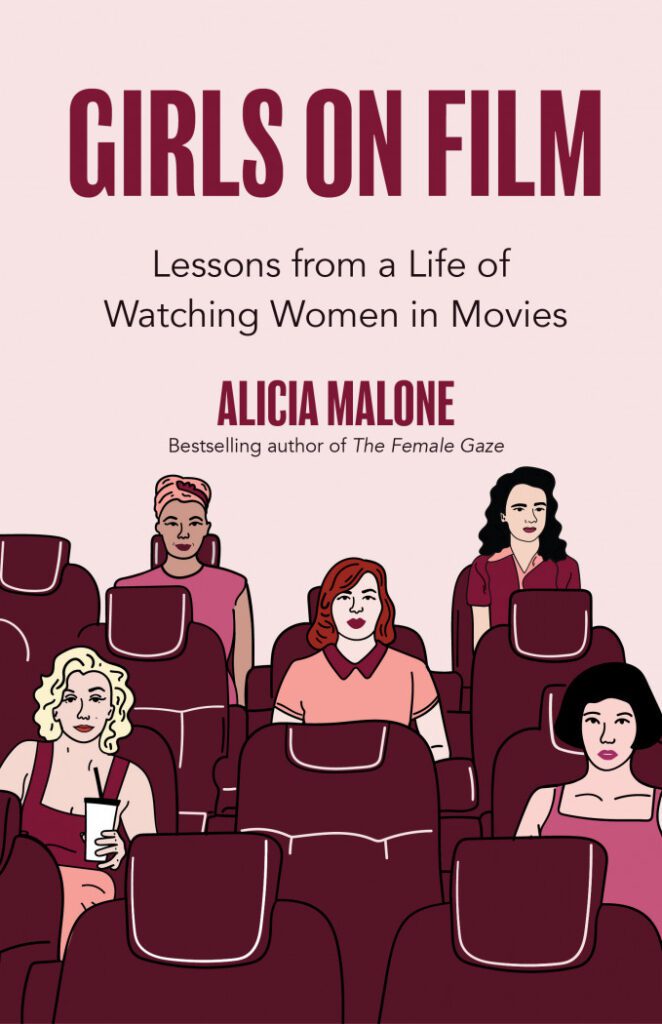 The lovely Alicia Malone has proven herself to be a great film reporter, writer, and fellow movie geek. One of the five major hosts/presenters on Turner Classic Movies (along with Ben Mankiewicz, Eddie Muller, Dave Karger, and Jacqueline Stewart), she brings her own gravitas and knowledge to many of her wonderful introductions.
With Girls on Film: Lessons from a Life of Watching Women in Movies, she explores what it means to be a woman who watches and admires women in classic film, and the lessons she's learned (and continues to learn) from them. In it, she details the positive and negative aspects of how women are portrayed in film, and the underlying messages that are sometimes often overlooked.
By also relying on her own personal journey as a young woman in her native Australia, she explains throughout the book on how she got be where she is now, being a woman (and movie nerd) in Hollywood and on television.
Each chapter depicts specific films and female stars that she still seeks inspiration and answers from. In chapter one, "Girls on Film," she mostly zeros in on 1944's National Velvet, where Elizabeth Taylor pretends to be a boy to participate in a racing event with her beloved horse Pie. This means that women don't have to let gender limitations get in the way of their dreams, and their bonds with animals. Chapter two, "Gentlemen Prefer Blondes," not only explores the 1953 film where two women (a blonde and a brunette) use their looks and assets to survive and get what they want, but details how Marilyn Monroe (one of the two leads, along with Jane Russell) was transformed from Norma Jean Mortenson to the legendary bombshell whose mystery we still try to figure out.
In chapter three, "Mr. Movies," she talks about her admiration for beloved film critic Leonard Maltin; going to her favorite video store, Network Video; and especially her fondness for Bill Collins (movie critic/historian and fellow Australian), who was affectionately known as Mr. Movies, who introduced the classic films her dad and two sisters would watch with her. Chapter four, "Smooth Talk," details her coming into womanhood and how the 1985 film starring Laura Dern changed her viewpoint of teenage sexual awakening.
Chapter five, "Mad Love," details the 1995 romance starring Drew Barrymore and Chris O'Donnell, Barrymore's own journey from precocious child star to troubled teen and beyond, and moments of Malone's life that compares to hers. Chapter six, "Woman of the Year," is not just about the 1942 film, but also its star Katharine Hepburn and her relationship with co-star Spencer Tracy. Chapter seven, "The Bad and the Beautiful," explains her life now in Hollywood, the 1952 film, and how the town treats women who just want to achieve their dreams of fame but are still considered second to powerful men. Chapter eight, "A Woman's Face," centers on not just the 1941 Joan Crawford vehicle, but how women are portrayed in film noir and how they can hold their own against the men.
Chapter nine, "Love Affair", details Malone's life as a single woman, Ingrid Bergman's scandalous relationship with director Roberto Rossellini and how the public viewed her afterwards, and how classic film depicted marriage and the role of women in it. And finally, chapter ten, "Imitation of Life," discusses how Malone felt as being a new host on TCM, both the 1934 and 1959 adaptations of the Fanny Hurst novel, and the now problematic depictions of race, especially from a female viewpoint.
Alicia Malone puts her heart and focus into Girls on Film. She also makes readers understand the importance of women in film (in front and behind the camera), and how cinema can cast its magic spell on you.