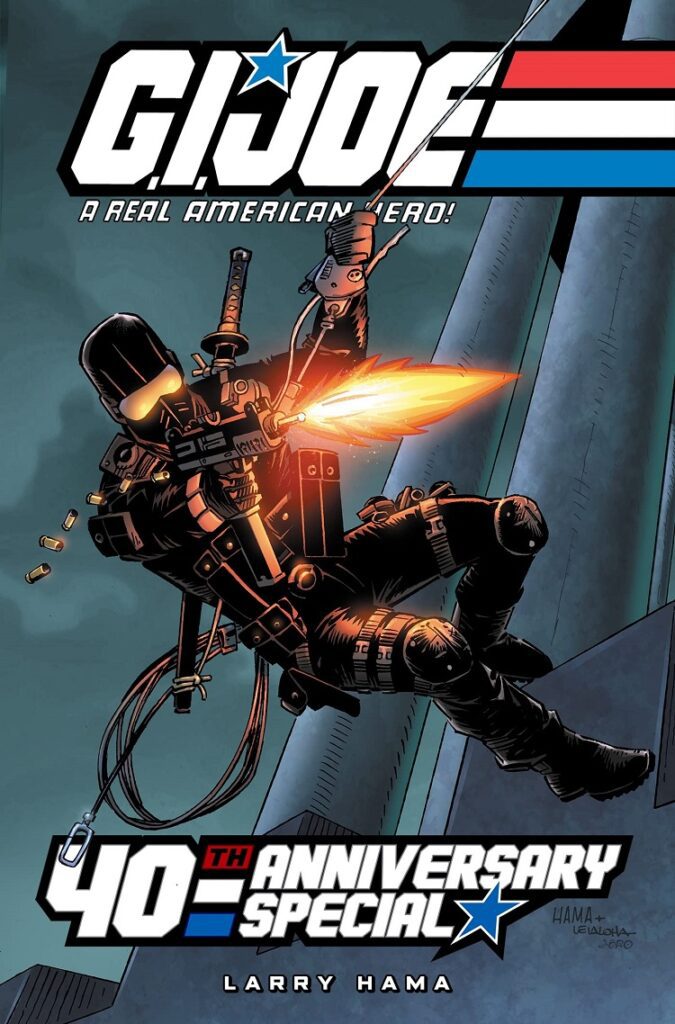 The 1960s had G.I. Joe, America's Movable Fighting Man, a series of doll-sized action figures that highlighted all branches of the military and which gave a much more realistic military playtime option than say the little green plastic army men did to countless young people. Fast-forward roughly 20 years to the early 1980s. Kids still loved to play with military toys, but their action figures had gotten smaller, thanks mostly to Star Wars, and technology had improved leaps and bounds. This was the dawn of the computer age and young people needed a military team that still used tanks and helicopters, but also futuristic weapons such as lasers. Add in a healthy dose of ninjas and you had G.I. Joe – A Real American Hero.
These were not just faceless soldiers, however. The action figures all contained file cards with bios of each soldier with background information about their skill sets, hometowns, and quotes from each character. This added a more personal touch to each figure. Comic book scribe Larry Hama penned these file cards, so it was only natural that when the G.I. Joe comic debuted, Hama would write that as well. Originally designed to sell action figures and vehicles, G.I. Joe – A Real American Hero became a huge success and now, after multiple publishers, is approaching 300 issues — a milestone for any comic — and its 40th anniversary. To celebrate that anniversary, IDW has compiled a number of key issues from the book's original Marvel run, along with a wealth of bonus features, into G.I. Joe – A Real American Hero 40th Anniversary Special.
After an introductory essay by Diana Davis, we are presented with issue #1, which introduces the team, its leader General Flagg, the Pit (their headquarters), and futuristic weapons such as laser rifles wielded by equally futuristic-sounding characters such as Flash. We are also introduced to Cobra Commander, Baroness, and Cobra Island, where Cobra, essentially a modern take on terrorist groups, does its bidding. For children of the 1980s, this was exciting stuff. Now they could see their favorite toys come to life in the pages of the comics (and eventually in an animated TV show) each month. Parents were likely less thrilled since these were monthly commercials for new products. To Hama's credit, G.I. Joe never read that way, however. They are just good stories.
The centerpiece of the collection is issue #21, "Silent Interlude." As the title suggests, the issue has no words, which was quite groundbreaking for its time. It is certainly the most famous issue of the comic's original run and one of the most noteworthy comics of the 1980s. Here we get the issue in its original form, as well as a modern reinterpretation with each page done by different artists. Chad Bowers' essay suggests that the original story was lost at Marvel and that they needed a backup story fast. Hama decided to forego dialogue and pencil the issue himself, featuring everyone's favorite silent character, Snake Eyes, and introducing us to another fan favorite in Storm Shadow. We also get a copy of Hama's original art breakdowns for the landmark issue. Forty years later, people still talk about "Silent Interlude" and for good reason.
That's not to take away from the significance of the other issues included, however. Issue #24 deals with a story where Cobra Commander disappears and introduces two key Cobra villains in Firefly and Zartan. Issue #26 gives us Snake Eyes' origin and tells of his past with Storm Shadow in Vietnam. We are also introduced to the Hard Master and the Soft Master and we find out who was responsible for the death of the Hard Master. The issue begins to fill in some of the blanks presented by "Silent Interlude" and is a classic in its own right.
We move to 1986 for issue #50 and "The Battle of Springfield," an issue where the Joes take the fight to the city of Springfield, where Cobra has been hiding out. It is then they learn that Cobra is about to unveil a new threat in the form of Serpentor. Rumors have abounded that Hama did not care for Serpentor and he was later killed by Zartan (in an issue not included here), but in Hama's hands, the character was always well written.
Issue #86 celebrates G.I. Joe's 25th anniversary and ties the A Real American Hero line in with America's Movable Fighting Man by having the Joes encounter Joseph Colton, the original G.I. Joe. When he declines Hawk's invitation to become an honorary member of the team, Muskrat quips, in a knowing nod to the original figures' size, "Golly! I always thought you were…bigger!" The collection concludes with a reprint of the first G.I. Joe Yearbook, which included bios of all the major characters up until that point, as well as vehicle blueprints.
That G.I. Joe is still relevant 40 years later is very much a testament to Hama's writing. He clearly loves these characters and, much like Chris Claremont with the X-Men, his characterizations of them are typically the ones used even when done by other writers or when they have appeared in movies. In real life, the military is catching up to where the Joes have been all these years and Hama largely predicted the technological future we live in today. For fans wondering what all the fuss is about, G.I. Joe – A Real American Hero 40th Anniversary Special is an excellent starting point, featuring several key issues of the series.