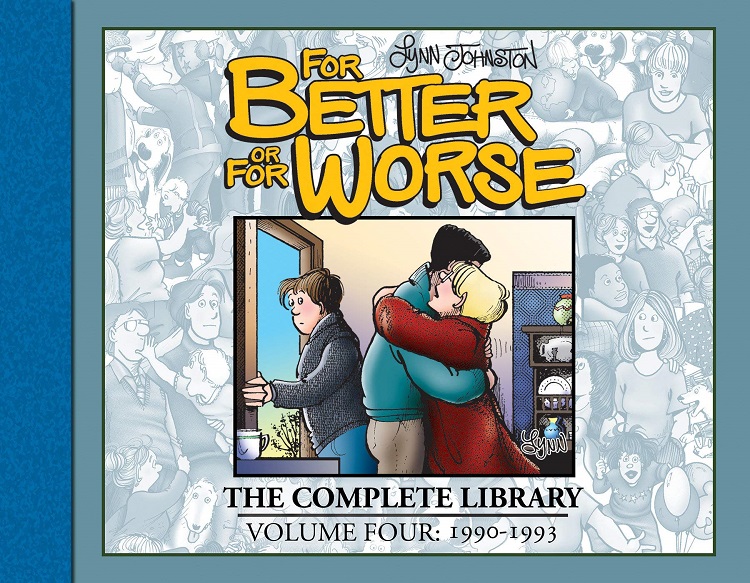 Written By Chad Derdowski
IDW and the Library of American Comics continue their tradition of collecting some of the finest comics in human history with the fourth volume of Lynn Johnston's long-running and award-winning strip For Better or For Worse. Collecting more than 1,200 sequential daily and Sunday comics from the end of 1989 through mid-1993, this volume includes many memorable storylines, including the introduction of April, the newest member of the Patterson family, and Lawrence's coming out story, for which Johnston was nominated for a Pulitzer Prize. Like everything else we've seen from them, IDW and LOAC pull out all the stops with these fancy hardcover editions that look great on your shelf and present the artwork in a large format that allows you to appreciate the craftsmanship.
And it isn't just the publishers who are continuing a rich tradition of quality work; by this point, Lynn Johnston is firing on all cylinders and perhaps truly hitting her stride (I know, I probably said that in my review of Volume Three, but she just keeps getting better). The artwork is unbelievably expressive and full of life, whether it is a funny interaction between the baby and the family pet or the heart-wrenching moment in which we realize that one of the children's friends has an abusive parent. The storytelling also gets richer and more thoughtful, dealing with topics like aging parents and midlife crises while still maintaining a sharp sense of humor. Johnston handles it all like a true professional and by this point in the strip, both she and the reader know and love these characters as though they were members of our own family. One of the unique aspects of For Better or For Worse is the fact that the characters age in real time (or something very close to it), and with ten years of storytelling in the rearview mirror, this comic has matured and grown in pretty amazing ways.
In this volume, we see Michael, the eldest Patterson child, get his first job and his first love and get his driver license as he navigates the tough terrain of his teenage years. Many of the stories are seen through Michael's eyes and here we see the fruits of his parent's labors as he proves himself to be an honest person and a true friend. Most notably, when Michael's friend Lawrence comes out to him, we witness Michael's confusion and misunderstanding, but also his true colors as he stands by his buddy. It isn't a sugar-coated story in which everything is sunshine and rainbows; our protagonists struggle with their feelings and as a result, the story feels authentic and real.
That realism and relatable nature is a common theme in For Better or Worse(as well as a theme in my reviews of the previous volumes in this series). It might be as complex as two teenagers figuring out how to make a long-distance relationship work or as simple as a child getting (and subsequently losing) glasses, but every single story made me chuckle, as I either remembered my own childhood or witnessed Lynn Johnston covering the new ground I experience watching my family grow older. There is plenty of author commentary strewn throughout this collection, and on more than one occasion, Johnston notes that readers assumed that the entire strip was autobiographical. The perspective always rings true, whether it's young or old, and with a few strips focusing on Ellie's elderly parents, I'm sure that when I reread this as an old man, I'll find even more relatable.
But even though the stories get more complex and delve into some pretty serious territory, they never lose their sense of humor. As Johnston notes, she did draw inspiration from her own family and friends and a few of the one-liners and punchlines are quotes or insults she heard her own kids use. Recognizing that she could borrow from real life kept Johnston from getting too mad and allowed her to see the humorous side of a bad situation – a valuable life lesson for all of us. And I would be remiss if I didn't at least mention the introduction of April, the newest member of the Patterson clan. Bringing a new, younger character into the fold can conjure up images of Cousin Oliver or Scrappy-Doo and subsequently frighten away even the most die-hard of fans, but Johnston defies the odds and instead gives us a whole new dimension of frustration, love, and humor that is eminently relatable (there's that word again) to any parent. Any time the baby is in the strip, it's funny and any time the baby and the dog are together – forget about it. This stuff is comic gold through and through.
I've read all four volumes of For Better or For Worse: The Complete Library(you can find my reviews on this very site!) and I continue to be impressed with Lynn Johnston's ever improving technique. As the title implies, it's a strip about life and a healthy reminder that every dark cloud brings a silver lining with it. It's a love letter to family and friendship and it's every bit as funny, poignant and relevant now as it was then.