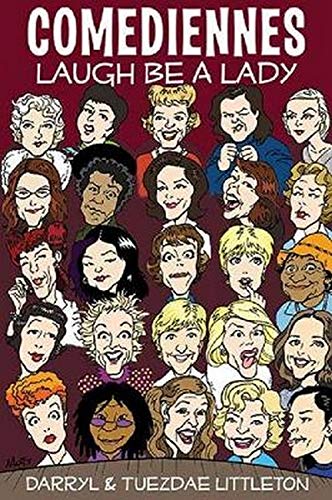 Lately I just keep on reviewing books around here. What can I say, I love to read about the films I love to watch. I also love to read about the people both in front of the camera and behind it. So as a person who performs stand-up and improv comedy myself, I was excited to be offered this book; however, by the end of it, I was a bit disappointed.
Comediennes: Laugh Be A Lady is written by husband and wife Darryl and Tuezdae Littleton. Darryl is a stand-up comedian himself as well as a comedy writer and producer. His wife Tuezdae has written for Comedy Central. The book chronicles most of the comediennes throughout history. Both those the public has definitely heard of and those who were not so famous. They cover a lot of women in this book. Women from the stage, screen, and television. It all sounds great, but this is why it left me disappointed.
I wanted a more fully fleshed out book. Darryl & Tuezdae Littleton have written what I feel like is more of a starting point for a book on comediennes. It would have been nice if they had included more details about the actual work of the comediennes and much less about the tragedies, details of their marriages and personal lives.
In the introduction to this book, Darryl Littleton wrote about how he ended up writing this book. It came out of wanting to write about another oppressed group in comedy outside of African-Americans. That group was and is female comedians. However by focusing so much on these women's personal lives, it takes away from their accomplishments. In many places, their talent and achievements take a back seat to the details of drama and husbands. Its understandable to mention these women's husbands when they are directly tied to their careers. However focusing so much in places about the gory details adds to the oppression of women. It makes those comediennes seem more like caricatures and less like characters.
Another issue I have with the book is that the book tries to cover too much ground at times. Certain comediennes get tons of coverage while others get barely any at all, making their inclusion in the book seem a bit out of place or like an afterthought. They also break up the book into chapters that cover different eras of female comediennes. I like the idea behind it but it feels a bit wonky in places.
I also really wanted to see pictures of these women as well. Since the Littleton's cover so many comediennes in this book, pictures accompanying each comedienne would have been really helpful. I understand that some of the early Vaudeville comediennes may have been harder to round up then others, but photos would have helped me put faces to the names of the women I didn't recognize. They wrote this book to shed some light on the comediennes their audience may not have heard of. But how many times have we all seen an actor or comedian in a film and not known their name. Photos would have helped bridge that gap and given more accolades to these women who deserve them. The photos that are included in the book are mostly of black comediennes and add very little to the finished product.
The mechanics of this book were very difficult for me as well. The Littletons use some very mixed tenses in their writing. In some places they refer to certain comediennes in the past tense. For example they wrote about Anne Meara in the past tense as if she were dead. Last I checked, the hilarious Ms. Meara has not moved on from this world to the next. There are also some very awkward transitions in this book from one subject to the next.
I really appreciate the heart that went into the subject matter for Comediennes: Laugh Be A Lady, but I just wanted so much more out of it. The Littletons are on the right track, they just missed the mark.