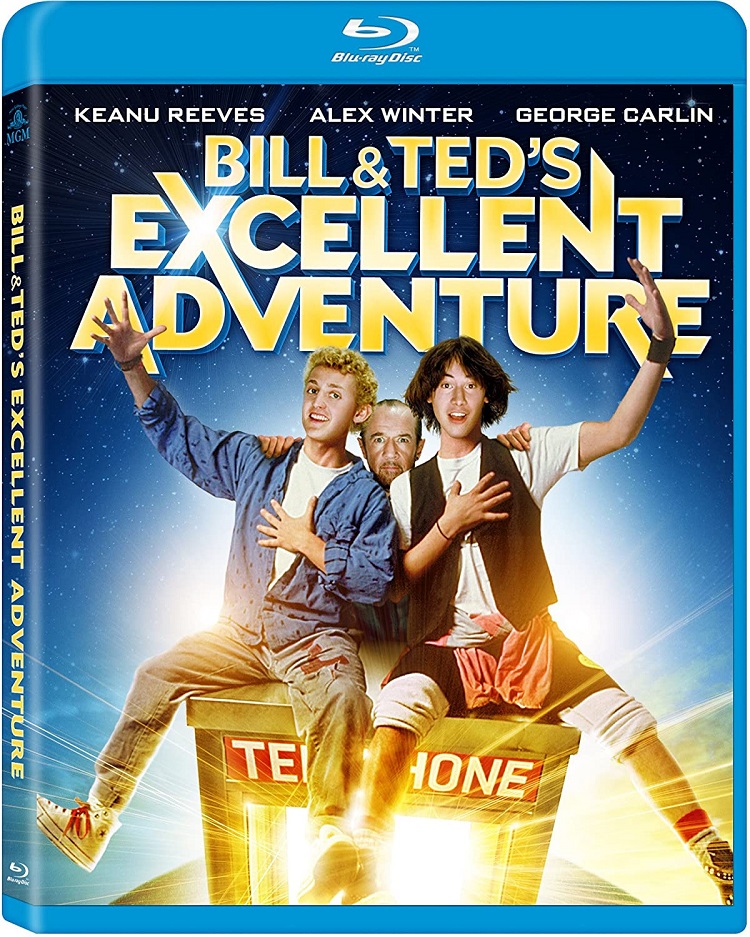 It's been many years since I'd seen Bill & Ted's Excellent Adventure and will admit that I haven't missed it or had any interest in watching it again. I remember enjoying it when it first came out in 1989 and watched it several times over the next couple of years but didn't like it enough to seek it out since. When the opportunity to review it came my way, I figured why not take this opportunity to revisit it and see if still holds up. I was pleasantly surprised that it does.
In 2688, human society has reached utopian levels, there is peace, a clean environment, and everyone is excellent to each other. This high level of existence is due to the leadership and wisdom of "Ted" Theodore Logan (Keanu Reeve) and Bill S. Preston, Esquire (Alex Winter). However, the future is in danger as Bill and Ted are on the brink of failing their history class. If they fail, the boys will flunk out of high school and Ted will be sent to a military school in Alaska by his controlling father, police captain Logan (Hal Langdon), thus breaking up their band Wyld Stallyns, the reason for their eventual success and rise to popularity.
While Ted's dad is no help, Bill's dad is even worse. Having married a girl not much older than Bill and Ted, he is much too distracted to help them study or prepare for the verbal report which, if they are able to ace it, will get them a passing grade. Enter Rufus (George Carlin), a guardian angel from the future, who arrives in a time-traveling phone booth. Rufus explains that it is imperative that Bill and Ted pass their class and gives them access to the phone booth to travel back in time to learn about history.
While showing the guys how the booth works on a test run, they inadvertently bring Napoleon with them into the present which gives them an idea. Rather than learn about the different time periods that they travel to, Bill and Ted decide to kidnap important historical figures such as Joan of Arc (Jane Wiedlin), Socrates (Tony Steedman), Abraham Lincoln (Robert V. Barron), and Billy the Kid (Dan Shor) to present during their report. As Bill and Ted move through time collecting their artifacts, back at home Ted's brother Deacon (Frazier Bain) loses patience in trying to entertain Napoleon and ditches him. Upon their return and running out of time to present their report, Bill and Ted must find Napoleon and leave the rest of their abductees at the local mall. Chaos ensues and all may be lost if Bill and Ted can't get everyone back together in time.
The video has been given a 1080p/AVC MPEG-4 encoded transfer displayed at 2.35:1. Colors are strong, bright hues. Image looks sharp for the most part with occassional soft spots from the source. Textures are apparent as is film grain. The audio is available as English DTS-HD Master Audio 5.1 and makes most use of the front channels. Dialogue sounds clear. The effects move around the channels while the music fills them. The LFE offers limited support.
The special features includes "The Original Bill & Ted: In Conversation with Chris & Ed" which offers background on how the film came to be from the writers Chris Matheson and Ed Solomon. "Air Guitar Tutorial with Bjorn Turoque & The Rockness Monster" is what the title implies and features The Rockness Monster, the 2004 U.S. West Coast Air Guitar Champion, and Turoque, who has traveled the world for competitions, and considers himself the second best air guitarist in the world. The interviews with these two are pretty entertaining. I researched this on the Internet to see these guys were real and shockingly, they are. "One Sweet and Sour Chinese Adventure To Go" is an episode from the cartoon series Bill & Ted's Excellent Adventures which ran on CBS in 1990 and featured the voices of Reeves, Winters, and Carlin. There are also radio commercials and the theatrical trailer.
Thirteen years later, Bill & Ted's Excellent Adventure has endured as a fun, entertaining film. Reeves and Winter are charmingly dumb, goofy, and sweet, but Carlin doesn't have enough screen time and is better utilized in Outrageous Fortune with Shelley Long and Bette Midler. Bill & Ted's offers a nostalgic look back at the '80s and relies on good-natured humor with no swearing or gross potty jokes, which seems to be the basis for most comedies these days.